Should I Get Repeat Dental Treatment Free of Charge?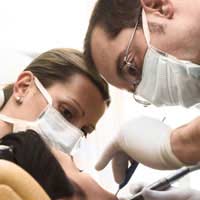 Q.
I've had a root canal treatment from a dentist. Since then, the gum around the relevant tooth has been suffering discomfort from time to time.
A hospital specialist thinks this could have been caused by the root canal treatment which he thinks is sub-optimal and recommends the root canal treatment to be re-done.
Should I be entiltled to the treatment free of charge?
Joseph Wong
(Mr Joseph Wong, 26 September 2008)

A.
Oh boy. You're definitely opening a can of worms with this one. But first of all, sorry about the root canal problems – nothing seems to feel worse than tooth pain.
The big problem here is that you have two different opinions from two fully qualified professionals.
Yet at the heart of it comes the Supply of Goods and Services Act 1982, believe it or not, because you've been supplied with a service – the root canal from the dentist. Under the provisions of the Act, the service has to be carried out with reasonable skill and care, within a reasonable time and at a reasonable charge.
Unless you're a dental professional yourself, you had little choice but to believe the dentist when he told you that you needed a root canal. You could possibly have gone for a second opinion, but in virtually all cases people won't do that, for practical reasons – unlike builders, for instance, dentists don't offer free estimates.
So you trust the dentist and let him perform the root canal, since which time you've experienced periodic discomfort.
Have you been back to consult your own dentist on this, or have you simply talked to the specialist? If you have talked to the dentist, what did he say on the matter?
This is important. It would have given you a chance to explain the problems you've been having and for him to give a further explanation of his treatment and possibly offer a solution to your pain, which he might have been willing to do free of charge.
Your next course of action, therefore, should be to go and see your dentist and explain the problem, and see what he has to say. Depending on what he suggests, you should then say you've talked to a specialist and what his thoughts were.
If you can't reach a resolution with the dentist, then you might want to take your case to the British Dental Association, which might be able to mediate.
It's possible that you could, as a last resort, take your dentist to court – possibly small claims court, depending on the amount involved, but then you'd have to prove that the work he did wasn't satisfactory, which wouldn't be easy, as it would depend on conflicting expert testimony – and no one seems to disagree that the root canal had to be done in the first place.
Go to your dentist and see what he says before anything else.
You might also like...
bought and installed bathroom taps in a newly done 2 bathrooms, tiled everything, installed a new boiler, and now i'm told that the tap mixers are faulty. To brake the tiles and to change the taps its a major expense. what are my rights with taps suppliers. Please help Many thanks, Maria
maria
- 11-May-16 @ 1:46 PM