Can I Get a Refund on Watch Not Bought from a Shop?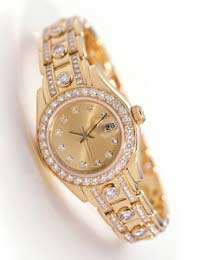 Q.
I fear I have been rather foolish and have purchased a watch from a possibly fake company. I was sitting in my car in a services car-park and a 'salesman' parked next to me. He showed me his 'ID' and told me he worked for a watch company and gave me the name. He said that the company work with Porsche and he had been selling watches all day at the local Porsche garage. He said that he had a few watches left and was selling them off cheaply.
He showed some watches he said were worth £375 and he would sell me one for £100. He said they had a year's guarantee that I could get by sending off the warranty card.
I ended up buying a watch for £80. I took the watch to 3 jewellery shops to have the strap shortened as it was too long and they all said they had never heard of this make of watch and wouldn't alter the strap as the pins would damage the machine. Thay all said the watch was very poor quality and one shop described it as a 'Mickey Mouse' watch.
I found a London number for the company in a brochure that I took when buying the watch and phoned it. I got through to what souned like someone's home number. I said I wanted a refund. The man I spoke to said he made the watches, had nothing to do with selling them and was not interested.
Do I have any consumer rights? Is there any possible way to get my money back?
(Dr Martin Anson, 8 September 2008)

A.
Well, it certainly sounds like you've been sold a lemon, doesn't it? It has to be said that buying anything in the car park of a motorway services area, or even a pub car park, is asking for trouble. Anything bought there has a good chance of being fake or stolen.
When you took the watch in and jewellers hadn't heard of the make, that should have been a tip-off that something wasn't right.
You don't say if you actually sent off the warranty card, or what the address on it was, though. But you're right to be angry – you've been conned.
The interesting twist on this, however, is that you made contact with someone who admits he's the manufacturer. But he apparently makes watches that aren't worth the cost, and that no one's ever heard of. The strap can't be shortened, which means it's not fit for purpose (you don't mention whether it does what it's supposed to do above all, and that's keep good time).
So what are your options? Your chances of finding the salesman, who's the retailer, are very small, unless you have his card, which he almost certainly never gave you – and even that would depend on it being real. But do you have a claim against the manufacturer?
A lot depends on whether the "company" the salesman represented is affiliated with the watch manufacturer. The manufacturer says not, and you'd have a hard time proving it, at a guess. So that leaves you out in the cold there. Manufacturing bad watches isn't an offence, unless they deliberately don't work.
Really, it comes down to a case of caveat emptor, or buyer beware. Even if you could effectively find someone from whom to claim a refund – and the watch manufacturer would be your only option – the likelihood is that any legal authority would say it was on your own head for buying where and when you did.
It's something that you'll unfortunately have to chalk up to experience and emerge a little sadder and wiser, sorry to say. That's not a great consolation, and you could try the manufacturer again, although it's unlikely you'll get any more joy the second time around. Sorry.
You might also like...