Dealing With Cowboy Builders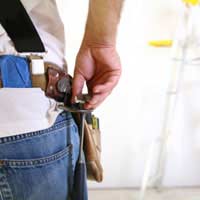 Cowboy builders are the bane of the construction industry. There are, on average, at least 100,000 complaints every year about them. They ruin things for perfectly reputable builders, and for all the talk about them, they're in the minority – it just happens to be a minority that gets a lot of publicity.
Cowboy builders are simply rogue traders, of course, often with little or no knowledge of building, so you end up with a botched job – that's if it's finished at all.
Protecting Yourself From Cowboy Builders
The best thing is to learn to spot the cowboy builders early, so you can turn them away – it saves a lot of trouble later. The first tip-off is if they asked to be paid in cash, or cash-in-hand all with a promise on no VAT to be paid. No legitimate business will work off the books like that.
If they say a contract isn't necessary, watch out – it's vital in a business transaction like this, and without it, your legal position is nowhere near as strong. Most rogue builders don't carry insurance, either, which again could work to your detriment if an accident occurred.
Are they willing to provide a written estimate and costings for the job, as well as a time frame for each stage of the work? A proper tradesman would, quite gladly. Where they do offer a quote, it could be unusually low, and they might offer to begin work immediately.
Do they have references? Do they have premises and a landline number, or simply a van and a mobile?
All of the above should raise red flags. You can protect yourself by having everything in writing and ask for a guarantee. Check references, talk to the people who've had the work done, and look at the work if possible. Ask your family and your friends for recommendations. Get several estimates and remember, cheapest isn't always a savings.
It's a help, too, if the builders and members of some trade group – although check that as well, since cowboy building firms have been known to fake membership. Finally, never pay in cash, and certainly never upfront – you should only pay for work that's been completed.
What To Do If You're A Victim Of A Cowboy Builder
Sometimes, though, the cowboys do win, and the building work is a shambles. What should have been wonderful construction work is a mess, and the builders have moved on. What can you do?
What they've done constitutes fraud, so you should complain to the police, giving them as much information on the builder as possible. Also complain to Trading Standards, which takes a very harsh view of rogue traders.
If you can track down the cowboy builder and he refuses to refund your money, take him to court. In the event of a small job, small claims court will likely suffice, and won't cost you much. In the event of a big job, though, you will be looking at some hefty legal bills.Either way, it's a lot of problems, and you still need to employ a proper builder to do the work correctly. The best solution, always, is to take the time and find someone who'll do it right the first time.
You might also like...
I see someone else here has had considerable trouble with Michael (Mick / Mike) O'Connor of London North South Builders (AKA O'Connor Building Services). He has rendered my flat totally inhabitable, asked for further payments when we are already tens of thousands ahead, having failed basic Building Control checks. Won't engage with putting the work right nor witha refund or mediation process to bring the matter to a close. Appears to have taken the money and run... very frightening, stressful and costly experience.
Rebecka
- 16-May-22 @ 8:52 AM
A.L Towsnend Building and Landscaping,Moreton-in-Marsh,Glos.We found out too late that this little scumbag is no stranger to the claims court and Trading Standards.We are currently suing him for over 10k.The bit of work he did has nearly all had to be redone.He is full of lies and excuses for failing to show up. One day it was a heart attack,then chest infection.Another time a piece of plumbing pipe had failed to arrive.Our local DIY in the town had some which we offered to get,but he declined.He displays logos for F.M.B and other reputable organisations-all fraudulent. On the day our letter before action was delivered to him,my name was used to sign up to a sleazy sex group online.Nice. Avoid like the plague.
Karma
- 13-May-22 @ 2:27 PM
DO NOT USE A COMPANY J &S Rodger Joiners and contractors from Cupar Angus the guy Ian Rodger's is a rouge tradesman. Will take your money then leave halfway throughout job leaving a host of problems behind!!!
I used a company from Cupar Angus, J &S Rodger Joiners and contractors to do a two storey extension. The guy Ian Rogers was a charmer. Came to house with quotes. Started the job. Throughout the whole job things were not right. Steel beam in wrong place, wrong plaster boards used. Windows at wrong heights, Sliding doors not installed properly and balcony steelwork put in upside down!! Thankfully he left the job in January. Had to then instruct another firm to take over job. Just finding more and more errors with work carried out. Thank god for building control as some of the jobs such as plasterboard were rectified! Why are these unprofessional joiners not regulated??? Come on this needs to be legislated….
Brian Gummer of Green Space Timber Ltd •Perverted comments "how have you not got a bf". "I can't believe you're single". "Do you want a bf". "Don't you miss skin to skin". •Drags the job out and calls you for no reason to tell you about his date life. Over 43 calls. •finally after 5months I got him to give me a completion date and he didn't show or order the materials and that's obviously - my fault. I don't know where to start. His disgusting
B.S.Brian
- 21-Mar-22 @ 11:50 PM
MICK O'CONNOR, NORTH SOUTH LONDON BUILDERS.Very credible website. Gift of the gab. Paid £50,000 in stage payments for extension to my daughter's first flat. Didn't follow structural plans, Plastered shell so no roof tile, and unsafe brickwor and RSJ weren't visible. Left her without water, heat kitchen or bathroom. Nowhere else to go so peeing in a pan! Now facing bill from leaseholder for making building safe, New job, no savings, THIS IS TRULY WICKED
Finn
- 6-Mar-22 @ 11:34 AM
Please can anyone advise. I have used a local Handyman to strip out the sanitary ware from our bathroom. He removed the sink, started on the bath to advise that he would be back in two days time with the correct tools to dismantle. However next morning we had a massive water leak coming through the ceiling downstairs. Ceiling and carpet are still drying out after 4 days, dehumidifier is doing a great job. Handyman is now saying its not his fault and wants £100 for the work done to date. My question is do I have to pay him as my insurance company has an excess of £300 that I have to pay to replacement of my carpet and ceiling? Thank you in advance.
Tracey
- 8-Oct-21 @ 3:27 PM
do not use Bristol garden rooms at the moment but has folded 4 companies so watch out for the name luke James millard incorrect steel put in hasn't responded to building regs Re safety issues regarding this lie upon lie promised 4 times to turn up to complete job excuse after excuse Unorganised to the point of ridiculousness stay away from him 6 months down the line we are taking him to court even my solicitor can't believe his lies he will make your life a complete misery
turned over
- 8-Oct-21 @ 7:55 AM
Avoid using kishor hirani of Harrow. Definitely the face of butter won't melt! Uses various sobbing stories of medical and life and death situations to suck you in before the job even starts. Doesn't even pay his labourers for jobs they do, so they walk out half way! A simple job which could take 2months took over 5months with not even half the job completed but 70% of the money taken. The laziest person all around. Prefers to sit at home and when asked when are coming will say 'tomorrow'. Don't trust this innocent butter wouldn't melt face he will fleece you of money and not keep his word.
Londoner
- 6-Oct-21 @ 7:56 AM
Do not use Spartans building services based in lowestoft beccles area, gave a 700 deposit,they turned up and done a terrible terrible job of a simple concrete pad and a drain , concrete pad not finished and now massively out of pocket with themnever coming back
Purpleplumn
- 24-Sep-21 @ 5:43 PM
Do not use Gary Cooke, G C Building and Landscape!!! He took a deposit of us and didn't even start the job. 5 months down the line we are still trying to recover the £6000 Gary stole from us!!!
FRAUD BUILDER
- 23-Sep-21 @ 2:52 PM
Please don't have the misfortune of using Chris Hardaker of CHP Groundworks Ltd he will take your money and then only turn up a couple of days a month we are now over a year behind schedule
Do not use ROBIN JON BROOKE 40 years old, bald head, stubble. He is from the Wakefield area, recently moved to York. He couldn't even get the foundations right of my side extension. He continued to mess things up so I sacked him. I foolishly paid him thousands upfront. Too many cockups to mention. Costing me a fortune to put his mistakes right.
Foolish me
- 24-Aug-21 @ 2:54 PM
Do not use Gregory Brown, 60 Morpeth street Hull, he lied, was arrogant, urinated in our Borders. Constantly learning up late for work. Stated he had loads of Customers, showed me previous work which he stated was his.looking at the state of our patio I found it very hard to beleave despite the 25 years in the Building trade, and nearly as much in the woodwork trade. Requested he build us a patio, with small decorative brick wall. Non of the slabs lined up, was laid on very poor bedding sand I.e after carrying out my own investigation, 50% of the slabs were laid on a very thin bed of sharp sand, the slabs were not butted up properly, the decorative walls were constructed from pathing bricks, and sharp sand was used to mix the mortar which was that weak I could pull them apart with my bare hands. The drainage pit he dug was not in the correct position, and as much use as a chocolate guard. The drain on the path which Gregory Brown installed was not even cut out appropiatley, and didn't even include a down pipe. The Patio had more ups and downs than a roller coaster, none of the slabs butted up, I was stung to the tune of £500 pounds, despite numerous attempts to rectify the problems, Gregory Brown from Hull was completely incompetent, and to be avoided at all costs!!!!!!!
Fat Ginger Twat
- 21-Aug-21 @ 11:45 PM
Please do not use complete living space ltd. They promote themselves as a garden room build company. They will promise you a high quality garden room within 5-6 weeks. However my build remains outstanding as of today and the work performed is of poor quality - for example I have had an independent surveyor come and look at the build and he says that structural integrity of the build is not compliant - e.g. size and bearing of roof timbers is not relative to the unsupported roof span. He identified other problems too. They will take payments in advance for work they intend not to do.
NotImpressedSurrey
- 11-Aug-21 @ 10:04 AM
I have been conned by my builders Manjit Gill, Gurjit Gill (Gilsun Ltd), who has taken £120000 out of me and left my house in a complete mess, not liveable, no toilet/bathroom.I have been living in a Shed at the back of my house with my family and we are 5 members, 2 young kids age 13 and 8.I have no money and he has also threatened that he will take the roof off.I have agreed to £135000 for this work and later agreed as the cost has risen so further £10000 on top.He has no assets and also has CCJ against him.Is there any way I can get my money back from him?it will be cold weather very soon and we are all in a very stressful situation.We both work in NHS front-line workers. Any advice would be great.Thank you.
Rav
- 10-Aug-21 @ 3:24 PM
Avoid with your life Tom Smith at Noisy Neighbour soundproofing in Stockport,he is the biggest conman ever.His soundproofing doesn't work,he asked for £12,000 in cash & the total was £15,000 we lost.Drunken workers,extremely bad workmanship and no guarantee.We reported him to action fraud & trading standards,now we have to take him to court to recover money.His ploy is I worked on DIY sos with Nic Knowles.He goes into liquidation & starts up again he has previously been took to court.Avoid at all costs.We are pensioners and he ripped us off.
Crooky
- 28-Jul-21 @ 6:42 PM
We were conned by Tom Smith of Noisy Neighbour Soundproofing who guaranteed his soundproofing would eliminate 85% of noise from our new neighbours.It didn't,we paid £15,000 for something that only works 10%.We were completely took in as he said he appeared with Nic Knowles on DIY sos.His workmen arrived every day drunk,bodged a hole in ceiling,helped themselves to a loo roll out my bathroom,replaced the sockets in wrong places,didn't fit handrail to stairs properly,loads minor plastering mistakes.He asked for £12,000 up front in cash which my husband stupidly gave him.And on the last day said they would send the Guarantee certificate,we never received it or heard from him again.Hes been reported to Action Fraud & Trading Standards now we have to fight him in court to get some money back.He conned 2 pensioners & he's a pensioner himself.Hes ruined our lives.We found out he goes into liquidation,then starts up again.He was also took to court previously but we found out too late.Avoid this company with your life.
Squirrelchaser
- 28-Jul-21 @ 6:34 PM
We used Mike Dalton-Truscott from Scribe SW based in Helston to construct a porch and a garage with a room in the roof. The garage was attached to our property so required the correct DPC. Mike placed the DPC between sole plate and timber frame in the porch and garage instead of the correct way which is between dolly blocks and sole plate. Building control wouldn't sign it off and Mike has refused to refund us or pay for remedial works to have both structures demolished and rebuilt, even claiming that the garage doesn't need a DPC. These are basic things a qualified builder should know! He even owes us money for work we paid upfront for, which he hasn't even done. I left a negative review on google and said I would remove it out if goodwill if he paid for remedial works, becasue he would have made good. He is saying that I'm blackmailing him! Twists everything round like he is the victim! Hasn't a care for what he has done to my family, spiteful human being!
Hols
- 21-Jul-21 @ 11:38 AM
I trusted my builder , Daniel,at Homewood Design and Build Ashford Kent He was so kind he even offered to drive me to hospital so when he asked me to pay the final bill I handed over the money I then realised that I had paid for work that he hadn't done I've asked him to contact me and I gotsilence His wife said he would come to discuss the outstanding work but he never did I have waited a year now and had to employ others to mend my roof all efforts to contact him are ignored
rosarian
- 14-Jul-21 @ 7:02 PM
Paramjit Singh who lives in Bilstonnear Wolverhampton Please do not use him he is dishonest The builder has put the tiles in the bathroom which has cracks in two weeks i called him but he never turn up, he has left the downstairs bathroom wall and ceiling un finished he suppose to come back and finish it, i have already paid him because he wanted to buy martial, he is now not picking the phone, and not replying for the messages, he has not change the light button which was part of the price he has quoted,i do not know where he lives all i know he lives near to my house. I have paid him via bank transfers, but do not have the written quote he took it from me because he wanted touse it for the measurements to buy some more martial
Zolo
- 13-Jul-21 @ 4:04 PM
WARNING - Don't use Paul Kelly of Kelly's Plumbing Services from Southport/Blackburn.My partner and I, who are both pensioners, had saved to have our bathrooms renewed. We paid him money for materials and 20% for labour.He did a bit of work then walked off owing us thousands of pounds for the materials he didn't buy and the work he didn't do!What bit he did do was all wrong and we had to pay another plumber to put it right!He refuses to give us our money back and says he is going to file for bankruptcy. We know he is still working and has a lot of work on at the moment.No sign of him going bankrupt. He is a liar and a thief!! I have photos to prove what I am saying!!
Vulnerable OAPs
- 4-Jul-21 @ 4:33 PM
AVOID - Harry Day of GreenHeaven Landscapes - he's a fraud. Collected deposit to purchase materials but didn't do the job. He's refused to give back the deposit and has now blocked us on all communication. We've discovered a couple of other people that he has done the same thing to. We have reported him Action Fraud.
Mags
- 2-Jul-21 @ 8:17 PM
Do not use Darren Harper of Pyramid Property Solutions or Top2Bottom Maintenance same sub standard unqualified person. Takes money for materials up front and what work is carried out when he actually turns up is awful. I was left with non functioning kitchen and bathroom costing thousands to put right. He tells so many lies even resorting to asking labour costs up front to fund his mother's funeral! He is based in Waterlooville, Portsmouth, Hampshire. I have now filed County Court papers.
Vicky
- 22-Jun-21 @ 9:29 PM
Imran Quraishi claims to be a builder for 20years! A total fraud! Doesn't know anything took off with my money and left my garden a mess!!
Nina
- 18-Jun-21 @ 11:47 PM
BRAD WILLIAM PEMBERTON FROM LEIGH (Wigan). BWP JOINERY SERVICES. PLEASE AVOID HIM. He calls himself a professional joiner. Asked for money upfront for material. He was recommended by the plasterer so transferred£500. He did not turn up a few times and the excuse was "Mrs in hospital". Turns out she wasn't. She is for and healthy on a beauticians course. 3rd time he didn't turn up and then blocked me so I couldn't message or call. He is on Facebook and is scum. Do not part with your hard-earned money or get him to carry out any work. He is a lying fraudster. What goes around comes around and I do hope he gets stung by someone the way he does to others.
AG21
- 27-May-21 @ 5:04 PM
CARL STANSFIELD CS Construction and Conversions Please avoid this man built a loft conversion was good at first then started asking for more money all the time have paid him in full plus extra. The loft is not finished there is damage to the roof and very poor workmanship inside it does not comply with building regulations who state poor workmanship. He is very messy left my house in a complete mess. I now have to spend more money to put this right.
Sheffield
- 21-May-21 @ 7:44 AM
Avoid at all costs Chris Tamblin and his brother Gareth who is a plasterer, took money, left job incomplete and won't take calls or responses to texts. Also left beer cans all over the house. Totally ripped me off and over a year and still not finished. Used covid to say he had bills and his other work was on hold. Took money for equipment hire and materials and spent it.
Kay
- 19-May-21 @ 6:05 PM
Stung by two different builders in 2020. No chance of redress.There is a facebook page with a petition calling for the government to change the laws, so that rogue Tradespeople are held accountable. Please sign petition, share, get your friends to sign and share. Write to your MP, template letter on the fb page. .. 'Gov petition licensing of builders May 2021'
ELCEE
- 18-May-21 @ 3:54 PM
Damien Love, Bentley James cowboys builders.
Nesvarbu
- 10-May-21 @ 9:11 PM