When A Cleaner Doesn't Clean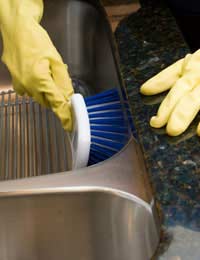 It doesn't matter if it's a business or a domestic cleaning, when you hire a cleaner, you expect that person to undertake proper cleaning – dusting, dirt vacuuming, making sure that nothing is dirty. It's a simple as that, although you might also have some specific tasks arranged.
Most who are doing it for a living will do a good, through job of cleaning – after all, it's their livelihood. But what do you do when the cleaning, especially domestic cleaning, isn't satisfactory, if the house still looks dirty and the dusting hasn't been done, for instance?
You might well have already paid the cleaner, especially if you work for a living. It's common for the cleaner to be trusted, to have a key and for the owner to leave the money.
Should you Pay for a Bad Job?
You should obtain references for any cleaner you wish to employ, and check them by phone. That's important, not only because it reassures you about the standard of their cleaning, but also that they're not a thief, which is vital. As most people involved in domestic cleaning are self-employed, there's no trade association, nor are they likely to be insured.
In the case of commercial cleaning, again check references, and they could well belong to a trade organisation. They should be insured, and should offer a guarantee of satisfaction. You'll also be employing them on a contract, with fees fixed, and expectations for performance set out.
What To Expect From Cleaning
As with anything else, with cleaning you should expect the job to be done properly, with reasonable skill and care, in good time, at and at reasonable cost. What would generally not be at issue here are the cost and time. It all pivots on a job done with reasonable skill and care (there are exceptions, where the cleaning is charged hourly and you're told it took longer than anticipated, for instance, or it's not done when promised with no excuse such as illness offered to you).
In terms of what constitutes reasonable skill and care in domestic cleaning, that should be fairly obvious – dusting, dirt vacuuming, cleaning of surfaces, and so on. Of course, some employers can be a little draconian, insisting that all surfaces pass the white glove test.
However, as a general rule, domestic cleaning (nor commercial cleaning) has to be so thorough. The house should neither look nor feel dirty, nor should a finger on a table on windowsill sweep up dirt, for example.
What Can You Do If The Cleaning Is Bad?
If you feel the cleaning hasn't been up to par, talk to the cleaner initially as a first step. If it's someone you've employed for a while with no previous bad results, there could be a genuine reason, and they'll be willing to put things right at no charge.
However, if you can't reach an agreement, you'll have no choice but to sack the cleaner. You can go to small claims court to recoup your money, but in all likelihood it's not worth your time. The exception would be if there was damage to your house because of the cleaning – it's broken, for instance – in which case you'll need to supply proof, and it might not be easy to prove the cleaner was at fault.
Where it's commercial cleaning, call the company, explain the problem, and try for a resolution that way. If that doesn't work, talk to the trade organisation, which might be able to mediate. Depending on the conditions of the contract, you might be able to cancel; you should certainly pursue the cleaning company in small claims court, although again you'll need proof, and you'd very likely have to demonstrate a pattern of the work not being done properly.
You might also like...