When Your Builder Goes Bankrupt Before Job is Complete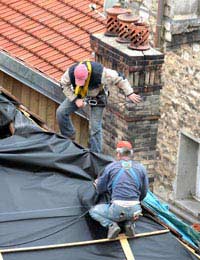 It's the stuff of your nightmares. You've decided to have some building work done, perhaps that new conservatory or extension you've been wanting for ages. You find your builder, agree on the price and the work starts. Until one day when nobody turns up. They won't answer the phones. Then you realise they have 'gone bankrupt'. What can you do?
Insurance Backed Guarantees
Firstly, if your construction firm or builder is a member of a professional trade association, you may be able to breathe a sigh of relief. Most associations supply lists of registered builders who can offer an insurance backed guarantee of the quality of the work, and some schemes, such as the guarantee provided by the Guild of Master Craftsmen also have an optional insurance that covers the builder should they go out of business before they complete your project. This gives you peace of mind knowing that the cost of getting a builder in to complete the job is covered and you won't be out of pocket. Always check if the construction firm or builder has an insurance backed guarantee before employing them - it can be more expensive but could save money in the long run.
Was the Builder a Sole Trader?
Your options when faced with a bankrupt (or insolvent) builder will depend on their legal status. If you are employing a sole trader to do the work and he files for personal bankruptcy, all you can do is apply to the official receiver handling the bankruptcy petition to be added to the list of creditors. Details will be published in the local press if any individual files for bankruptcy...and contact details will also be published. As insolvency is considered public information, you can call the county court where the order was/is to be made, or the official receiver, and they will be able to tell you if a petition has been filed and a bankruptcy order made.
You can only claim for any deposit you've paid minus any work/materials paid from that deposit. The official receiver will be able to give you advice on how to be added to the creditor's list. This means that the debt owed to you will be taken into consideration when the official receiver administers the builder's financial affairs but doesn't guarantee that you will see any payment. Unfortunately, all you can do is ask another builder to quote to complete the work and start over.
Was the Builder a Limited Company?
Even if the company is just one person, it can still be a limited company rather than a sole trader. Check the company status online for free at Companies House. If they are limited, there is a possibility that they may not be bankrupt, but they may have gone into administration, which is when a company calls in accountants or 'administrators' to attempt to salvage the business. If this has happened, there's no reason why your job shouldn't be completed - the aim of administration is to keep the company going if possible. Keep in touch with them and make a note of the administrator's contact details. It's possible that the company is in such bad financial shape that they will become insolvent, in which case you will have to apply to be added to the list of creditors as for a sole trader.
Again, all you can do is get in another builder and start again.
Did You Pay the Deposit by Credit Card?
If you paid a deposit of between £100 and £30,000 on a credit card (not a debit card) you could try calling on the Section 75 of the Consumer Credit Act which gives the credit provider equal liability in law for a breach of contract. If the builder goes out of business - you can claim the deposit and any out of pocket expenses back from the finance company.
You may also be covered if you have a linked finance agreement - credit supplied for a conservatory that was arranged by the building company for example. You wouldn't be covered if you took out a separate loan from your bank though, it has to be specifically linked to the contract for the building work, not a separate credit agreement.
You need to contact the finance company directly and say you are claiming under section 75 of the Consumer Credit Act 1974. If the finance company tries to tell you that they will put a claim in to the administrators, point out that you know your rights, and you are entitled to compensation for the deposit and any out of pocket expenses from them, without waiting for any insolvency administrator's decision.
You might also like...
Beware Graham Jacobs, Homeworks Design (currently liquidating) also operating as The natural light company around Frome, Rode + for corporate clients in London. Unfinished work. Unpaid + unhappy staff. Money taken for goods not supplied. Skip left in street for months. Site not meeting health + safety requirements. Work extended over neighbours boundary in breach of planning. Not managed well, poor + dishonest communication.
Rnr
- 6-Jul-22 @ 12:17 PM
Trade bodies, NAPIT, NICEIC, TRUSTMARK all say they support the consumer and protect them, they are not interested use any excuse not to help as after all they get paid by the trader, take months to reply, then because the live wire left by an approved electrician had been fixed they say they cannot help! so prefer you to get electrocuted while waiting for a reply from them. Waste of time, trading standards not interested, CAB, post a review and the just delete the profile from the site. Only option legal action, good luck finding a solicitor, let alone affording one.
Fedup
- 26-May-22 @ 8:59 PM
DONT have APMS Builders Ltd to do any work. They will leave you with half a finished job and never return to do the project. Take your money then just stop working and make up lies. Being doing this for years and years and still doing it. Neal is a compulsive Liar. Work is a shoody standard also. Neal is the perfect definition of a cowboy buildrer.
Stan
- 16-Nov-21 @ 7:02 AM
Beware Dean Hall.Trades under various limited companies names, most recently All in One Building Solutions, Durham / Newcastle areas.Will take your money and then disappear!
iknowwhereyoulive
- 30-Sep-21 @ 9:02 AM
To include in my last comment that Neil Street is in the Llaishen area of Cardiff
CT
- 24-Sep-21 @ 10:41 AM
G.Bonner and sons went bust on us after we fully paid them
Hanzo
- 5-Jul-21 @ 6:51 PM
Just to want to warn the public of GRAEME NIGEL GILES OF RINGWOOD BUILDING SERVICES LTD ( now in liquidation) formally of BICKERLEY PROPERTY SERVICES LTD.( went into liquidation ) confesses to by a builder with 25 years experience, with skilled staff. What you get is nothin shy of a cowboy builder who's incompetent and a total liability a disgrace to the building/ construction industry. BEWARNED HES STILL OUT THERE AND BOUND TO BE STARTING ANOTHER COMPANY IN RINGWOOD!!!
Bruce
- 13-Feb-21 @ 9:46 PM
Dont use Tony Lewis aka Antcliffe or give money to his wife rebecca antcliffe as the both act dishonestly in taking thousands of pounds into her account for work that tony never does. They are both dishonest
Jan
- 22-Nov-20 @ 9:18 PM
Strupot what area are you as Paul Bennett also ripped me off.
Ren
- 21-Sep-20 @ 5:57 PM
Don't use Paul David Bennett he took 17k and never produced the goods, so i had to pay for them again, promised the earth and delivered nothing. He should be locked up, I don't know how some people get away with taking peoples money, it should be viewed the same a theift.
strupot
- 10-Sep-20 @ 12:34 PM
Beware of Colin Chambers, now trading as Colin Chambers & Sons in Leamington Spa and Warwickshire area. They took thousands of pounds from us and "Went out of business", having only done a fraction of the work, leaving our home without a roof, doors, windows or kitchen/ bathroom. They don't respond to any correspondance from us or our solicitors, but are still trading in the local area. Avoid at all costs.
LeamHomeOwner
- 20-Jul-20 @ 11:39 AM
CKL Building solutions ltd appauling treatment by this man Colin Lane. Gave us a quote to do a two storey extension and refurbish our retirementhome. He was charging for "provisional Sums in the quote" and all sorts of items such as radiators and light fittings which we supplied . When we initially went to discuss the quote he said" don't worry about that we'll take out anything you don't have at the end" We got to nearly the end after many problems of him not doing the work as specified, lying about putting insulation when he hadn't, shoddy roofing etc, and because there wasn't much more in the job we stopped paying until he'd agreed to remove the sums for items we hadn't had. He then did a little bit of work and walked off the job leaving us with incomplete electrics, plumbing,doors with trim falling off and took all our door keys!
Nagger(according to
- 7-Jun-20 @ 7:00 AM
Beware Alistair Darren Clarke who has been involved with several dissolved building companies in the Luton and Dunstable area.. He caused tens of thousands of pounds of damage to my.property and left it half demolished and removing my furniture and appliances without permission.
bruce
- 4-May-20 @ 10:14 PM
Beware of Cygnet kitchens in Ormskirk they stole Thousands of pounds & never completed works on a kitchen 3 years later no completion. Damaged poorly surveyed kitchen leaks & dangerous electrics.
Caterina
- 1-May-20 @ 9:27 AM
I paid Austin Scott Baines over £5000 for a new conservatory roof, when he was trading as Jigsaw Condervatory Roofs. He did fit one, but the workmanship is woeful. It leaks like a sieve and he ripped me off for the wooden flooring. He charged me for an expensive wood, which we chose, but the fitted a cheap option, and fitted it badly. He has promised over the last two years to rectify his shoddy workmanship but never turned up and to be honest, I wouldnt want him anywhere near my property. He was working out of an industrial unit close to AFC Fyde football ground, near Wesham, it's called 'Bradkirk Business Park' and on Weeton Road, Wesham. PR4 3NA. I have just rung the number he was using for his business but the guy that answered said he was not Baines. Think it's time the Police were involved.
FBB
- 26-Feb-20 @ 3:44 PM
Paul Bennett aka prodigious property developmentof Frobisher road Rugby, took most of the money, promised everything, did about £10,000 of work ( some of which had to be removed and done again) then gave a sob story about how he couldn't continue!Lost thousands. Do not go near or trust his references...
Sue
- 19-Feb-20 @ 1:05 PM
Paid a deposit on a roof from Austin Scott...or Baines (he has many names). He trades on ebay under the name selic-11. He has not done the work and has magically vanished. Taking money off vulnerable people. Scumbag. Avoid at all costs.
Picko
- 24-Jan-20 @ 9:12 PM
Austin Scott baines owes me money by a court order for workmanship that had to be done in total again. He is well up on avoiding paying monies back so best avoided at all costs.
Paul Bennett from rugby(prodigious property development) scammed me and at least 4 other out of thousands.
Gutted
- 5-Dec-19 @ 6:00 AM
Austin Scott Bains keep well clear of him,conned me of £2300 for deposit on a new conservatory roof from Ebay,still on there as of 10/11/19.Kept putting the install date off which was 9/7/19 with pathetic excuses saying he would do it next week which never happened. Currently of no fixed abode so please avoid him.
Jono
- 10-Nov-19 @ 8:20 PM
Austin Scott Baines is a fly by night that prays on those he can gain trust of and delivers nothing but pitiful excuses and lies. Amenable until you pay him an advance and then vanishes from the face of the planet. Do not trust this "man" with your money.
Conned
- 18-Aug-19 @ 3:30 AM
Austin Scott Baines did the job but charged £300 for the building certificate and kept liying about sending it he never did have taken him to court for the return of monies he has now gone underground left his home address BEWARE YOU HAVE. EEN WARNEC
big g
- 31-Jul-19 @ 5:00 PM
We have recently paid a deposit to a building company for a new conservatory - The Company name we paid into is different to the original comnpany who have now gone into radministration - we are concerning about proceeding with this company as we don't know how interconnected they are - It now seems strange that they used a different company name to the one we had originally contacted. We are also concerned that we have paid a depost for this work. Any Advice please CH
Beware of Alistair Clarke of Inex Designs operating in the Luton Area. He has previously been Director of several dissolved companies. He was commissioned in October 2018 to knock through my house and install a new kitchen. He has walked out on the job having taken my furniture and appliances and left my house unsafe with live wiring exposed and a half demolished stair case with the work done so far all bodged. He is not taking my calls or messages and still has my house key. He had provided 5 separate deadlines for completion and failed to meet any of them. A
Bruce
- 1-Feb-19 @ 6:22 AM
Beware of Nikki London of London Roofing 21 Angelica Close, Yiewsley. UB7 8RD. He was meant to replace a flat roof for me, the scaffolding was taken down before we could inspect the work, he reassured us, the work had been completed to a high standard and gave a 5 year guarantee. However when it next rained heavy, we noticed the roof was still leaking, we then had another roofer out to inspect Nikki's work. It turned out no work was ever done. We had pay out another £7,000 for a new roof replacement. Nikki London is a prolific liar and cheat. Please avoid this scammer.
Bob
- 27-Jan-19 @ 7:06 AM
Mark Chambers of precision bathrooms / DMC Builders and whatever other company name he thinks of - STOLE £30k from me. Instructed to build a one storey extension. He has left me and my daughter living with no kitchen , holes in the wall , poor workmanship so bad it's got to be redone ., roof hanging off and leaking .I don't have any money to get it fixed. Declared himself bankrupt in December. CRIMINAL
MsMurphy
- 26-Jan-19 @ 2:53 PM
Dear MG - we have had a very similar situation with Mark Lilley - and he owes us a similar amount. FYI - he has now filed for insolvency:Brighton & Croydon Office ( Tel 020286815166). I would be delighted to have a private chat...
Do not use Lanai Outdoor Living in Cambridge. Peter Luke Morris has ripped people off for thousands of pounds. He takes huge deposits on expensive garden rooms then does not deliver. He refuses to answer emails and return calls. He was in prison in Egypt for property scamming. Avoid!!!
Blockhead
- 21-Mar-18 @ 2:46 PM
Do not use Mark Lilley of Dorking Surrey. Although highly recommended he requested an upfrontand then 3 additional payments.After 4 months he told us he was bankrupt.He left site owing an estimated £60000 and left us with a 4M by 3M hole in our house. He is apparently looking for new work.At this time he has not filed for insolvency and as far as we can see continues to invest in expensive hobbies for his family.
MG
- 14-Mar-18 @ 10:54 PM
Do not use Mark Lilley of Dorking Surrey.Although highly tecommended he requested upfront and acditional payments.He then told us he was bankrupt owing an estimated £60000 and left us with a 4M by 3M hole in our house.He is apparently looking for more work.
MG
- 14-Mar-18 @ 10:47 PM