What If A Market Trader Rips you Off?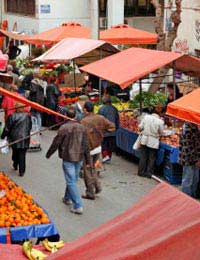 Buying goods at a market can be a hit or miss proposition at best. The price is often right, well below what you'd pay in a normal retail shop, but what about the quality? The brands are often ones you'll have never heard of before, and there's always the risk of getting the item home and discovering that it either doesn't work or doesn't do what it should.
Some people will shrug, chalk it up to experience and say you get what you pay for. But is that the right attitude? No, it's not. When it comes to buying from a market trader, you have consumer rights.
What Are Your Consumer Rights With Market Traders?
The setting might be a little different, but you're covered for things you buy from a market trader just as you would be in a shop. The Sale of Goods Act 1979 applies to everything they sell, which means it has to be as described, safe, and fit for the purpose for which it was intended. If it doesn't match up to any of those criteria, then you're perfectly within your consumer rights to return it.
Similarly, with faulty goods, you should return them to the market trader (and for all they might seem flighty, they do turn up at the market, usually in the same pitch, week after week). It's his responsibility to replace the item, repair it, or refund your money, although he might try and tell you otherwise.
You have a reasonable amount of time in which to return goods to the market. That's a very elastic phrase, and deliberately so. There's no fixed limit, although after six months you'd need to prove the faulty goods weren't the result of your actions in some way if the trader wanted to argue about your consumer rights.
Counterfeits At The Market
It might not happen as widely as it once did, but markets and market traders are known for knock-offs, items that are very similar to designer brands – it's still very common to see people selling perfume that's supposedly designer very cheap at a market.
But what if you buy something that's supposed to be a designer brand, such as a Louis Vuitton bag or a pair of Ugg boots, then get them home and discover they're not what it was claimed they were?
Again, the Sale of Goods Act applies, as they're not as described. You can return them and demand a replacement (which would mean the brand-name item if it was claimed they were the real thing) or a refund. However, most market traders are canny, so they won't say they're selling the real thing.
If it does seem like misrepresentation (and let's face it, you're not going to get a proper Vuitton bag for £20, nor should you think you would) or the design seems very close to the original, you could also complain to Trading Standards.
They take a very harsh view of counterfeiting, and if they investigate and determine the trader has been selling counterfeit, it could result in a fine of up to £5000 and confiscation of the counterfeit stock.
Whatever the situation, your consumer rights go along with you to the market.
You might also like...
Iv just been told by a market trader that he is not required to give a refund by law as he can either offer me a 3 month credit or exchange (he has nothing in my size so it wasnt much of a choice) can I just ask is this right or can I seek get some advice so I can get my money back. Any help is much welcomed thank you
Cfish
- 23-Jan-19 @ 2:24 PM
sss - Your Question:
I had my roof replaced couple of month ago, and we found there is still a leak.he gave us 10 years guarantee as we got new roof and he promised to come and check/sort out issue, but he doesn't show up, has been about 5,6 times that he didn't show up.I don't know what to do, I made payment via bank transfer.we paid £7000 for new roof.
---
Our Response:
Write to company and say you are about to commence legal proceedings. Hopefully that will be sufficient, if not, you may have to take action via the small claims court.
ConsumerRightsExpert
- 29-Aug-18 @ 11:04 AM
I had my roof replaced couple of month ago, and we found there is still a leak. he gave us 10 years guarantee as we got new roof and he promised to come and check/sort out issue, but he doesn't show up, has been about 5,6 times that he didn't show up. I don't know what to do, I made payment via bank transfer. we paid £7000 for new roof.
sss
- 26-Aug-18 @ 6:21 PM
I purchased a leather phone case from one of those stalls set up in side a shopping centre , few days after purchasing it I realised a cut in the side of the case , I'm disabled so wouldn't be able to return to the shopping centre until the following week, I asked for a replacement and was told I done it and did I have a pen knife in my bag , after standing my ground I was blanked , please help it's the principle of it now
Meme
- 26-Mar-18 @ 4:16 PM
Hi I paid a deposit for replacing all my windowsThe installer was recommended by the manufacturer.Now its 5 months on since deposit given and I have not recieved windows or money back.He says he is coming but never does.I paid via a bank transfer. What can I do?Regardssman
Sman
- 18-Mar-18 @ 1:47 PM
Hi Employed stove fitter (supposedly reputable and registered), anyway all went badly wrong, as I had no faith in him got it fixed properly by registered individual.Done small claims, awarded in my favour, done bank arrestment but no money. He claims to have no assets of any value. So effectively cost me a lot, but him nothing. What can I do now to get reimbursed for all costs etc, as I do not want to be left out of pocket, any advice is welcome, based in Scotland
Tugsy
- 3-Jan-18 @ 4:46 PM
Can you help? I brought my father in law a cardy for Christmas off west Brom market. Has he's ill and doesn't have long left he said he had loads of cardies and once he's gone they will all go to charity so he asked me to get money back and myself somethink..bless him. I went to market and asked for refund and was told no I'd only get credit note! It's an old man's stall I only went there to buy for him. Apparently markets traders are protected where refunds are concerned. If the trader had told me it's exchange or credit note only I would of shopped somewhere else..any advice world be gratefully received
Sanie
- 28-Dec-17 @ 5:37 PM
A plumber employed by my son left him without a toilet, washbasin and bath for over 6 months. This, I understand, is against the law.What legislation covers this?
Toddy
- 19-Mar-17 @ 11:01 AM
We had a water leak so calledQuick Call 24 hour emergency plumbers 0121 400 9119 from the yellow pages. They said they had fixed the leak but the next day the leak was still there.We called another plumber who said the pipe they replac d has not been touched and in fat the problem is nowhere near that pipe but is at the other end of the bath and it's the shower. On complaints no I got a mouth full of foul abuse and threats.
Chris
- 2-Feb-17 @ 5:51 PM
Hi, I had my bathroomrefurbished carried out by a company called 'GO BUILD PRO' ltd. Two guys worked on my property John Godenca and Petru Crisitan Matica along with a few employees. Thy have left my bathroom in a right state. Nothing works, the plumber (John G), installed the toilet with hot water which has caused a leak in my bathroom, so now i have a massivehole in my kitchen ceiling so they could isolate and stop the leak coming into my kitchen along with a main bathroom that is no functional.This guy has left my bathroom unusable nothing works. The underfloor heating does not work, the radiator is leaking, the shower was installed incorrectly so water does not flow down, toilet fixed to hot water supply instead of cold water and bath shower leaks into kitchen. I do not know what to do. I have reported him to trading standards as I have had his work surveyed to check it and have been told that he does not even meet the regulation to begin with. I want to know how this cowboy can be stopped. I recently found out that he is working on other projects, so there are unsuspecting people like me that may end up hiring him and being left in a mess like myself. Please advise what other steps can be taken. I will be creating a website to hopefully help people like me to alert other people of cowboys like him. Meanwhile, what else can i do?
Tas
- 22-Jul-16 @ 2:40 PM
I paid a builder to lay slabs in my drive and lower pavement. The slab job has not been completed and I've paid for the tar that was supposed to be laid. I've texted and spoken to him for 2weeks now and he keeps saying tomorrow tomorrow. I do know his lorry Re No and his mobile no. Where can I phone to speak to someone?
Junibel
- 31-May-16 @ 10:45 AM
Had a quote from a chap to do some levelling and planting. He basically has lied and said it would take him 5 whole days to clear the site, specially as there May be a lot of debrisand metal under the land. It turned it he did the levelling in approx 10 hours work, 1 whole day and a few hours the next day. He wants in excess of £1400?. Surely this is fraud, and he is trying to play us, I trusted him and thought that he would need 5 days to do the levelling. It's approx 70 metres so not huge. He also wants to do hedge planting and has def overcharged me per plant, and wants almost £1100 pounds to do this. What would anyone advise please?
HJK
- 12-Mar-16 @ 11:15 PM
@Caj. Try your local trading standards, followed by solicitor's letter then small claims court.
indians
- 17-Jun-14 @ 2:05 PM
I had a roofer do my Kitchen roof and sort out the leak in the front bedroom . The roofer charged me £1200 and gave me a receipt with a year guarantee . With he recent rain fall the leak in the bedroom is still there, I contacted the roofer on many occasions and also SMS him , he promised to come over and have a look but no sigh of him - its over 3 months. Can you please tell me what are my rights and who do I complain to .
Caj
- 16-Jun-14 @ 7:59 AM
I had got a roofer through the yellow pages to repair a leak in the bathroom that was coming through the extractor fan. 4 weeks on the leak is still there have rung numerous times he does not say no gives me a time and then does not turn up . What are my rights who do i go to? I paid him £250 and the problem is still there.
Faby
- 25-Aug-12 @ 9:25 PM
I had a new bathroom done in September last year. In the past 4 weeks bath side is coming away from the bath, the shower screen has broekn and the toilet lid has fallen off. I have contacted tradesman 3 times now and he has not done anything about it. What are my rights?
dhh
- 25-May-12 @ 3:07 PM
bought 2 watches today from anoutside market. get them home and guess wot. 1works and 1 dont. what does one do?.
big mal
- 12-Nov-11 @ 8:29 PM