Gardener Overcharged Us: Can We Refuse to Pay?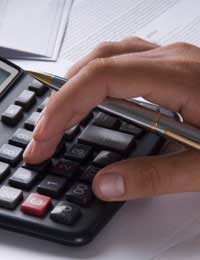 Q.
I recently had a gardening job done (light weeding and edging the lawn). The gardener quoted verbally £21.75 per hour and said he would put two men on it. They came and did the job - were there for no more than 7 hours including over an hour's lunch break.
We then heard nothing for 7 weeks when we received the bill for £393! We spoke to the "director" who said the quote was for £21.75 per man plus vat and removal of the weeds (there were not that many!). I wrote to him to say I felt he had misled us in the quote to secure the work.
I worked out the figures we had been quoted verbally (he never at anytime volunteered any price list or written quote), added a bit for disposal of the weeds using the council's website for commercial disposal, added VAT and it came up to just over half of the invoice. I outlined this and then wrote a cheque stating that in cashing it he would be agreeing to this being the full and final settlement of the invoice. He cashed it then wrote back saying he would take me to court for the remainder. I am standing firm as I believe we are right. Are we?
(A.G, 7 May 2009)

A.
The Supply of Goods And Services Act 1982 is the legislation that governs this type of dispute. The Act is there to protect consumers against bad workmanship and problems with services provided, covers both work done and materials used, and applies to all provisions of services, including those where there is no actual physical contract, such as gardeners and hairdressers.
Part of the Act contains a provision that any contractor who carries out work for you in the course of a business should do so with reasonable skill and care, within a reasonable time, and also at the cost you have agreed with the contractor beforehand, or at a 'reasonable cost' if you haven't agreed one.
The key word here is 'reasonable' and it's this that the court will take into account when deciding the case, if the matter should ever get as far as the small claims court.
Estimates and Quotes
If you haven't come to a fixed agreement with a contractor about the cost of the work (and in this case there is nothing in writing unfortunately, and no fixed quote, just a rough estimate) then if the price the contractor charges you is unreasonable, it puts them in breach of contract according to the law. In this case, your compensation for this breach of contract would be a reduction in the amount charged. Usually, an estimate is not legally binding, although if the final price you are asked to pay is significantly higher than the estimate you were given, you can still claim a breach of the 'reasonable cost' term.
You have done the right thing so far by formally writing to the gardener and asking them to agree that by cashing the cheque they are accepting the amount in full and final settlement. In situations where you are asked to pay in full before leaving, such as when you take a car into a garage and they won't return it without payment, you can pay by cheque and write 'Paid Under Protest' on the back, then follow it up with a letter explaining your reasons, and take action to recover the excessive amount.
If the matter does get as far as the small claims court, the District Judge will take this into consideration as your intention to make reasonable payment. If it gets this far, you could also contact other gardening companies in your area, and find out what they would charge for similar work, so that you can present this as evidence of the charges for this particular job being unreasonable, and that the amount you have already paid the company in question is reasonable.
Thanks to one of our readers who sent us the following comments: If the agreement was after 1st October 2008, the consumer may be able to rely on 'The Cancellation of Contracts made in a Consumer's Home or Place of Work etc Regulations 2008'. These state that if a contract is concluded (i.e. agreement reached) in a consumer's home, the consumer MUST be given a 7 day cooling off period. This applies regardless of whether the work was solicited or not.
The consumer must also give express consent (in writing) if a service is to start within the 7 day cooling off period. If the requisite cancellation notice or consent is not given then the contract is potentially unenforceable against the consumer. If these niceties have not been observed, the consumer should just write back to the trader quoting the above and refuse to pay!
The above breaches may also constitue a criminal offence so the consumer should also report the matter to his local Trading Standards Service.
You might also like...
My very old Exhusband doesn't all ways think straight and people see him comming I think, so just a couple of weeks ago he got a gardener to come and look at his back garden to clear weeds tidy rake over andseed small back garden area he got a verbal quote 500 pounds 2 guys come spent 4 hours 2 days then said its a much bigger job then they quoted for they have worked hard he says they have hired a rotavater too but he doesn't want to pay much more then 600 pounds what should he do now.
Annie
- 18-Jun-20 @ 11:50 PM
A chap was coming to do my patio quoted £185for the materials and gave a start date ,didn't turn up on that day so messaged him said he'd come the next day still no show ,in the meantime I found out materials only cost £107 !! Messaged agin to say this and no reply ! How do I get my money back as I've no address or number ,foolish I know but seemed a genuine guy ????
Tango
- 11-Jun-20 @ 6:30 AM
We asked a drainage company to assess a flooding problem in our basement. We chose a company that clearly states the following on their website: "No Call Out Charges. See & Agree the price before work is started." The company came and assessed that the drains were not at fault and left the property. No work was carried out; only an assessment of the job. We then received a bill for £192.00. Despite clearly advertising there is no call out fee on their website, Thecompany are attempting to charge us a call out fee. This is very poor practice, misleading and false advertising. Would love to hear what you think we should do.
I had to had to call emergency 24 hour drain people out on Tuesday eve at 7pm as a drain in my conservatory flooded . They came out and tried to flush it/ unblock it , no use had to come back in the morning dug down to drain said it need replacing . Next day Thursday dig a hole in kitchen and replaced some drains under the sink .. finished work Thursday afternoon. No price was agreed as he said he wasn't sure until he reached the problem, kept changing his mind , started at £2000..then £3000 , next day £4000 ... £5000 ?!?! He asked if I had a partner .. which I don't , so he knew I was a single mother with children . When I had to pay on Thursday afternoon the bill was £6100 .. £7320 with VAT .. as you can imagine I was gob smacked and felt victimised as I was a single female . I feel this price would be much lower if a male was in the house . What do I do now to try and see if this is the right price ??? Thankyou
Pen
- 30-Sep-18 @ 7:29 PM
Asked a gardening company to quote to remove a tree they come and quote they got to the house, I was at work, they said they can see the tree and it will be 600 plus wastage at 2.75 per kg I said how much wastage would the size tree create and he said I don't know its anew system of calculating waste but said it would be easier if he got rid of it for me. He said he could go now if I wanted and he would drop price to get it done immediately. He also said to keep any price down he would reuse any good logs. My wife got there and they said were saying the same thing. We needed done as other work being done this week so we said yes really didn't think it would come to much more.....then boom 3500.
Robbie79
- 11-Sep-18 @ 6:52 PM
Ermine - Your Question:
Hi,I was given a flexi light at Xmas. Think of a Selfy stick but with a small flexible lamp at the end.It did not work. Not having the receipt or knowing where it was bought, I wrote to the address on the packaging. Offering to return it complete with packaging.They asked that it was returned.It was duly returned c/w original packaging at a cost of £2.85. They have informed me that a replacement is in the post but decline to pay my cost of returning the faulty item. Is this correct? I thought not.Regards, Martin Reeve
---
Our Response:
Because you didn't know where it was purchased from and had no proof of purchase, the manufacturer probably is not liable for this cost. Had the item been purchased online and you needed to return it because it was faulty, you wouldn't incur the cost of returning it. The usual process in that instance is to return to the retailer not the manufacturer.
ConsumerRightsExpert
- 11-Jan-17 @ 11:44 AM
Hi, I was given a flexi light at Xmas. Think of a Selfy stick but with a small flexible lamp at the end. It did not work. Not having the receipt or knowing where it was bought, I wrote to the address on the packaging. Offering to return it complete with packaging. They asked that it was returned. It was duly returned c/w original packaging at a cost of £2.85. They have informed me that a replacement is in the post but decline to pay my cost of returning the faulty item. Is this correct? I thought not. Regards, Martin Reeve
Ermine
- 10-Jan-17 @ 1:07 PM
@PEST. To do so you would need to take to the courts and would also provide some really strong evidence that the work was not satisfactorily carried out. Of course the fact that you did not have planning permissionwas not the fault of the builder.
ConsumerRightsExpert
- 4-Jun-15 @ 2:22 PM
we had a builder extend our kitchen he never got permision do build it and now we want to move house and have been by the councel we have to nock the kitchen down to how it used to be we have got a new builder and have been told the builder who built it was a cowboy can you tell me if I can claim any money back from him
PEST
- 2-Jun-15 @ 1:37 PM
I had a basic written agreement (not a deed or anything fancy) with the Director of a London Art Gallery. He was to sell some oil paintings for me and after his usual deductions (charges for services) was to pass any monies (normally due to me) to named Animal Charities. He's sold about 5 but not passed any money to the Charities because he has a 'cash-flow' problem. Presumably, he's taken his charges. He does not answer my emails / letters and I think he may be evading VAT payment.He may well 'cough-up' in time but I would like paperwork detailing prices, deductions, VAT paid and money due to the Charities.I'm 82, live in Spain and in frail health. Trading Standards say the law does not cover me as I'm not a consumer. Help !
James
- 22-Aug-11 @ 10:46 PM