Can a Retailer Take Extra Payment Without my Authority?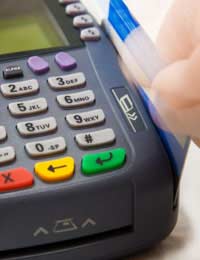 Q.
When buying a coat the retailer entered the wrong amount into the chip and pin machine (neither of us noticed ) 39p insted of £39.
However on recieving my credit card statement I have noticed the retailer took out a second payment the same day for the remaining balance obviously without my card/authority can they just take money from my card like this?
(Mrs Mandy Greenwood, 7 January 2009)

A.
Although the retailer was initially at fault for entering the wrong amount, neither of you noticed the error at the time, meaning you technically owed £38.61 for the coat. Tracking you down would have been a difficult job, and by purchasing the coat you'd agreed to pay the stated asking price of £39.
What the retailer did was take a shortcut and took the remaining payment so you were paying in full for the item, and obviously you have no problem with paying the amount, but the method in which payment was taken. If you do have a problem, the best way to proceed is to complain to your credit card company.
However, what you'll find is that the retailer was probably within his rights to take the action he did. It might seem odd, but in effect you'd entered into a contract to buy the item, and he was simply enforcing that by taking the full payment. If he'd gone beyond that, then he would have been breaking the contract. As it stood, he was merely fulfilling it properly, due to the earlier error.
Although it's an unusual way of doing things, it's not illegal, and certainly not a breach of the implicit contract between the two of you. What should have happened, of course, is that both the salesperson and you should have checked the amount before you entered your PIN, but realistically, as customers we rarely do that, although we should. Certainly the onus should have been on the salesperson to be sure to enter the correct amount (it's worth wondering whether you'd have received a credit so quickly if you'd accidentally been overcharged), but it didn't happen in this instance. In essence you'd authorised the full transaction, it just didn't happen in one go.
What happened definitely isn't normal practice, but it's not unheard of, either, certainly with small ticket items like your coat, where tracing the customer for payment would take time and expense. In these times it's impossible for a retailer to write off money, which is perfectly understandable. It might not seem perfectly fair, and that's natural – you feel like you have no control over your own bank account – but in this instance maybe the best attitude is to think that justice was done.
Mandy Wrote Back To Us
Just to say thanks for your help in answering my question about my credit card you were a great help (much more helpfull than the credit card company) - you are a star keep up the good work ! once again, many thanks, Mandy Greenwood
You might also like...
My husband and I recently stayed at a hotel/spa for an overnight stay. We checked out on the Monday and settled the bill in full. Two days later we received a handwritten note in the post, on the hotels compliment slip explaining that although we had paid for the ungrade we hadn't paid for another treatment, therefore they took an additional payment on the credit card we had used at the hotel. There was a receipt attached to the compliment slip stating "customer not present". Is this legal?. I look forward to your reply. With thanks.
Spa Lady
- 27-Nov-15 @ 9:50 PM