My Parcel is Missing What Can I Do?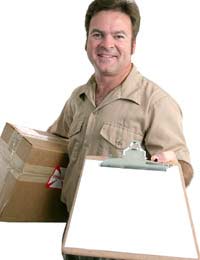 Q.
A parcel was dispatched by Royal Mail to be received the next day, 10 days ago. I've been to collect it from the local office and was told I had already received and signed for it.
But I haven't.
The item is tracked and according to the tracker is in the sorting office awaiting collection. Therefore I can't get a refund from the trader.
This is a very expensive item, I've already complained to RM, and their reply hasn't changed a thing. What do I do now?
(Mr Stephen Davis, 7 December 2008)

A.
From what you write, the problem obviously lies with Royal Mail, or at least your local sorting office, which isn't being too helpful.
First of all, you need to have the tracking number to hand, which you seem to already have. Armed with that, go down to the sorting office and talk to the facility manager there. Explain the discrepancy between what the tracker is telling you and what the staff have told you. You should also check with the trader that the item was dispatched to the correct address.
Since there's a tracking number on the item, it will need to have a delivery signature. With the office claiming that the item has been delivered, they should be able to produce what's called an ePOD, which is a digital copy of the proof of delivery slip – in other words, the slip you're supposed to have signed. If they can do this, then the item's been delivered to someone – but obviously not to you – and therefore you should be able to talk either to the trader, or to the Royal Mail about compensation.
The ePOD will show the delivery or pickup time, as well as the signature and printed name of whoever claimed the item. Without a proof of delivery, of course, it will become quickly apparent that the item hasn't been delivered, and might well just be in the wrong place within the sorting office. Depending on the size of the office, it could be found quickly, or it might take a while. That's particularly true during the holiday season, when the number of packages being sent rises tremendously.
This complaint is something the facility manager should be able to handle; indeed, it's effectively part of his job to resolve problems about his staff and deliveries, both from personal and business customers. This is certainly the most direct way to achieve a resolution and claim your package quickly (at least it should work that way in theory).
There is another course of action open to you, or one you can take if the facility manager isn't able to help or you find him unhelpful. Try contacting Royal Mail's Customer Services line on 08457 00 1200. You'll find the line open from 8 am – 6pm Monday - Friday.
You might also like...
I ordered T shirts from U2 fanfare on 2710/15, I then received an invoice on 30/1015 telling me the order had been Shipped , however there was No Tracking number on , I've been trying to obtain this number from the company but they don't seen to know themselves, They suggest I wait until the end of the month and if I haven't received the goods they will take further action, what else can I do ?
Glasgow girl
- 12-Nov-15 @ 11:20 AM
Hi, I put my mobile phone in to a repairs shop in Newport south Wales to be repaired, since paying for the work done which was only 5 weeks ago the phone is now back to what it was like before it was repaired. What can I do ?
Dave
- 8-Sep-15 @ 10:56 PM