Home Working: How to Spot the Scams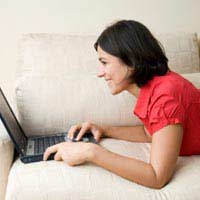 In these hard economic times, we're all looking for ways to make extra cash for ourselves and our families. Working from home as an additional way of earning some money might seem like the best way forward but unfortunately there are plenty of people out there waiting to make money out of those of us who are hard up, and scam people out of their time and in some cases their money too.
The Number One Home working Rule
The first rule of home working is obvious. Never ever give someone money just to allow you to work for them! It sounds obvious, but many people still get duped into parting with their own money in order to work for someone else. Don't do it! Think of it this way, if you applied for a job in an office would you expect to be asked to pay towards your computer? Of course you wouldn't. So any company that asks you to send them a 'start up fee' must be avoided like the proverbial plague.
Typical home working scams that will ask for money are the 'earn money addressing envelopes' scam. You think it sounds good because all you need to do is send them £30 to get started. Addressing envelopes sounds like easy money. Of course it's too good to be true. Technically you might end up addressing envelopes so the person who advertised the job hasn't done anything legally wrong. What they don't tell you until you send the money is that you will be putting up a similar 'make money addressing envelopes' advert and the envelopes you're addressing will be the ones you send to the company behind the scam, with the details of the people who respond to YOUR advert, Put like that, £50 for 100 envelopes is a long way off, and they've got your money in advance.
Another similar home working scam asks you to send money to a company for a 'kit' to start making children's toys or something similar. The actual items you're making can vary but the scam is always the same. You get your kit, you do the work, and no matter how hard you try, you won't be able to get your work past quality control. So eventually you give up in frustration but the company will have your kit money and never have to pay it back or give you anything for your time, as the small print will say that they don't pay for sub-standard work.
Selling from Home - variations on Pyramid Selling schemes
Pyramid Schemes are nothing new and you still see them in magazines like Exchange & Mart. They promise earnings that run into thousands every month, but in reality you only make money through recruiting other people into the scheme and taking a percentage of their joining fees.To make it look more authentic, some companies offer you a website too – which of course is not free. Some of the money you pay for the site will go to the person who recruited you into the scheme and you'll be encouraged to 'sell' websites to new members you've recruited too. To get around the current legislation on pyramid selling, you'll be told that you get commission on all sales made through your site, but as there are thousands of identical sites, the chances of making any money through website sales are pretty minimal...which is why you'll be encouraged to recruit to make up the outlay for the site!
Where to Find Reputable Home Working Opportunities
There are decent home working schemes, you just have to know where to look. Sign up to a site such as People per Hour who charge commission but only if you actually get paid. The site had a myriad of freelance work opportunities and short projects to choose from.
Or you could check out the latest scams and get advice from the Internet Home working directory.
Happy job hunting!
You might also like...