When the Holiday Goes Wrong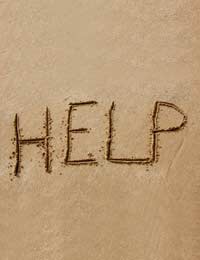 We invest so much of our time into a holiday - picking the right one, booking the time off of work, buying the holiday wardrobe and getting ready for the big day. So it's a big disappointment when something goes terribly wrong and we feel like our much anticipated break has turned into a nightmare.
Travel Agent Trade Associations - What do they Do?
There are organisations whose job it is to make sure that travel agents and people selling holidays are doing their jobs properly, and provide protection in situations where a tour operator goes out of business. Their powers are limited when it comes to actually backing you in the case of a ruined holiday though. ABTA (Association of British Travel Agents) does have an arbitration service that you can use if you haven't been able to get anywhere with a complaint against an agent registered with them. If an agent that you buy a flight from displays the ATOL (Air Travel Organiser's Licence) symbol, it means that the agent or seller has paid a bond to ATOL which insures them against going out of business - and in practical terms it pays to always buy flights and package holidays through an ATOL registered company. They won't be able to get you on your holiday if the worst comes to the worst, but they will give you a refund or fly you home if the company goes out of business while you're away.
What if I Miss My Flight?
If you get caught in a traffic jam on the M25 and you're too late for your flight once you get to the airport, the airline has no obligation to hold the flight for you. Most will be sympathetic and try to get you on the next flight but they don't have to and will probably charge you. The only thing you can do is check your travel insurance and see if you can claim the cost of the flight back under the terms of your policy. It's your responsibility to make sure you get to the airport on time.
If you're bumped off of the flight because of overbooking, or the flight is delayed or cancelled, there are European guidelines which dictate how much compensation you can claim. Roughly speaking (depending on the exchange rate, as the amount is set in Euros) you can claim about £200 for flights delayed for more than two hours to destinations of less than 1500km. You're also entitled to vouchers towards refreshments. If your flight times are delayed for more than five hours you can claim a full refund, and if you've also missed a connecting flight and just want to go home, you're entitled to a free flight back to the place of departure.
For flights from 1500km to 3000km, you can claim around £315 - and the rest as above.
If you were flying over 3000km you can claim around £475 plus hotel accommodation if you need it. Because these compensation limits are set out in European Regulations, the airline can't wriggle out of paying them.
What if the Holiday is Awful?
The first thing you need to do is complain to your holiday rep if you're on a package deal. The Package Travel Regulations dictate that they are your first port of call and should do their best to deal with any complaints. If the room is sub-standard, for example, you're entitled to a room that is equal to or superior to the one you booked. If there are none available at the chosen hotel you must be offered one that's of the same or better standard in an equal hotel.
You should not be out of pocket - so if you have to travel down the road, you can't be expected to pay for transport.
If the rep won't help you (and the regulations say that you must tell them early, they must make every effort to assist you, and you have to let them help you, too) you should write to the travel company as soon as you get home with details of what your complaint was, what you did to resolve it with the rep, your rep's name, and why the problem wasn't resolved. If you were unhappy with the room, you need to be specific as to why. Take pictures, get other guests to make statements on your behalf, and keep a detailed log of what's been said and done.
With any luck, you won't need to use the services of trade associations and keep notes of everything that goes wrong with your trip. But it's reassuring to know that if something goes wrong, there are people that can help and regulations in place to support you.
You might also like...
I booked a holiday with my family to blackpool , my little girl is visually impaird and a long cane user, we have been going to the same hotle for three years twice a year and never had any problems, one the first night a man said somthing very nasty about my little girl and was shouting , she was frightend so we was moved to a diffrent hotle , my son and partner did not get offered a room so we was in to diffrent hotels, what was ment to be a family holiday was just a mess, natinoal holidays have offered us a 10 percent discount on another holiday! but I just carnt afford another one! plus this was the first time in 4 years my son has been able to come with us, I need help with my disabled doughter and having my son 3 miles away in a diffrent hotle and my little one in a new place with unknown surrounding was very stressful al she has done is cry for 4 days, I had no option other then move hotle, I have been told there is nothing they can do, but as my doughter is going blind every holiday or family time is very preaches to us
Ria
- 31-May-14 @ 11:05 PM
We recently booked a holiday online she had seen this hotel and as our friends had stayed there in the past we knew it was a good deal. We proceeded with the booking only to find that when We received the booking confirmation that it wasn't the hotel she had looked at and when she checked the reviews it was literally the hotel from hell. We immediately contacted the online company and expressed our concern about the hotel and could we possibly book the hotel we though we had booked and if not a hotel of a similar quality. The sales lady explained that as it was a bank holiday weekend(easter)she didn't have the access to the system to alter it and we would have to wait 72hrs to have it amended. When we phoned on the Tuesday they said we could amend the holiday with no charges, but we had to pay another £159 to secure the new holiday. when queried they said they hadn't charged us anything extra, but in actual fact they had charged us a extra £300. How can they charge us this amount of money when the first hotel we booked by mistake was not fit for purpos
The Poet
- 24-Apr-14 @ 5:36 PM