Weddings: When it all Goes Wrong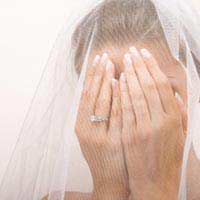 It's not just a tired cliché, your wedding day is a special day and if something goes horribly wrong then it can ruin all those precious memories. There are things that you can do to minimise the possibility of a wedding-related disaster, but some things are beyond your control and so you also need to know what to do about those...
Put it in Writing
There are likely to be several people involved in the wedding arrangements, so unless you're doing the whole thing through one dedicated wedding planning service, there are going to be several different contracts to keep track of.
The most important piece of advice is to get everything up front in writing. This includes absolutely everything from the major issues like reception venue and honeymoon bookings to the fact that one of the guests has a nut allergy, or what's included in the cost of the wedding dress, as sometimes there are extra charges for fittings and alterations.
When you're paying for big expenses, this is the time to put the deposits on credit cards (if they are over £100). This is because the Consumer Credit Act 1974 gives you extra protection if something should go wrong – for example if one of the suppliers goes out of business before the wedding.
Wedding Photography
When you're choosing your wedding photographer, always ask to see previous work, testimonials from satisfied clients and check to see if they are a member of the Master Photographers Association (MPA) or the British Institute of Professional Photography.
Again, you should always put things in writing. If there are any special pictures that you particularly want, tell the photographer in advance, in writing. If the pictures aren't what you expected, it's a difficult one because there's no way a refund or part refund will go any way towards making things better. You do have exactly the same rights as you would have if you pay for any other service – that is the service must be carried out with reasonable skill and care – but there's not much a photographer can do to rectify it after the event, sadly.
Wedding Gift Services.
Some high street retailers and department stores now provide wedding list services which are a great idea if you want to avoid being given three toasters when you already have one. There have been horror stories about some of the smaller services going out of business and taking people's money with them, leaving guests and happy couples bereft. The best way to avoid this is to go for well known high street stores with good names because if it happens to you, the only way your guests will get their cash back is if they paid by credit card for over £100 – and even then it can be hard.
Wedding Insurance
As with anything, weddings are liable to not always go according to plan – so for a small cost it can be worth paying out for wedding insurance. If you're marrying abroad, some package deals give you this as an option and it's usually fairly inexpensive – but well worth it in the case of something like flight cancellation, wedding gear going missing en route or officials not turning up. Even if you're marrying in this country, insuring against cancellation and bad weather is a good start – most premiums start at around £40.
Wedding Cancellation
If you have to cancel the wedding for any reason it means that legally it's you who is in breach of contract and the trader (reception venue, wedding planner, florist etc) is entitled to keep any deposit that you've paid them. Some will refund part of it but they don't have to, and it tends to depend on how close to the big day you get, with some wedding venues having a tier system similar to holiday cancellations. They might also claim expenses – if a dressmaker has had to order special material or a venue hasn't been able to re-book the reception room at short notice.
You might also like...
Hi we went to Mexico for our wedding, the date of the wedding was 22/11/16 when we got there, it was late evening so we had no contact with the wedding coordinator,s we tried the next day but still couldn't get hold of them,then when we tried on the 3 day through the Thomson,s rep she told us thatwe didn't have a wedding booked as it was cancelled, and as its Saturday there's nothing they can do about it until Monday my partner was really upset a wanted to fly home straight away I managed to calm her down it her birthday on the 20th and that's the day we wanted to be married on but had to be in the country 3 days before hand so the closest to that date was the 22ND on the Monday we met up with the wedding coordinator,s to sort it out they told us ,, Thomson,s cancelled the wedding by mistake it was someone else that cancelled there's but was our registration number ,, my partner and myself was really distressed and unhappy with what had happened and managed to get another date of witch was the 25th , it totally spoiled our day and holiday I had to plead with my partner to stay and get married, we have been together for 24 year,s we was getting married a long time ago but there was a few things that went on like Death,s in the family that we ended up not being able to get marriedbut though this was it our special day ,, we have gone and reported it to Thomson through email through there shop that we booked the wedding with but haven't heard anything from them what should our next move be thanks paul
Facelift
- 31-Dec-16 @ 12:45 AM
Trish wilson - Your Question:
Hi, my partner requires a refund on her wedding dress. She was make to believe the dress was made to measure, and told it takes 6 months to make a dress. We paid the deposit and then 10 months instalments, totaling to around £1500. When she went for her dress fitting/measurements she was told it wasn't made to measure but made to fit. They make her a size 14/16 dress then she has to pay for alterations. When leaving the shop that day my partner didn't think that was right. And phone the shop and told them not to place the order. Does she have the right to a refund as the dress has been paid for but not made? Kind regards
---
Our Response:
This is a common procedure when purchasing a wedding dress and should have been in the terms and conditions at the time of order. If cost of alteration is not included in the seller's terms then you can complain.
ConsumerRightsExpert
- 20-Dec-16 @ 12:07 PM
Hi, my partner requires a refund on her wedding dress. She was make to believe the dress was made to measure, and told it takes 6 months to make a dress. We paid the deposit and then 10 months instalments,totaling to around £1500. When she went for her dress fitting/measurements she was told it wasn't made to measure but made to fit. They make her a size 14/16 dress then she has to pay for alterations. When leaving the shop that day my partner didn't think that was right. And phone the shop and told them not to place the order. Does she have the right to a refund as the dress has been paid for but not made? Kind regards
Trish wilson
- 19-Dec-16 @ 3:26 PM
Hello, I recently married on the 19th August 2016. My husband and I had a number of complaints that we have taken up with the venue. We feel that they are not taking us seriously and are not dealing with our complaint. We believe that our complaint had a bad effect on our special day. What would you suggest we do, as we are wanting to claim a partial or full refund to which will be fair to ourselves and the venue. Kind regards Mrs Leightell
Hayley smith
- 4-Sep-16 @ 10:11 AM