When Appliances Go Wrong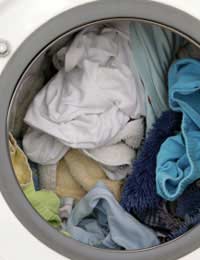 Picture the scene - you've just treated yourself to a brand spanking new washing machine - or maybe a dishwasher, or perhaps a lovely flat screen TV. You might have saved up for ages to buy the appliance, or at least deliberated over what to buy, making sure that it was the best possible make and did everything that you expected.
What you don't expect is for it to stop working when you've not had it for very long. So you'll be pleased to know that the law doesn't either. Consumer law used to give you rights to a refund, replacement appliance or free repair, depending on the amount of time you'd owned the item, what it was, and what had gone wrong. The trouble was that the law (the Sale and Supply of Goods Act) was quite non-committal when it came to how long you could claim these rights for and on top of that, the responsibility for proving that the appliance (or any other type of goods) was faulty. If the retailer said that there was nothing wrong with your washing machine and refused to help, you would have had to somehow prove otherwise.
The law has now been tightened up, and broadly speaking if a major appliance decides to give up the ghost within six months of you buying it, you are entitled to some form of compensation because it's assumed that the fault was there when you bought it.
You would expect something like a television or other household appliance to last more than a few months. But at the same time, if you have had it for that length of time and it goes wrong, you have still had six months use from it so you wouldn't just be able to demand a full refund. You could try to insist on a replacement and would almost certainly be within your rights to get a free repair. And if it can't be repaired, money towards a new one or a replacement would be in order. These situations aren't set in stone so often it's all down to what you can negotiate with the retailer.
Extended Warranties on Domestic Appliances
So, with that in mind, should you jump at the chance of a warranty? The answer is that it depends on the type of appliance, the length of the free warranty, and the cost of any potential repairs if the appliance did go wrong after the free warranty has expired. Although you have enhanced rights for the first six months, you do have legal rights to goods of a satisfactory quality, and part of this is that anything you buy must be durable. So if something goes wrong after eight or ten months, you might not be able to march into the shop and insist that the appliance must have been faulty from the time you bought it. You will, however, be entitled to use the argument that it's clearly not durable and therefore you're still entitled to free repairs, or if it can't be repaired, possibly a replacement.
What you're entitled to will get less and less as time passes, but while you're covered by the warranty you can still pester the manufacturer in the first year (or for however long the free warranty lasts). A free warranty is helpful if you've had an appliance for some time and the shop is being unhelpful, although early on you should definitely go back to the shop before the manufacturer. The Sale and Supply of Goods Act is legally enforceable but a free manufacturer's warranty is not.
Once the free warranty has run out, you're on your own, which is why extended warranties are popular. Are they worth it? It's hard to say. On an item that's cost a lot of money and has a lot of moving components, like a washing machine, it might be worth it. Washing machines will always go wrong eventually so a longer warranty can save you hefty repair bills. But on an appliance like a fridge, or a cooker, the general advice is that they aren't really necessary. But it's up to you. Always ask questions and find out exactly what's covered before you buy. Because you pay for an extended warranty, it is a legally binding contract - but so is the small print.
If I Need My Appliance Repaired...
So, if you've had your appliance for a while, and you know that it's probably wear and tear that's leading to the funny noise from the washing machine, you'll need to find someone to repair it. Word of mouth will always be the best way to find a tradesman, but if that's not an option, try a website that rates tradespeople and find someone through Internet 'word of mouth' instead.
Failing that there are trade associations for electricians, and they usually have lists of members in your area. They can't guarantee that the work will be perfect, but membership of a trade association does give a degree of reassurance. The ones to look out for are:
The Electrical Contractor's Association
The National Inspection Council for Electrical Installation Contracting
Members have to sign up to a code of conduct, and in some cases the trade associations also help if there's a dispute.
Hopefully your new television will be just fine - but it's always good to know what to do if it's not!
You might also like...
I purchased a cooker in November 2019 from argos In April 2020 the heating element went argos replaced it In August 2020 the heating element went again Again this was replaced by argos Now April 2021 it's gone again Do I have any rights to getting this repaired or even a replacement seems the heating elements are not lasting longer than 6 months
Sarah
- 5-Apr-21 @ 3:35 PM
bought indesitwasher november 2019 went of oct 2020 needed new board happened again dec 2020 needed heater and thermostat they are saying i have to pay for someone to come outas faults happened again before guarantee ran out and ongoing refused what are my rights
marls
- 9-Mar-21 @ 3:15 PM
In May I purchased a Kenwood cooker from Curry's. It broke down in September and was repaired 3 weeks later. It has now broken AGAIN..that's twice in 8 months! I contacted Curry's saying I wanted a replacement cooker... but a different brand. They said an engineer would have to give me an aplust number to enable this to happen??They then gave me a phone number to call that nobody would pick up....How can I get a return number if the phone is not being answered? I really don't know what to do... I'm jumping through hoops, I just want a cooker that's fit for purpose and that's not too much to ask!
Suewilldo
- 22-Feb-21 @ 4:07 PM
I bought a fridge freezer online ten months ago and yesterday the freezer broke a and all my food defrosted and wasted. The company are trying to send me to a repair site but the site won't answer the phone and the online chat isn't working. I don't want a repair as it's a freezer and I've already lost a load of food. What should I do?
Sheena
- 19-Jan-21 @ 3:44 PM
I bought a shower from Homebase and got a plumber to install it, five days later the shower has broken. Can I get a new shower from Homebase and get them to cover installation costs of the new shower as it's their fault for selling me faulty goods?
PorgiePie
- 7-Jun-17 @ 10:03 PM
I lease a washer and dryer from Aaron rentals,washer works fine but dryer lights up does not dry it doesn't even make a tumbling sound like a dryer usually do.I have call Aaron and my respond was it was try out her and it worked fine so he mention the power source had to be at 220,when I look at my unit it was more than 220 it was at 250. So who at blame in this situation! My landlord power source or Aaron rental.
Mariam Lebron
- 14-Aug-16 @ 1:45 PM
We built our house and in may 2012moved in, and had new neff products, a few weeks ago I Decided to use the ovens cleaning programme for the first time, so after reading and following the instructions I left the oven. Once the programme had completed and the oven cooled I opened it to wipe down the ash and found the glass door all cracked on the inside. Is this not a manufacturing fault? Neff have said I need to pay for an engineer to come out, butthis is a programme that the oven shouldbe able to do. Unfortunately the shop that we bought the products from has since closed therfore I have spoken to Neff directly Please advise
Sue
- 5-Mar-16 @ 10:36 PM
I purchased a washer dryer in Dec 2015 from AO and it keeps displaying a fault. I had it less than 30 days so contacted AO to ask for a replacement. they fobbed me off and told me to call Hoover And stated they couldn't do a refund without an engineer visiting first. I have gone back to them and said I am not contacting Hoover as my contract is with them, and I am rejecting the goods as faulty and not fit for purpose. they are still refusing to issue a replacement or refund without an engineers visit. If I do return the goods without an engineer visit I will only receive a 45% refund. Surely they cannot do this?
Cet88
- 18-Jan-16 @ 10:43 PM
My freezer compresser broke argos said they pay for it to be fixed .i used candy 3 repair men have been out they took my £119 I signed electronic form so no reciept .the last man said yes compresser not worth fixing as they cost £200 I need engineer report so argos can give me new freezer over month now they won't answer emails can't get threw on phone .how can I get this report / receipt to prove they came out and I paid .since they fixed nothing I feel they stole my £119 .also sent threatening letter from stencil on here
Lidos
- 12-Nov-15 @ 5:55 PM
Bought a washing machine from AO in July and it's started to show an error message. I've tried to contact AO but it seems I can't speak to anyone there, they just try to put me straight through to the manufacturer.Is this right ........ I thought as I'd bought rom AO it was there responsibility.......... I'm confused!!!TIA
Breezy
- 5-Nov-15 @ 2:48 PM
jeanipin - Your Question:
Hello, we bought a panasonic microwave 5 1/2 weeks ago and it makes a loud rattling noise when using convection, we have had 2 in the past and they were both quietly running. Having used it a few times, we hoped it may stop, but hasn't. Went back to retailer who let us call panasonic and the service centre, the retailer allowed us to try another one in shop, which was suggested by panasonic, this one was quiet lik our old ones, so we knew there is a fault. If service engineer repairs it and is no different, am I entitled to a replacement please. Retailer only gave us the above option.Any information is gratefully received.Jeanipin
---
Our Response:
If there is a fault - as it's been more than 30 days (but less than 6 months) since you purchased the product, you can choose for the retailer to either repair or replace the product- this is your choice, but retailer can override this if one option is disproportionately expensive compared to the other
You will be entitled to return the product for a full refund if
Repair or replacement isn't possible
Repair has been unsuccessful
Replacement is not possible and repair would take an unreasonably long amount of time
Repair or replacement would be significantly inconvenient.
ConsumerRightsExpert
- 27-Oct-15 @ 12:17 PM
Hello, we bought a panasonic microwave 5 1/2 weeks ago and it makes a loud rattling noise when using convection, we have had 2 in the past and they were both quietly running. Having used it a few times, we hoped it may stop, but hasn't. Went back to retailer who let us call panasonic and the service centre, the retailer allowed us to try another one in shop, which was suggested by panasonic, this one was quiet lik our old ones, so we knew there is a fault. If service engineer repairs it and is no different, am I entitled to a replacement please. Retailer only gave us the above option.Any information is gratefully received.Jeanipin
jeanipin
- 23-Oct-15 @ 12:10 PM
@Cathy. When you're having something serviced or repaired you have the right to have the service carried out with "reasonable care and skill". A trader also has a responsibility to take good care of any belongings left in their possession to be repaired or serviced. If they lose or damage your belongings, they must compensate you unless they can show that what happened to them wasn't their fault. You can ask for payment towards a replacement casing or ask that they carry out the repairs for you. You could try refusing payment but should seek advice before doing this Trading Standards or Citizens Advice Bureau are both good places to find this kind of individual advice.
ConsumerRightsExpert
- 20-Feb-15 @ 2:03 PM
Hi guys I took my sewing machine to a shop to have it serviced and the timing done (the shop sent it to a enginer ) I got the machine back with a crack on the plastic cover and the cover for machine is not lined up properly ie i have lips everywhere on it also have marks on the plastice join's looking like the have used a tool to open the machine up spoke to the shop about it the shop in turn spoke to eng he said the following its old machine,looks like its been dropped,its in better condition now than it was when it came in the machine is 4 yrs old ,its not been dropped,it was perfect condition when i took it to the shoptrying to work out how he could work out i had dropped it when he has not looked at the shop has now passed the eng phone number to me telling me to deal with him direct where do i stand
Cathy
- 18-Feb-15 @ 8:05 PM
@Chris. Depending on how much you paid, you'd expect it to 'reasonably' last longer than 18 months. If it will not work without the relevant part, then you need to be firmer with the company. Send a letter quoting your rights under the Sale of Goods Act...ask for a full description of the part number and exact details of where it can be purchased. State that you will require a partial refund if the fire cannot be fixed. If you do not get a satisfactory response, the trading standards office should be informed.
ConsumerRightsExpert
- 22-Jan-15 @ 10:36 AM
I bought a firep & fireplace from CVO fires approx 18 months ago. it has stopped working and I have has an engineer out to try to fix it.The engineer said we needed to replace a part that was faulty.we contacted CVO to help get the part and were told the part is faulty but the company in Hungary that supply it has gone out of business, but it is available online!they gave us no other information, but just said they couldnt help because the fire place was over a year old.What do we do we have no clue about the part and where to souce it??
Chris
- 19-Jan-15 @ 8:00 PM
I bought a new washing machine from Argos and within three weeks it developed a fault and a week later it stopped working.It's an Indesit machine and they sent out a repair person to look at it, who confirmed it had a fault and could be repaired.They also told me as it was within 28 days of purchase I could request a replacement. However, both Argos and Indesit are refusing to refund me my money or replace it.I am refusing the repair as I believe the machine had the fault from the start and I don't want to accept a repair on something so new.I want what I paid for.A new washing machine and not one that has developed problems so early on.I've been told by both companies that I do not have the right to a refund or a replacement as I can be repaired. I think they sold me a machine with a fault and I want my money back ideally, but they are refusing.They now have my money and I have a broken washing machine and they consider the case closed.
Wynta
- 21-Aug-13 @ 9:17 PM
Last year I bought my husband a Hoover tumble drier for his sheltered flat in Epping.It is still under the manufacturers guarantee but the problem is that it was purchased from Comet, shortly before they closed their doors. Last week an engineer called to repair the appliance but sadly it has gone wrong again.When he called for an engineer he was told that he was "lucky" to get one as his contract was with Comet and not with Hoover.How can this be when the appliance has a manufacturers guarantee. At the time of purchase I took out an extended warranty in him name. I would be grateful if you would advise how we stand legally. Jean Hagon (Mrs)
Wife
- 31-May-13 @ 7:09 PM