When Home Improvements Go Wrong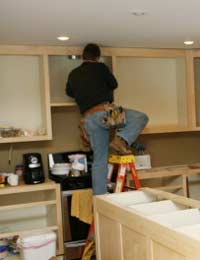 Home improvements - a big decision - and expensive. Because you don't pay out for home improvements on a whim, or very often, when you do treat yourself you expect them to actually improve your home rather than leave you with more to sort out. So what can you do when home improvements start to cause you a headache?
When You Order Home Improvements - But There's a Delay.
Home improvements, like all deliveries, are supposed to actually turn up when the seller says they will. It's not like a parcel that you can collect from the post office - you will have to arrange time off of work, and for someone to be there while the contractor is fitting the kitchen, bedroom or bathroom you ordered (if you paid for installation.) If you have arranged for a private contractor to install the home improvements for you, and they don't arrive, you run the risk of inconveniencing them as well as yourself.
In some cases, you might have specified a date for delivery. For example you may have asked for the delivery before relatives are due to come to stay. If you've agreed a date, that date becomes a term of the contract of sale and so a delay is a breach of contract by the seller. It's up to you whether you accept that breach and carry on with the contract (with another specified date) or cancel the contract altogether. If you do decide you can't accept the delay, you're entitled to cancel the contract at no cost so don't be bullied into paying cancellation fees.
If you didn't set a date for the delivery in the contract, and just left it for the seller to let you know when the home improvements were in the store, it's harder to take action over unreasonable delays. What you can do, though, is to 'make time of the essence' which legally introduces the delivery date as a term of the contract, and enables you to threaten to cancel the deal with no penalty if they can't supply the goods within the agreed time. The usual 'reasonable period of time' is about 14 days. You will need to write to the seller and tell them you are making time of the essence and setting the date for delivery. Send the letter recorded delivery for evidence if there are any disputes later - and email a copy, too.
The Home Improvements Arrive - But There's Something Missing!
If your lovely expensive kitchen arrives minus the dishwasher, or the bathroom is supplied tapless, you have grounds to complain. You can choose not to accept the goods, but that would involve not having anything fitted and leaving the house in a mess (and whichever room you're improving, unusable.) It's easier if you've paid for the seller to arrange installation as you can theoretically accept the rest of the kitchen on condition that the missing parts are supplied. Set a date for this and tell the supplier that if they don't supply the missing part by a certain date you will have no option but to purchase it elsewhere and claim the cost of the appliance and the installation back from them.
It's harder if you've hired someone else to install the home improvements, but the principle is the same. You should never be out of pocket due to their error, so if there's bits missing and the rest can be installed and used without them, get as much of the available kitchen/ bathroom/bedroom fitted as possible. The Supply of Goods and Services Act covers this sort of contract, as well as the Sale of Goods Act - and you can claim compensation if the goods aren't as described (with items missing), or not fit for their usual purpose(parts missing such as a wardrobe door, a bathroom tap etc)
You have to try to keep extra costs to a minimum and be reasonable. If it's a bedroom and part of the wardrobe is missing so that it can't be put together, you might have to send the contractor away, and claim any money back that you've had to pay for his call out from the seller. If there's no way anything can be salvaged, you're within your rights to reject the whole thing and ask the seller to collect it from you at no charge.
Remember that you have rights under consumer law, and that on the whole you're entitled to get exactly what you paid for, within a reasonable time. Don't let sellers fob you off, and be prepared to stand your ground to get what you want. Happy home improvements!
You might also like...
Katie - Your Question:
I arranged for a chest of drawers to be transported from Tyne & wear to London. They had travelled to London without a problem, but when they were being delivered they were badly damaged. It was then decided that there was insufficient packing and a claim has been refused. Why were we not informed earlier that there was insufficient packing, and it seems strange they could travel so far with out a problem. Do I have any rights to compensation for the damage?
---
Our Response:
Sorry it's not clear who packaged the item? Did the courier/delivery service specify a certain type of packaging etc?
ConsumerRightsExpert
- 20-Apr-16 @ 1:56 PM
I arranged for a chest of drawers to be transported from Tyne & wear to London. They had travelled to London without a problem, but when they were being delivered they were badly damaged. It was then decided that there was insufficient packing and a claim has been refused. Why were we not informed earlier that there was insufficient packing, and it seems strange they could travel so far with out a problem. Do I have any rights to compensation for the damage?
Katie
- 18-Apr-16 @ 9:03 PM
Hi, We ordered a kitchen from Wren back in March15.We also used Wren to fit the kitchen, remove the utility walls, brick up the back door, do the electrics and tile the floor and walls.They sent a fitter round to give a quote on the additional work, and we booked in the date. The fitter explained the time table of work i.e. he would arrive on the Monday and clear the old kitchen and utility walls, the plasterer, bricky and electrician would arrive on the Tuesday to do the brick and plaster work and electrics, the kitchen would be delivered on the Thursday. Job would take 2 weeks in total. Wife and I had taken time off work, kitchen emptied and whole of downstairs cleared in preparation for work and delivery of units as instructed. Monday morning came and went and nobody arrived.Tried to contact Wren and told the job had been delayed by 4 days. Rang fitter who said he had just been told by his manager and was now on another job- he was furious as he had booked in bricky, electrician and plasterer who now had to be cancelled. Kitchen arrives unexpectedly on the Weds, but fitter not starting now until the Friday. Plasterer and bricky now not available. Long story short job done completely out of sequence and takes longer than expected.This wouldn't have been the end of the world, however at the end of our 2 week allocation the fitter is put on another job. Our entire house- and I mean every downstairs room, is left looking like a building site with no usable kitchen (we have 2 young children and various birthdays and family visits arranged).Fitter continues to try and get job finished by popping in for odd half days when he can fit it around other jobs- leaves the house looking like a building site after every visit.During all this no contact at all could be made with Wren. Fitter was completely frustrated and rushing everything.Took 8 weeks in the end to finish. Lots of issues including terrible tiling and grouting, chipped doors, aerial socket not working etc. etc.We do not want Wren back in our house ever, but we do want to be compensated for the huge stress and nightmare we have been through.Nobody has contacted us or apologised other than one email to say that we should take up any issues with the fitter as our contract is with him.They are now ignoring us and not responding to emails. Do we have a claim we can make for the delay and disruption for 8 weeks?If so how do we go about this? Thank you for any advice you can give
chris
- 28-Oct-15 @ 1:00 PM
I decided to have a conservatory built and contacted a reputable company they sent me a sales rep and I explained what I wanted but only had x amount of money to spend. He was very charming and told me that I couldn't afford one with this company and that he was a builder with his own business and helped this firm out when needed and that he could do it for the amount stated. the bells rang but I wanted so much for this conservatory I decided to go ahead with it Jan 20th 2015 and £5675to be paid in stages he wrote out a confirmation and I paid £1337 deposit Theystarted the next day for 3 days and dug the foundations ,drains ect the next day he asked for the remainder £1337 for the cement to finish the foundations the next day this left me with £3000a few weeks later he came asking for £500 for the polycarb roof to be ordered then decided I needed a dwarf wall building and another £1500 for bricks and the walls of the conservatory he then had a builder do the wall and measure up end Feb he asked for the balance of £1500 to get the French doors ect March came he gave me dates and then excuses April still more excuses now the 29th April he has rung me with more excuses says it will be done by next weekend please can you tell me how long do I take these excuses for and what can I do to sort this out. I have signatures for all transactions he has had and he phones me nearly every week usually with an excuse and to move the goalposts again I have told him I think he,s scamming me but he assures me he isn't and how beautiful it will look when its done. help what do I do?
smithy
- 28-Apr-15 @ 9:37 PM
@rendering nightmare. Details?
ConsumerRightsExpert
- 20-Mar-15 @ 11:09 AM
Hi need some advice!I think I have employed cowboys to re render my househelp I dont know what to do
Rendering nightmare
- 18-Mar-15 @ 2:59 PM
I had my bath renovated in situ and received a ten-year guarantee. The colour appears to be fading where the water runs away, as well as having cracks round the drain.For several months I have tried to make contact with this tradesman, but his mobile is not receiving calls or texts.His home number still has an answering machine, but he does not return my calls. Any suggestions, please ?
steelmagnolia
- 23-Jul-12 @ 4:00 PM