When Furniture Deliveries Go Wrong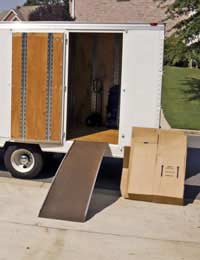 New furniture can make your home feel like new, and when you splash out on that lovely new sofa, the last thing that you expect is that it might not turn up, or may turn up on time but not fit through the door or up the stairs!
The key when ordering new furniture, whether it's online or from a store on the high street, is to know exactly what you want, whether it will fit and when you need it. If you're ordering something that you need by a certain date, make sure that you specify right at the point of purchase that you must have the item by that date. By doing this (and insisting that they make a record of it, too) you are making time of the essence, a legal term which means you are adding another condition to the contract that you make when you buy the furniture, and that gives you the right to cancel the contract without penalty if the retailer says they can no longer supply the goods by the date you agreed.
When The Furniture is Delayed
When you've ordered some furniture - perhaps a bed or a sofa in time for a relative's visit, it may be very important to you that it's there on time. You can either express this at the time of sale - or if there's a loose 'delivery will be within six weeks' agreement but you find out that there's going to be some delay, you can make 'time of the essence' at a later date, as long as you set a reasonable date and do it in writing. You can also do this if you've accepted that there may be a delay, but it's now getting to the stage where time is dragging on, and you feel like you are being 'fobbed off'. If, for example, you ordered furniture that should have been delivered 'within four weeks' but after five weeks it's not with you, it's perfectly acceptable to say that you'll accept a further delay of a few weeks and then, if the goods still show no sign of arriving, tell the retailer that you are 'making time of the essence' and if the delivery isn't with you by whichever reasonable date you set, you will cancel the contract. If you're forced to do that, you should receive all of your deposit back and be able to cancel with no penalty to you. You must also make sure that you do this in writing and quote the phrase 'making time of the essence' as it's a legal term that you can rely on if you need to take legal action.
If The Furniture Won't Fit
The sensible thing when you order any large piece of furniture is to make sure that it will fit where you need it before you order it. This also means that you should take into account whether it will fit through the door, or whether you'll be able to fit it up the stairs if it's bedroom furniture.
If the worse comes to the worst and you have furniture delivered that just won't go where you need it to, legally it's your fault. Harsh, but fair. Some retailers will take pity on you and let you send the item back, but as far as they are concerned, it's the goodwill of the seller that you're relying on and not a legal obligation. If there really is no way that you can get the item into the house, there may be little choice but for the delivery men to take it back on the van and you'll have to negotiate with the store to see whether they are prepared to offer you a refund. They are more likely to let you have a 'credit note' so that you are obliged to buy more furniture from them - and they don't even have to do that, so you can't insist on more if that's all they will offer you.
The only variation to this is when you order something - having measured up - and it's not the right measurements when it arrives. If the retailer has made a mistake in the description, they are in breach of their contract to you and unless there is another way around it, they have to give you your money back.
As with all big purchases, when it comes to buying furniture, planning is key. Make sure it's what you want, that it will fit where you need it to, and that you tell the seller when you need it, and you shouldn't go far wrong.
You might also like...
I ordered a chair from Ideal bedrooms, paid £130. Ideal bedrooms got city link to deliver the incorrect coloured chair on a Friday. I notified ideal bedrooms that a mistake had been incorrectly delivered. I was then informed by ideal bedrooms that they would resolve the issue, but no longer had a chair fitting this description in their shop thus would need to notify the factory building the chair (this was the following Monday). On the Tuesday I was informed by ideal bedrooms that a courier called Xpd had picked the supposedly correct chair up on the Tuesday afternoon and would deliver it within 48hrs. I would be able to track the chair throughout its journey. I typed in the consignment number of the chair, and inserted my postcode as directed by Xpd web page. Other than the chair being picked up on the Tuesday nothing else was logged on Xpd's web page. I did not respond until the Friday, thinking that the company was sluggish when imputing data regarding the chair. I took time off work expecting to be delivered, I made contact with ideal bedrooms several times in reference to the chair but was informed that Xpd were responsible for the chair not Ideal bedrooms. I phoned Xpd customer services on the Friday night when it became apparent that I was not going to take delivery of the chair on the Friday. I was informed by Xpd customer services that the chair had been delivered at the incorrect site and would be treated as a specialised delivery service and would be given preferential delivery treatment and delivered on the Saturday am. I would also be able to exchange the appropriate chair for the incorrectly delivered chair and this would be the end of the matter.I phoned the sites mobile phone number that I had been provided by Xpd customer services on several occasions during the Saturday Am when it became apparent that I had been lied to, and no such exchange was going to take place, I was met with a mobile phone answering service, and received no response. I text ideal bedrooms and pointed out what had happened, I was met with an apology and offered a refund. My wife pointed out that she wanted the appropriate chair to finish of the freshly decorated bedroom. I pointed this out to the ideal bedroomsales advisor that I had been in contact with throughout the week. I decided with the wife that we would give Xpd another working day (which I was taking off work). On the Monday I phoned Xpd customer services and was informed that it was not down to me as a customerto chase Xpd, but should be ideal standards.I informed the manager of Xpd that I found their courier service shambolic, and could not understand how a job as simplistic as picking a chair up at a factory on a designated day, at the appropriate time, and delivered 200 miles a way, at a designated time, on a specific day, had become so miscommunicated and created so amessOn the Tuesday morning I decided with the wife that this atrocious situation needed to be resolved. I phoned ide
justin
- 22-Feb-14 @ 11:04 PM
Hi My Wardrobe was delivered to me by Asda Direct as I am Disabled I got a joiner to put it together which was £50 anyway the 2 back panels were cut short so they will not fit,so I contacted Asda in August saying I needed these 2 back panels replacing,which when I read the paper work which came with the 6 door Wardrobe it said it would take up to 20 days for delivery of any spare parts which I understand,I have phoned them up several timesnow and also emailed them but I keep getting exuse after excuse so would you say that I should get a Full refund as the goods that they sent me were not fit for purpose Many thanks hope you can help me or know someone that could help me
Donkey
- 29-Nov-13 @ 10:49 PM
Just had a wardrobe delivered from Barker and Stonehouse Middlesbrough, does not fit,I am a frequent customer of this expensive store,there customer service went like this,as discretion would take it back,-40% of the cost of goods for handling,£90 to put 6 scews in and another £40 to pick up goods, good total was £399 with deductions they would offer me £40 back, SOME CUSTOMER SERVICE, THEY SHOULD BE ASHAMED OF THEMSELVES.
very sad
- 13-Oct-13 @ 3:40 PM