Christmas Savings Clubs and Schemes: How Do They Work?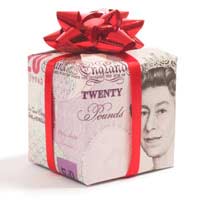 Adverts for Christmas savings clubs usually start to spring up on the television a good couple of months before Christmas – ready for the following year. These Christmas Clubs were very popular up until recently, when the collapse of Farepak in 2006 left around 150,000 families decidedly lacking in Christmas cheer.
Although some people will have certainly been put off the idea of joining a savings club similar to Farepak since the disaster of that Christmas, one good thing that did come from the fiasco was the introduction of the Christmas Prepayment Association.
The CPA has developed a code of practice for the industry which is designed to stop a repeat performance. It includes rules about how the Christmas savings clubs must look after your money once you've handed it over, and there's a complaints procedure that you can take up if you have a problem with one of the companies that offers Christmas savings.
How do Christmas Savings Clubs Work?
Basically, most Christmas savings clubs are just saving schemes that help you to spread the cost of Christmas by saving regular, smaller amounts. The idea is that you pay in anything from £2 per month, every month, and get your money back at Christmas, usually in the form of vouchers to spend in high street stores or a budget to spend in the company's catalogue.
They work well for people who aren't that great at saving – because you can't have your money (or vouchers) until nearer Christmas. That way, you can't decide to blow it all on a holiday in August instead. The down side is that if you do have a genuine emergency and need to get your hands on your savings – you can't.
In most cases you don't get much in the way of special deals – there's no interest on the money you save into a Christmas savings club, and you're also limited to where you can spend the money that you do get returned to you at Christmas.
In some cases you're sent a catalogue which you order your presents from before you've saved for them, and then you pay in advance for the items you've ordered. They are delivered to you a month or so before Christmas, providing you have managed to save enough money to cover them. They encourage you to order early in the year to keep your payments down. You can usually also order hampers of Christmas goodies for delivery, so you can organise the food and gifts all in one go.
Supermarket Schemes
There are also schemes that are run by the major supermarkets which allow you to make a bit of extra money on a savings card, by making payments onto your savings card in store which can then be added to the card.
The downside, again, is that you can only spend your money on things you can buy in that particular supermarket. These schemes have been around for a while now and in some cases you may even get a bonus payment if you have managed to save a certain amount by a date specified. These schemes could well be useful for the Christmas food shopping – which can in itself be a pretty hefty spend.
You might also like...