Bad Investment Advice: New Ruling Could Equal Compensation.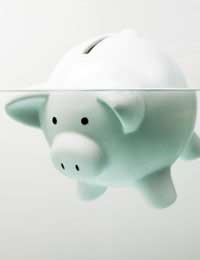 Thousands of investors who lost money when the financial services company Keydata collapsed are now likely to be able to claim compensation, following a ruling in September.At least 3,000 Norwich and Peterborough building society customers thought that they would be saying goodbye to what in some cases was their entire life savings, after the 'low-risk' investments disappeared along with the company. Keydata is currently being investigated by the Serious Fraud Office.
What Happened in the Norwich and Peterborough/Keydata case?
Keydata was forced to go into administration in 2009, when the Financial Services Authority (FSA), found that they had breached tax rules. The company was declared insolvent and somewhere in the region of 30,000 investors lost a total of £450m when the firm collapsed.
The firm provided a wide range of services, some involved complex investment s, some were capital trusts and life settlement plans. Problems started to occur when the FSA pulled Keydata up for describing some of its complicated products as simple ISAs.
The real problems started when the life settlement plans, which were marketed by Norwich and Peterborough as low-risk, were sold on to two other firms SLS and Lifemark, both based in Luxembourg. The companies were not as they seemed, and as a result 5,500 people whose cash had been invested in SLS lost £103m as a result of a major fraud. On top of that, it also transpired that Lifemark could not keep up with the payouts on the bonds that they issued.
People whose money was invested in SLS have already received compensation from the FSCS.
The FSCS decided in September that the marketing materials Keydata had produced in order to promote their investment products did not comply with the Financial Services Authority's rules, which means that they had a legal obligation to investors in these products. This liability meant that the FSCS are able to pay compensation to anyone who is eligible under the FSCS's compensation rules, up to a limit of £48,000.
Where Do The Norwich and Peterborough Come in?
Norwich and Peterborough have been accused of failing to warn customers about the true risk involved in investing in Keydata bonds, and also wrongly advising them to invest too much of their money with the ill-fated company.
Birmingham legal firm Regulatory Legal has been representing customers of the Norwich and Peterborough who believe they were mis-sold the investments. The company said that almost all of the customers involved in the claim were retired or elderly people who had intended to use the money for retirement income.
The building society confirmed that customers who had invested in Keydata for income had now been offered an interest-free loan to cover the shortfall in their income while they waited to hear from the FSCS about compensation.
They also encouraged dissatisfied customers to contact them rather than go through complaint handling company and lose a percentage of any compensation through the company's fees. Regulatory Law are representing claimants on a no-win-no-fee basis but are expected to keep 10 per cent of any compensation awarded.
The Future for Keydata Victims
Campaigners have hailed the recent FSCS decision as a breakthrough, although Keydata's investors won't know much compensation they will receive until the end of October 2010. Any pay-outs will depend on the values of their bonds.
Meanwhile, Norwich and Peterborough are appealing against a ruling from the Financial Ombudsman which ordered them to repay £28,000 plus interest to an elderly couple who lost their life savings. The society disagreed with the Financial Ombudsman's verdict that it had exposed the couple to 'a greater degree of risk than they were likely to be willing to accept' by recommending Keydata plans.
For more information, or if you're one of the people who has been affected, Regulatory law has set up a website to defend 'free speech for investors and advisers'. The site can be found under 'Keydata Investor's Group' and gives updates, a members forum and details of meetings and the campaign's progress.
You might also like...