What To Expect From The Food You Buy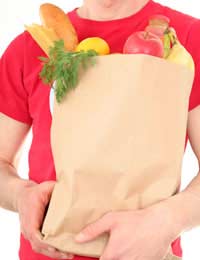 With salmonella, BSE, bird flu and all manner of problems, we've come to realise that the food we buy might not always be safe. Regulations exist to protect us, but there are also plenty of rights you have as a consumer and purchaser of food.
What Do "Best Before Date" And "Use By" Labels On Food Mean?
We see them on so many things, but what's the real difference between "best before date" and "use by" labels on food, anyway? Are they actually interchangeable? No, they're not. You're only going to find a "use by" date on goods that have a short shelf life, in other words, anything that's perishable. The date is the one by which the item can be safely used - the emphasis there is on safety, and it has to appear on those types of food by law. "Best before date" appears on food you buy in packets or tins, and tells you how long the food inside will be in the best condition (although it's usually still safe to eat later). The differences might be subtle, but they're important.
What About Organic Food?
Organic food has undergone a boom in sales recently, to the point where you can get some quite unlikely foods in an organic form, like baked beans. But how do you really know something's organic or not? In a way, you can trust the label, as long as you can find certain things on it. There are very particular guidelines for food that's labelled as organic, and the main way to be sure is to look for the words "organic certification" with a code number after them (which will be prefaced by U.K. for British food). Look, too, for the European Certifying Authority code to be sure it's organic.
Foreign Bodies In Your Food
There's the old "waiter, there's a fly in my soup" joke, but what do you do if you really find something in the food you buy? Talk to the manager of the place where you bought it. What it boils down to is a breach of the Sale of Goods act, since you've been sold something that's not "of satisfactory quality," which means you can expect either a refund or a replacement; it doesn't matter that the shop probably wasn't at fault. If you've eaten part of it and it's made you ill, you might be able to claim compensation. Before you take the food item back, take photographs, since the shop will want to keep the item for testing.
BSE And Food
Worries about BSE and food have plagued us all in recent years. To make sure it doesn't happen again, there's now a beef labelling system in place (it covers veal, too), that's enforced by inspectors. What it means, essentially, is that the meat can be traced, and must be labelled properly by nationality.
Concerns About Additives In Food
We're all understandably concerned about food additives, which have become a necessary evil now, because of mass production, and many food additivesare permitted. They have E numbers (if you're interested, you can get a complete list from the Food Standards Agency). Every food additive has to be tested before it's allowed to be used commercially.
Preservatives are different from additives, inasmuch as they're generally safe because they're closely related to natural substances.
Perhaps the most worrying are GM foods, which have been genetically altered. The ones used in the foods you buy have all been rigorously scrutinized for safety before being allowed - but if you're still worried, it's best to avoid them.
Food And Shop Hygiene
Butchers, dairies, fishmongers - they all have to be approved for hygiene before they can open for business. But they're not the only places that need to worry about hygiene. Every business that handles food, even farmers, has to register their premises for hygiene purposes.
You might also like...