What You Need to Know About Hire Purchase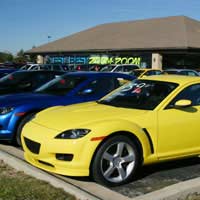 Hire purchase is probably the most common way of paying for high ticket items like cars, furniture and computers. But like any credit deal, it can have its pitfalls and you need to think carefully before committing yourself.
The Basics
When you buy items with a loan or credit card, whatever you buy belongs to you straight away. However, that's not true with HP; you don't own the goods until you've paid back all the money you owe. Your contract is with a finance company which owns the goods until the final payment is made and which can repossess the goods if you don't keep up your repayments. If there's any damage to the goods, you'll be responsible.
You should always look at other options first. Maybe you can get a better rate through a loan, or even another HP company. Compare the APR (annual percentage rate) and the total amount you'll end up paying (fees and charges, too).
Your Rights
Before you sign an HP contract, by law the lender must give you "pre-contract information" to take home and read.Always read the contract thoroughly before you sign it and never sign unless you're happy that you understand and agree with everything - it should be worded in plain language. If the agreement is for less than £25,000 and doesn't include all the financial information, you'll find that the lender may need to get a court order to make it enforceable.
Although your goods can be repossessed if you don't make your repayments, you have protection there too. If you've paid one-third or more of the total amount due, then the lender will need a court order for repossession. Moreover, he'll need a court order to enter your home.
Unfair Terms
Unfair terms are those which favour the lender over you and you need to be alert for them. Something saying you'll have to pay the full amount if you're late with one payment, or making charges for late payment reminders could be classed as unfair terms, because they're heavily weighted against you. If you find any like this in the agreement, challenge them and you might well want to think twice before signing the contract. If you've signed an HP contract which you think contain unfair terms the best thing to do is to seek advice.
You can complain to the Office of Fair Trading (www.oft.gov.uk) about unfair terms. They'll need a copy of the contract and can recommend if you should take action. Ultimately, it's up to a court to decide if a particular term is unfair.
Insurance
Something that's regularly offered is payment protection insurance, also known as PPI. The idea is that if you're ill or become unemployed, the insurance will make your HP payments for you. However, this is optional - you don't have to take it. Before you agree to it, read the exclusions very carefully - if you're self-employed, for example, you might not be covered. Even if you decide you want PPI, you don't have to include it in the credit deal. Instead, you pay the premium in cash, which often proves to be much cheaper.
Ending The Contract Early
There are a couple of reasons you might want to end the HP contract early. The first is that you want to pay it off ahead of schedule. That's fine and if you look at your contract, it should give examples of how much an early pay-off costs. But you'll still need to contact your lender for the exact amount and you'll also have to pay the credit for whatever insurance you've taken out.
The other reason is because you can't afford the repayments and here things become a little more complicated. You can only end your agreement early if it's for less than £25,000 and you've already paid at least half the total (the figure should be shown in a box on the front of your contract). Write to the lender and tell him what you want to do - terminate the agreement and return the goods. From that point you'll only be liable for any payments you've missed, the credit you took out for any insurance and for any damage to the goods. You shouldn't be charged to return the goods. If you have to physically take them back yourself, then it should be somewhere "within a reasonable distance of your home."
Problems
If you start having financial problems, the first thing to do is talk to your lender. It's possible he'll be willing to renegotiate the deal for you. In some cases though, lenders will only accept full payment. If that happens, they might take you to court, where you can always ask for more time to pay, if you really want to - although frankly, you might be better off allowing repossession.
You might also like...
Hi my husband got my son a Christmas present and it was on hire purchase and now me and my husband as spit up he left me indebtAnd now he stop paying for the thing he got for my son for Christmas and there are 3/4 payed for in his name don't know wot to do because it would not be fair to take the stuff off my son he had them for a while
Lynnrhotckick
- 28-Sep-15 @ 4:58 PM
Hi, I bought a dishwasher for my cafe on hire purchase and completed all the payments when I sold the business. However, now I am being asked by another company for payment in order to transfer the title and they are saying that unless this is done they want the equipment back. Can this be right when I have paid off the hire purchase with the original company?
chester
- 20-Dec-13 @ 7:06 PM
I bought a tv on hire purchase but i made a mistake i did not check that the tv is LED. now i want to cancel the contract because the tv is not LED. I have not used it, it was delivered on 24/08/2013. Can i cancel this hire purchase contract ?
thiza
- 26-Aug-13 @ 9:31 AM
hi guys new to this thread but in need of some advice asap, i have just signed for a car on hp , i havent recieved the car yet but am due to do so within the next few days, the finance has gone through but now i dont want the car, i have spoken to the car salesman who says the agreement has been made, signed and financed paid. can anything be done? i have picked up the car, or made any payments, any help on this would be grealy appreciated thanks
scottii
- 15-Sep-12 @ 6:23 PM
Had my car for 2 nearly 3 years and the clutch I think is going is the finance company liable for any of the repairs ?
Richard Megit
- 10-Sep-12 @ 9:08 PM
Hi - I hope you can help.My husband purchased a car in 2005 and fell into arrears after about 21/2 years.The finance company insisted that he refinance the agreement over 10 years thus reducing his payments but this means that the car is now worthless and he still owes a lot of money on it.It also takes him past his retirement age and we are worried that we will never be able to pay this loan.The car is now not running and is worth very little. Also I have looked at his paperwork and the copy agreement that they have sent to him is undated.What can he do? Is what they have done correct?They insisted that he refinance to pay themselves back and making him pay lots more in interest.This doesnt seem right.The finance company is Welcome. What, if anything, can we do. Thanks
casshent
- 18-Jun-12 @ 12:10 AM
I have chosen to hand back a vehicle early under a VBoluntary Termination clause, taken out under a straight HP agreement. I have paid the required 50% and the Lender has written to agree there is nothing owing, so long as the vehicle is inspected and is considered reasonable. However, in the same letter they state they have the right to charge excess mileage on anything over 12k / year. When I bought the vehicle the advice I was given by the Dealer was to take it on HP as in this instance vehicle mileage is not applicable (I had previously had a vehicle on a PCP with the same Dealer and got stung for £2k because of excess mileage). Curently I have done nealry 100K mileage and the car is 5 years old. The mileage is mainly motorway miles because of my job. There is nothing on the HP agreement which states this is the case, and if this were known at the time of purchase I could have either guarded against it through the HP agreement, or at least managed the mileage in an appropriate manner. In any case, they now have the option to place any figure they wish on the cost of each 'excess' mile! So my question is simple - does the Lender have a legal right to charge excess mileage on a HP agreement where no such clause is included?
docsavage1971
- 24-May-12 @ 12:07 PM