What to Do With Those Unwanted Gifts!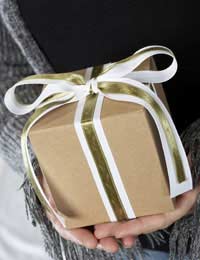 It's that time of year when the shops are full of people trying to take back unwanted presents – but if you are one of the people who was presented with a gift that fell short of your expectations at Christmas, do you know what your legal rights are when it comes to swapping the offending item for something a little more suitable?
You do have legal rights in some cases, but not in all. And even when you are quite clearly entitled to your money back, shops don't always make it easy, even though some of the bigger and better known retailers advertise their own policies for refunds and exchanges before Christmas so that well-meaning gift buyers know that you can change their item for something else if you're not happy.
Be Prepared!
A survey carried out by Which? Legal Service revealed that 82 per cent of the 9.9 million consumers who'd attempted to return an unwanted gift in the last two years had encountered problems doing so.
The number one thing to keep in mind if you're buying someone a surprise gift, or something you're not sure is the right size, is keep the receipt! Before Christmas, consumer group 'Which?' made a point of advising consumers to check the returns policies of the retailers they were buying Christmas gifts from, and to keep the receipts for anything they bought just in case it wasn't appreciated.
Even so, there's actually no law that says a retailer has to give you a receipt, although most high street and online traders do so routinely. This means that they can't actually insist on a till receipt when you return an item that's faulty. You do, however, need some proof of purchase. So if the item was bought on a debit or credit card, a statement or slip is enough proof.
What Rights do Consumers Actually Have?
Another problem is that in general, and perhaps due to consumer magazine programmes on TV, many people think they have more legal rights than they do.
It doesn't matter if you think the jumper your aunt bought you is truly hideous – or if the designer shoes your boyfriend bought you are two sizes too small. If there's nothing wrong with them, the shop isn't obliged to give you money, an exchange or even a credit note. According to Which? 16 per cent of unhappy consumers were told that the shop in question didn't allow refunds for unwanted goods.
For obvious reasons, some gifts like DVDs, video games and CDs are unlikely to be refunded or exchanged if they aren't sealed.
So, When Can You Get Your Money Back?
If the item doesn't fit its description – for example the CD inside the case is not the CD on the label. This also applies if you suspect the item is fake, for example if it's bought from eBay and the seller has described the item as branded when it's clearly nothing of the sort and just a cheaper copy.
If it doesn't work, or is not of 'satisfactory quality' – if the toy your child has received lasts for two days and then stops working; the jumper you've been given has a hole in it; the ornament is broken when you take it out of the box.
If it doesn't do what it says on the box!In all of these cases, it's the person who bought the item that has the legal rights, which can make it slightly awkward if you want to exchange a hideous jumper for something suitable without your mum finding out.
Some larger retailers have an exchange policy that will allow you to swap an unsuitable item for something else if it's clearly their own brand, or will give you a credit note.
You might also like...