Budget Supermarkets: Wise Move or a False Economy?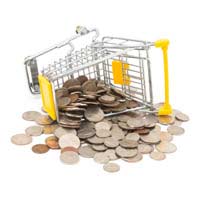 With inflation soaring and dire warnings about the prices of just about everything going up, one area of our expenditure that we do have a little more control over than say, the Mortgage or petrol and fuel prices, is our food bill. Tempted by celebrity endorsed advertising campaigns and low, low prices, many of us are looking to make budget savings on our food bills. Luxury ranges at supermarkets are all very well, but is there really any difference between the products you'll pick up at a premium supermarket like Waitrose, and one of the lower budget stores such as Lidl or Aldi?
How Much can You save at a Budget Supermarket?
Supermarket shopping is often just as image-led as clothes shopping; we might not want to be spotted out with our Farmfoods carrier bags or admit that we shop for groceries at Lidl, although some people like to wear their cost-cutting endeavours like a badge of honour, proudly boasting about how much money they saved at their last food shop. One happy Lidl shopper, Lee, explained:
"My girlfriend was spending £120 per week on the food shopping in Tesco, and I thought no, that can't be right. So I decided to try and get the cost down and did the shop myself one day – I still only managed to shave it down to £99.
"I decided to investigate the Lidl store locally, and they have a lot of the same branded foods for a lot less. In fact, whereas I was paying £4 for a box of frozen fish, now it's £2.50. In just one week we'd managed to reduce the food bill to £60. Some of the own brand lines aren't great, but I actually prefer some of them – and if you're paying lower prices for exactly the same foods, then it can only be a good thing for our budget."
How Popular are Budget Supermarkets?
The figures back up the idea that many of us are switching to budget shopping in an attempt to cut escalating food bills. In early 2011, the big name supermarkets had to sit back and watch upstarts Lidl and Aldi overtake them with a double-digit sales growth in the previous three months. Clearly customers are voting with their feet and their wallets.
The figures from market research experts Kantar Worldpanel showed a surge of 13.6% in sales for Lidl, and a comparably impressive rise of 13.4% for Aldi in the 12-week period up to 20 February, which compared to Sainsbury's, 5.2% growth.
Budget supermarket shopping is losing its downmarket image, with more brands happy to work with the discount stores to bring better quality products to the cash-strapped masses. For example, in March 2011, Aldi announced that they would be launching their very own Fairtrade range in their stores, so that customers could shop ethically as well as cheaply.
Aldi introduced bananas, coffee, tea and chocolate with impeccable Fairtrade credentials, and all carrying the official Fairtrade mark.
What are the Downsides of Budget Supermarkets?
Budget supermarkets do have a certain image, and if you've ever been into one and seen boxes everywhere and thought it all looked a bit of a mess, then it's unlikely that you would want to be hurrying back to any of the places again.
Things have improved in recent years – and really, discount supermarkets have been forced to up their game before the recession because of the bigger stores like Tesco or Asda trying to undercut each other and introducing their own discount ranges to try to outdo the experts!
Even back in 2010, 61% of regular shoppers at Aldi and Lidl said that they were happy with customer service in the stores, in a Which? consumer survey. This compares with only 50% for Tesco and Asda.
The layouts in deep discount stores are going to be basic, and they don't give out carrier bags, so you would be well advised to take your own shopping bags with you. Most stores do at least offer trolleys, whereas originally they didn't. There have been some complaints about the navigation, and the checkout systems of the stores. Let's face it though, all we really need to know about is price and quality...
You might also like...