Selling Your Car? Look Out for Scams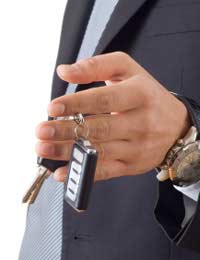 Are you tempted by the adverts on television that promise to buy your car from you? Any car in fact? For £50 to £50,000? They sound too good to be true if you want to sell your car in a hurry, but beware, the instant car buying and selling business has its pitfalls.
Back in November 2011, the Office of Fair Trading (OFT) was forced to take enforcement action against one such trader, Car Craft, which advertises that it will 'buy any car' to sell on at one of its eleven 'car supermarkets' scattered across England and Wales. Concerns were raised about some of the business practices that the company was involved with, when it came to buying cars and selling them on to unsuspecting consumers hungry for a bargain. Particular issues were raised when it came to selling the cars, as salespeople were found to have been economical with the truth when it came to after-sale guarantees, finance agreements and more.
Did You Know? - 'We Buy Any Car' – the company that advertises very regularly on TV with the catchy advert, is related to Car Craft? It's in their interest to buy your car at the lowest price they can...and make a large profit selling it on.
Pitfalls of Quick Car Sale Companies
If you sell your used to car to an online 'we buy your car' dealer, you will quite possibly end up being offered a bare minimum price for it, in return for a guaranteed quick sale. According to reports on consumer websites, many people have been offered less than the trade-in price that they would have received if they had traded the old car in and bought another one at a car dealer.
The initial price that you'll see when you type your car details in to get an online valuation will probably be very tempting, and then when you think "that's not a bad deal" you're invited to make an appointment with one of the company's representatives to inspect the car and do the deal. This is where the great valuation can be substantially reduced, as the representative will find problems with the car – in some cases telling you that the issues they've found render the car unsaleable, but of course they'll take it off your hands because they'll buy any car…and so that's when the initial valuation is revised and becomes a rock bottom offer.
The advice is to do your research into what the vehicle is actually worth, at trade-in and to sell privately, before you accept an offer from any dealer that says they 'buy any car' because they are in business to try and make as much profit from consumers as they possibly can, so will always offer the lowest possible price in the hope that you don't know what your car is actually worth.
You might find yourself under pressure to buy another car from a car supermarket if they buy your old one from you – in some cases high pressure sales tactics have been used.
If you have an unusual car that will be difficult for them to sell on, expect them to offer you a ridiculously low price because they don't actually want you to sell it to them.
Some companies will charge you for valeting the car and take this off of the price they pay you, and most charge an admin fee too – some don't, so it's up to you to find out what their policy is before you sign anything.
On the plus side – if you want to raise cash in a hurry, and have a car to sell, somewhere that buys any car could well be a good bet for you because they actually do buy absolutely any car. They just might not give you very much for it! Specialist publications like Auto Trader, local newspapers and even online auction sites may well be a better bet if you want to sell your car for a better price.
The Office of Fair Trading –v- Car Craft
Car Craft, the sales side of one of the 'buy any car' businesses, was pulled up in 2011 for problems with sales of vehicles that it had already bought. Some of the cars that were sold on were found to have 'significant problems' despite the company advertising that it carried out pre-sale inspections. When these problems were brought to the company's attention, the OFT found that they did not always meet their obligations under consumer legislation to repair, replace or refund faulty vehicles.
The company also fell down when it came to properly explaining finance agreements to consumers buying cars from them – in some cases they were signing multiple agreements and customers weren't aware of this or even how much they would be repaying.
On a positive note, Car Craft has agreed to tighten up its procedures.
You might also like...
I bought a car yesterday part exchanging mine. The price they put on the receipt at the garage was £1000 less. The woman doing the paperwork had written the price down three times. we. Thought wow she's letting us off some money until I relieved calls and texts telling us they had made a genuine mistake. The invoice was wrong and can we rectify the mistake. What to do now ?
Clockus
- 10-Oct-15 @ 8:48 AM