Air Travel: Your Rights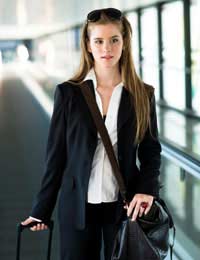 Air travel has become one of the main forms of transport, whether it's short haul within Britain, or longer haul to Europe or other continents. In 2005 alone, 225 million people in the U.K. took flights. We take it for granted that most of the time we'll get on a plane pretty much when we're supposed to, and arrive more or less on time. But there's a great deal that can go wrong. Flights are delayed or cancelled, accidents might make you miss your plane, or your luggage might go astray. What rights do you have?
When You Buy Your Ticket
Before booking, you should know just how much you're paying. Does the quoted price include taxes? If you're paying by credit card, is there a surcharge, and if so, how much - it can add 1-2% to the total. Also, be aware of your ticket's restrictions. Quite commonly, these are no changes to your itinerary, no refunds, and you can't let someone else use your ticket. Also, you'll probably have to pay in full if you cancel. Any reputable travel agent can advise you about all the restrictions and ticket prices, whilst online retailers should make everything clear (including those terms and conditions) before your purchase.
If you book on a charter flight, you're committed to that flight. If you decide not to go, there's no refund or transferring the ticket to someone else.
Limited Mobility
If you have limited mobility, then wherever possible most airlines will accommodate your needs through their voluntary code of practice, and won't charge you for articles like wheelchairs. On the ground, the 1995 Disability Discrimination Act requires a "right of access," which means that all that airport facilities should be easily accessible to everyone.
If You Need To Change Your Flight
If you pay an extra fee, many airlines will allow you to change your flight (if they have available seats). However, be aware that others won't allow any changes to the booked itinerary.
If You Miss Your Flight
If long check-in queues make you miss your flight, most carriers will allow you to change to another flight. However, they're not obliged to do this, or even to pay you compensation. Still, in some instances you could be entitled to a "credit note" as compensation for a missed flight due to unforeseen circumstances.
Overbooking
If you're bumped from an overbooked flight within the EU and you confirmed your reservation and checked in on time, then you have a choice of cash compensation and an alternative flight or a full refund (the compensation is €250 up to 1500 km, €400 for EU flights up to 3000 km, and €600 for other flights). This only applies to regularly scheduled flights. Outside the EU, you must be offered an alternative flight.
Delays and Cancellations
Delays happen regularly. During 2005 over 30% of scheduled flights left more than 15 minutes late. If you're a victim (for these purposes, delays mean over two hours for 1500km or less, three hours for up to 3000 km and four hours for all other flights), the airline must provide you with free meals and refreshments and two free calls, e-mails or faxes. If the delay lasts overnight, then they must give you free hotel accommodation, transport between the hotel and the airport, and meals and refreshments. If the airline can't book you an acceptable alternative flight, then you have the right to a refund. If your flight's cancelled, the airline has to offer you other travel arrangements or a refund (you should also receive two free phone calls, faxes or e-mails). If they can't find you a flight that day, then they have to pay compensation, plus pay for your hotel accommodation, meals and refreshments, and ground transportation.
If they took all reasonable measures to avoid the problem or it was out of their hands (because of, say, security alerts or weather conditions), then the airline can't be held responsible for the cancellation.
Lost and Damaged Luggage
If your luggage is lost or damaged, report it before you leave the baggage claim area. The first thing to do is fill out the Passenger Irregularity Report (PIR). Keep a copy - you'll need both that and your luggage receipt if you're going to claim compensation. You have to make your lost luggage claim within seven days, and in writing (if you're on the outward leg of your journey, most airlines will give you money to purchase essential items). If your luggage is damaged, once again you should fill out a PIR and make your written complaint within seven days. Baggage delay liability is limited to £820.
The airline's liability regarding the loss, delay or damage of luggage goes by baggage weight, rather than value. Because of this, you should be wary of packing valuable or important items. If you're travelling with those, always use suitable containers and take out adequate travel insurance before you go.
Lost Ticket
Replacing a lost ticket isn't as simple as you think. You can be asked to pay for a new one, or the airline might say they'll refund your money only after the lost ticket has expired without being used - and that can take up to a year. Some will replace the ticket free of charge, but make you sign a form stating you'll pay for the ticket if someone else uses it.
Complaints
If you have a problem, try to speak to someone on the spot, and see if they can sort it out. If not, find someone in authority. Make a note of all the relevant information and get the names and addresses of other passengers who were witnesses. When you write to complain, tell the airline exactly what you want to be done about your complaint. If you expect compensation, tell them how much.
If all else fails, you can contact the Air Transport Users Council (020 7240 6061). The problem is that their decision isn't binding on the airline.
You might also like...
I booked a family ticket to Mauritius, paid £50 deposit to reserve the tickets,the travel agent asked if I can pay £2100, so we paid £1000 first to secure the tickets then after 4 days of paying that amount ,I was going pay the £1100....I got a phone call from the agent telling me he can't issue the tickets now.....I really need help what to do next. As I got documents about the booking and atol protection...I want to know my rights
Vrimi
- 19-Oct-19 @ 1:12 PM
Hi, I recently tried to book a flight online, when it got to the confirmation page an error came up and did not proceed. I tried a couple of times but the same thing happened. I did not receive any form of confirmation but the agent took 3 lots of payments. They now want to charge a cancellation fee, but as I thought the website was not working I booked elsewhere. Do I have any rights?
Mel
- 21-Jan-19 @ 8:38 PM
Hello. I was hoping you could help me as regards my rights when changing a booking. I suffer with a clinically diagnosed mental health disorder that affects my ability to organise myself and my affairs when compared to other people. I recently booked a flight with BA to Johannesburg and only realised a few days later that I'd chosen the wrong flight and needed to book the one that was 2 hours earlier. When I contacted BA they quoted me £150 to process the change which I obviously found absolutely staggering. I explained my situation and my problem however this seemed to hold no credence so advised them that I felt that I was being prejudiced and enquired what their equalirt and diversity policy was on people suffering mental health disorders making mistakes with their bookings - to which I was advised they didn't have a policy. I was wondering if I do have any rights and whether I could fight this extortionate charge in order to change my booking?
JimmyMc50
- 30-Jan-17 @ 5:48 PM
I recently bought a car on 56 plate from Evans Halshaw , Belowis a list of problems that i have been trying to get resolved. Can anyone help? I feel that I should write this letter to you in response to the handling of the sale of the above mentioned vehicle to me with false information that was given to me during and after the sale. These are the facts:•(1) The car was very late being delivered •(2) There was no front mat although when I viewed the car before buying there was •(3) When viewing the car it had Michelin tyres however I have been given Continental •(4)There is only one ran flat tyre on the car and three normal •(5)There is no ran flat tyre kit as promise •(6)The right back door doesn't lock with the remote key •(6) No manuals and no service books provided I saw the service book when I came to view the car. •(7) When cruise control is on there is no sign on the dash board to indicate it is on •(8)The car polish wasn't done properly, the water didn't run off the vehicle as you said after last night fog (3th Sep) •(9) Where is the second key •(10) The service light was stating that service was due in 4500 miles yet I was told that the car would be serviced before the delivery and to compound the matter I found out on Saturday 17/10/15 from BMW that the car needed brake fluid renewal and a micro filter which the serviced should have covered.(see attach img012.jpg) •(11) I have rang on numerous occasions with being put on hold and know one coming to the phone or being told someone will ring back yet never happens. •(12)On 3/10/15 @ 17:11 I rang and was hold for 5minutes with no joy, however a lady came back on and took my details again after I explained my dissatisfaction to her and she stated that she will pass on my number to head of sales who wold then ring me back. •(13) On 9/10/15 I spoke to your head of sales regarding my disappointment with the car and MOT. He told me that the tyres put on the car was not ran flat however there will be a inflation kit when the car is returned with a full tank of diesel, non which materialized instead the car was returned to me with a 1/4 tank less than when you collected it. •(14) I spoke to you on three occasions regarding the cruise control yet you are adamant that there is no digital signal on the dash board when its switch on. •(15) I am told by BMW that it has a digital signal. Also because I use cruise control quite often I kept switching it on and off to see if anything happens and guess what a digital number appeard while on the A63 and I was able to adtust it down to 34 miles per hour when that was done, it desarpeard after a few seconds but never appeared again. Which says to me that there is a fault and there issuppose to be a signal when you put the cruise control on. I hope you can understand that I cannot have any trust or faith in your company service department. For my confidence and safety I will only accept key points number 10 & 15 b
Emj
- 19-Oct-15 @ 6:29 PM
Hi bought 55 plate rav4 from perrys 4 weeks ago last night lost power - car gone into safe mode, phoned perrys told to bring it in but live 100ish miles away - would take a few days to crawl car to them! So as they asked we had car code read turns out turbo over boosting advised not to drive car as posibility of wrecking engine completely . So where do i stand on this please. Car advertised at £5500 paid dep of £200 on debit card they took my car trade in for £1000 & i paid for tax £265 and balance of car on credit card. Car only done approx 65000 miles
gibbo
- 20-Dec-14 @ 10:48 PM
Hi, I was wondering if you could help me? My partner bought an 09 reg Ford Galexy from a dealer in July. He part exchanged his car and then put the remining £10k on finance, The screen price of the car was £11600. The car on a whole has been fine, However we were told that the tyres were run flat tyes as the car doesnt have the capability to hold a spare wheel and after running over a nail last week we were surprided to finds that they are not run flats at all and they are normal tyres, Not only that there was no Locking wheel nut present and when we looked in the compartment where the jacj should be all the equipment was missing. Their website says it all of their cars go through a full check but clearly they missed these parts.We have had to pay to have all the nuts remoeved and replaced and for 4 new run flat tyres as that is what the car is supposed to have.I do not expect the car to be in perfect condition but it needs to at least have the fittings that were meant to come with the car. Can you please advise me on what to do? Thanks Ria
Ria
- 30-Aug-12 @ 10:53 AM
i bought a second hand car from a garage on the 4th of July. Since then the car has broken down twice. i have had to have the repairs done to the vehicle so i could use it. When i got the car the garage gave me a 3 month warranty but the isurance company who the warranty is through says the the things that have gone wrong on the car are not covered. Am i entitled to a refund from the garage as i have hadthe car less than 28 days
sam
- 25-Jul-12 @ 6:51 PM
does anyone know,if a person takes finance ,out on a car,and payments are paid every month and car is fully comprehensive then the vechile gets stolen and cannot be traced who becomes liaible for the repayments to finance company..........................
balls
- 2-May-12 @ 10:09 AM