Your Car Could Be Crushed If It's Uninsured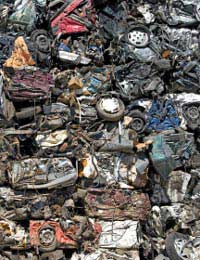 If you've forgotten to renew your car insurance, or worse, not bothered to get your car insured at all, beware. New rules coming into force soon are likely to introduce strict penalties for uninsured vehicles that could lead to your car being crushed, and tough fines imposed on the owners.
The new penalties are proposed to become part of the new Road Safety Act, and will apply to all vehicles which are found to be uninsured, even if they are off the road and not currently being driven. At present, it's only a criminal offence to actually drive an uninsured vehicle, and if a motorist is caught doing so they can face a maximum fine of £5,000 plus six to eight penalty points.
Why are Uninsured Drivers Such an Issue?
The Department for Transport (DfT) has estimated that around a million motorists in the UK are currently uninsured. Road Safety Minister Mike Penning told the BBC recently that he believed uninsured drivers were a real safety issue, given that uninsured drivers are said by the DfT to be responsible for the deaths of around 160 people every year, as well as injuring 23,000.
It's a financial issue too - the cost of uninsured drivers is reflected in insurance premiums, and it's estimated that conscientious, insured drivers have to fork out an extra £30 on their premiums, to cover the cost of compensation paid out to people involved in accidents with uninsured drivers.
Who Will be Affected?
The Department for Transport (DfT) claims that the move will target the estimated one million uninsured drivers in Britain, who will be rooted out when the Motor Insurers' Bureau (MIB) starts to compare its database with that of the Driver and Vehicle Licensing Agency (DVLA). If a vehicle is registered but uninsured, the owner will receive a reminder to buy insurance or face the consequences, which could be anything from a £100 fine to having their car seized and crushed.
They will be informed that if their car or van is not insured by certain date, and even if they pay the fine, their vehicle may still be taken away and destroyed.
Potential Problems with the Measures?
Some motoring agencies are not happy about the potential changes to the law, because they don't believe they will do much to deter deliberate uninsured driving, although they are more likely to penalise motorists who are forgetful or genuinely caught out. The AA gave examples of people who are away or in hospital when their car insurance comes up for renewal, and it genuinely slips their mind.
It also avoids penalising those people who don't even register their vehicles with the DVLA as they will appear on neither database and are just as likely, if not more so, to be a nuisance on the road. These 'motoring underclass' are likely to be untaxed, uninsured and even driving unsafe vehicles with no MOT – making them more hazardous to road users than a motorist who is a couple of months late in renewing their policy.
There are also questions about whether there is enough money available for the Government to make motorists fully aware of the changes in the law. If the moves are not properly publicised it could well leave them open to legal challenge.
What to Do if Your Vehicle is Off the Road
If your vehicle is not being used, and you're the registered owner, you'll need to complete a SORN (Statutory Off Road Notification) to avoid paying car tax as well as any draconian measures for being uninsured. You apply online, over the phone or at the same time as you apply for a refund of your vehicle tax.
You should receive an acknowledgment letter from the DVLA within four weeks of registering your vehicle as off-road.
You might also like...