Loyalty Cards: What to Expect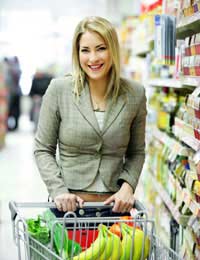 The loyalty card has been part of the British shopping experience since 1995 when Tesco introduced the ClubCard, and around 85% of British households have at least one loyalty card. After all, it seems like a win-win system. In return for spending money at a retailer, you receive something in return, ranging from vouchers for future spending to free air miles. Loyalty cards have become quite ubiquitous, and we use them almost without thinking.
The Rewards
Most of us pay little attention to what we earn from different loyalty cards. But the schemes vary greatly from retailer to retailer. Tesco, for example, gives one point for each pound spent, with each point worth 1p. Boots Advantage card offers four points for every pound spent, and once again each point is worth 1p. But shoppers who are keen supporters of particular retailers have nothing to lose from these schemes and can benefit from special deals where points can be doubled or trebled. The main problem with loyalty schemes is that many people fail to cash in their points, especially if there is an expiry date attached.
In some instances the reward scheme is linked to a company's credit card, such as with Mark's and Spencer or British Airways. The former offers rewards in the form of vouchers, whilst the latter gives a reward in the form of air miles for using the card (some other loyalty cards offer you the chance of redeeming your reward in the form of accumulating air miles).
Loyalty cards have brought rewards to the companies issuing them, too. Shops have found that their sales have increased from loyalty card users, which translates into increased profits.
The Downside
When you use a loyalty card you're giving the retailer a great deal of information about yourself. The till receipts offer a huge insight into your buying habits. But it goes deeper than that. Analysts can determine whether you're employed or not, the age of your children, even whether you're preparing to go on holiday. The amount of information that can be easily gathered can be quite scary.
You give them plenty of information when you apply for the card, and they build on that every time you swipe your card. However, everything they do is perfectly legal within the provisions of the Data Protection Act. See the related article Using the Law to Protect Your Information
Redeeming Your Points
It's all very well using a loyalty card, but you also have to claim the benefits they offer. According to one study, up to a quarter of people don't claim the benefits they earn. In 2003, for example, there were £413 million in unclaimed loyalty card benefits.
Consider having loyalty cards for all the stores where you generally shop. It can take a while to accumulate any vouchers, and yes, you'll be giving up a lot of information about yourself, but you will gain vouchers for the money you spend.
With Tesco ClubCard, for example, although each point might be worth 1p, if you use them for ClubCard deals, they're worth four times that amount, so look beyond the immediate cash value of the voucher and consider using them for hotel deals, for example. If you've thrown away your vouchers, contact the retailers, and they'll almost certainly reissue them if you can give your card number.
You might also like...
Hi, I have collected loyalty points with Merlin cycles and when came time cash in and use them, they said I'm not allowed to as the item I want to purchase is already discounted. It would have amounted to around 8% off with my points. Is this legal?
Rob
- 17-Nov-23 @ 2:53 PM
I received a receipt when filling up for fuel yesterday's BP saying congratulations you've won 400,000 points = to £2,000 I've have since been in contact with BP as they've not been put on my account, they are now saying that it was an error with their system and than a no. Of people received these in error where so I stand. Would they still have a duty to honour this as I have a receipt stating I've won them or can they just say sorry it was an error end of matter? Any help would be greatly appreciated
Avios reward points was having a special deal on Lenovo products. I purchased a laptop and was awarded the points. But Avios has just removed the points saying I wasn't eligible as Lenovo had an additional discount on the day of purchase that I also received. Do they have the right to remove the points after earlier confirming in writing I will be awarded them and then adding them to my account?
James
- 26-Nov-20 @ 5:39 AM
Can a company just change the value of it's loyalty program without warning? Over the past couple of years I have earned 225 points with a local retailer after spending £225 with them and should be able to redeem these points for £10 off my next purchase, on a visit today I fund they have put it up to needing 275 points without warning.
Darran
- 10-Aug-19 @ 7:58 PM
I have been collecting Nectarpoints for a few years now and was hoping to redeem them this year to pay towards our family holiday via Expedia, one of their partners, I therefore amassed a reasonably large sum.However, on the 15th December I received an email from Nectar advising me that with immediate effect, I would no longer be able to redeem my points with Expedia.Given that this was my sole purpose for collecting them this leaves me with very few options to spend, what is, a fairly large sum of money. As a consumer, should I not have received some kind of prior notification to allow me to redeem my points prior to the end of their partnership?I feel very let down by Nectar and also forced to now spend my points at Sainsbury's, which I would rather not!
Bennac
- 31-Dec-18 @ 3:40 PM
Cara - Your Question:
Can a company discriminate against non-internet users by only allowing those with email addresses to sign up to their loyalty schemes?
---
Our Response:
If being on an email mailing list is one of the conditions of the loyalty scheme then, yes.
ConsumerRightsExpert
- 17-Mar-17 @ 2:07 PM
Can a company discriminate against non-internet users by only allowing those with email addresses to sign up to their loyalty schemes?
Cara
- 15-Mar-17 @ 7:00 PM
@NAts. Local authorities do have the power to implement bylaws to prevent loyalty card use by pubs. The aim is usually to prevent binge drinking and alcohol related problems. Not many councils do this however.
ConsumerRightsExpert
- 7-Nov-14 @ 2:12 PM
What is the law on loyalty cards concerning pubs.my local has run one for the last few years.suddenly this has stopped by local licensing authority.is this leagal.
Nats
- 6-Nov-14 @ 9:33 AM