Getting Credit When You Have a Bad Record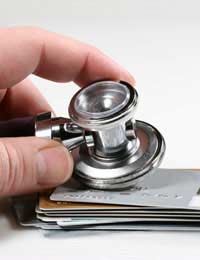 When money is tight, it can be hard to find extra cash for the little things (and big things) that tend to crop up just when we can't afford to pay for them. To help short-term cash flow problems, and see us through harder times when there's no chance of getting credit for a new washing machine, there are companies that have been set up to help people with poor credit get their hands on extra cash or goods.
Are they worth the hassle, though, and do they actually exploit the people they set out to help?
What's a Pay Day Loan?
This type of short -term lending has become more popular in recent years, with companies advertising short-term, high-cost loans for small amounts. Pay day loans are simply that, an emergency stop gap for a short-term cash flow crisis. They are just designed to see you through until the end of month. It's just as well, because some of the APRs quoted by the companies offering this type of finance are eye-watering. Examples range from 1,200% to almost 2,700%.
Although they are only intended to last until your next pay day, some companies will allow borrowers to extend the debt into following months – and if you're tempted to do this, stop right there. You run a risk of getting into serious debt if you allow the money (sometimes as much as £1,500) to accrue that level of interest over a period of weeks or months.
The attraction of most of these companies is that they don't always do a credit check and they transfer the money the day the loan is agreed. It can seem like the perfect solution – but not if you can't afford to pay it all back when you agreed.
If you have to take out a short-term loan like this, shop around and don't be tempted by the companies that advertise the most – it's the customer that's paying for the annoying TV advertising campaigns. There are lesser known UK pay day companies that have rates as low as 67% APR (although rates can and do change) so research before you commit to a massive amount of interest.
Doorstep Loans
Another short-term loan option, especially if you have a poor credit rating, is a doorstep loan or 'home credit'. You borrow a small amount of money, which you will have to repay weekly when an agent visits to collect your money.
Agents are paid commission on the amount they collect, not on the amount they sell, so the theory is that you shouldn't be pressurised into taking out a loan for more than you can comfortably afford to repay. Loans start from small amounts – as low as £50 – and can be repaid over an agreed period, often to a maximum of 52 weeks. The APR for this type of loan is also very steep – for example, with Provident you would pay 272.2% APR if you borrowed £200 over 52 weeks, meaning you would pay back a total of £364, almost double what you borrowed! If you chose to borrow the smallest amount, £50, over 13 weeks, it would be at a staggering 1,068% APR, costing you a total of £70 to repay.
Shop around online for a good deal, and make sure that you know exactly what you're paying when you take out this type of loan.
Rent-to-Buy
The most well known rent-to-buy store is probably Bright House, which offers goods to people with bad credit records under hire purchase agreements where they can pay for their purchases weekly. Of course, there's a high price to pay for this service in that the APR is usually very high and the prices of the goods will be higher than they would be if you bought from a 'normal' store.
Latest reports show that the current economic situation has been great news for Bright House, who have seen their revenue rise 21% to £50.5million since 2008.
Companies like this offer consumers branded household items on easy payment terms with the bonus that they don't ask for any deposit.
Bright House has been featured by the BBC's Watchdog in the past, and some of their contracts have been subject to investigation by the Office of Fair Trading. There have also been complaints of harsh tactics if customers get into difficulties with repayment, or hard sell techniques in-store.
The type of Hire Purchase agreement offered by a rent to buy store is governed by the consumer credit act just like any other credit agreement, so legally, the goods don't belong to you until you've paid for them in full. If you default, the shop can also apply for a return-of-goods order through the county court if you've paid more than a third of the value. A court can decide that you don't have to pay the agreed instalments and reschedule them based on your circumstances.
You might also like...