Additional Guarantees on Credit Cards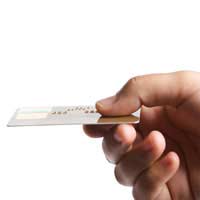 You might believe that using your credit card to buy something simply gives you the same rights as if you'd used cash. It does give you those rights, but it also offers you even more in the way of protection.
Equal Liability
Whether you use a UK credit card to make your purchases at home or abroad, you may be able to claim against the credit card company, instead of the trader, if things go wrong. You can do that if the goods or services you bought are unsatisfactory, if the trader's broken the contract (not sending you the goods, for example), or if the trader's misrepresented or wrongly described the goods or services to you.
This is the equal liability rule, from Section 75 of the Consumer Credit Act 1974. However, be aware that it only applies to credit cards that have been issued by companies or banks in the UK. It doesn't apply to debit cards (for example, Maestro and Visa Debit cards), company credit cards (which aren't covered by the Act), when the goods or service cost less than £100 or more than £30,000, if you use someone else's credit card, even with their permission, or if you just don't like the goods that you bought, or decide that you don't want the service after all.
Making A Claim
In order to make a claim to a credit card company, you must have a proper claim against the trader (however, you don't need to approach the trader to claim from them first). The total cash price of the item or the service for which you're claiming must be more than £100 (or the foreign currency equivalent) but was less than £30,000 (including VAT). Even if you pay the bill partly by credit card and partly in cash - for example you may have paid a deposit separately - the equal liability rules still applies.
If the person making the claim is an additional cardholder, it needs to be a joint claim with the person who signed the agreement for the credit card (the principal cardholder), otherwise the credit card company can reject the claim..If you're entitled to all your money back because of a serious breach of contract, legally you can ask to receive it as a cash refund. In practice, though, you may have to accept a credit on your credit card account. If you've been charged interest whilst waiting for the refund, you can claim reasonable compensation for the losses.
If you paid for any part of a holiday club or timeshare agreement with a UK credit card and you have cancelled the agreement within 10 days of making it, some credit card companies may follow a voluntary code of practice and refund your money. Others might need written notification of a legal problem, You'll need to be able to show that you cancelled the agreement in writing.
If you make a claim under Section 75 of the Consumer Credit Act to a credit card provider and it's unsuccessful, then go to the Financial Ombudsman Services.
You might also like...