What to do if You are Rejected for a Credit Card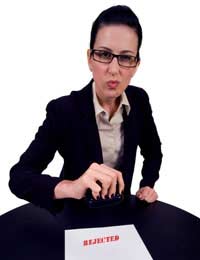 It can seem crushing if you're turned down for a credit card. After all, it's a reflection on your finances and ability to pay your bills. These days, even people with excellent credit are being turned down for new cards, as companies tighten their lending rules. But if you're turned down, you can take action to make sure it doesn't happen again.
You could have been turned down because your debt to income ratio doesn't meet a company's requirements on their credit check, or personal information on your credit report might be incorrect.
If you're declined credit, the lender should tell you the main reason for this. You have the right to know whether their decision was based upon a credit score, information held on your credit file or on the lender's own specific policy. If the decision was based on your credit report, the lender should tell you the name and address of the credit reference agency they used.
Your Credit File
If you've been declined credit because of information held on a credit file, you need to obtain a copy of the file. You can obtain it for £2 from the credit reference agencies. Your credit file includes all the information that any company you apply to may see and will help you to establish why your application was refused. However, it won't list the reason your application was declined.
Examine your credit file carefully. If there's incorrect information, you can challenge it.
If you've had a County Court Judgement against you that you've paid, make sure your credit file shows it as satisfied. If it's not shown that way, contact the County Court and obtain a Certificate of Satisfaction. All credit reference agencies will be notified of the change within four weeks.
If you believe a judgement has been incorrectly registered, contact the court in question.
If you've discharged a Bankruptcy Order or had it annulled and it doesn't show on your credit file, send a copy of the Order of Discharge or Annulment to all the credit reference agencies and ask them to update your report.
You might have an account that's been paid but this information isn't shown on your credit file. If so, contact the company concerned and ask them to make the necessary changes.
If your report shows you with an address with which you have no connection, contact the company that added the information and ask them to delete it.
You have the right to put in an explanation or notice of correction to the information that is held in your credit file, such as a short explanation as to why an account of yours fell into arrears at a particular time. Any lender who sees the entry to which it relates will also see the notice.
It's worth checking your credit file annually to make sure all the information is current and accurate.
In Addition
If you're not registered on the Electoral Roll, contact your local authority and request that they add it. The credit reference agencies will amend the details once they've been notified by yourself or the relevant local authority.
Other people in your household might have County Court Judgements or late payment histories. If those are recorded on your credit file you can ask for their financial connection to be removed, unless you share outstanding joint accounts or judgements. All the credit reference agencies will make these changes.
Wait six months after correcting your credit file before re-applying for the credit card for which you were rejected. Each application you make will result in a search of your credit file. These searches will be registered and could affect future applications.
You might also like...