Choose a Utility Supplier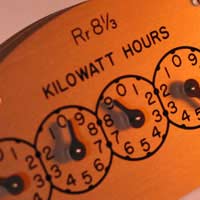 These days, with so many suppliers of utilities, the mere thought of choosing your supplier can cause a headache. There are so many of them that it can seem like a minefield.
The Basics
First of all you need to establish what you want from your energy supplier. Of course everyone wants the lowest possible prices, but you might also have other criteria - a supplier who uses green electricity, for example (and for some who do that, the price might not be higher than a "regular" tariff).
You also need to establish the type of tariff that best suits your needs. With Economy 7, for instance, you pay less for the energy you use during the night than the energy used during the day. However, you'll need to use about 20% of your energy consumption at night to really save (night in this case means that the cheaper tariff starts at 1a.m. and finishes at 8a.m.).
Fixed or capped price plans offer a set price for a period of time (usually 18 months to 2 years). Sometimes this includes a premium on the supplier's standard unit rate.
Dual fuel can be cheaper, since the supplier gives you a reduction for getting both gas and electricity from them.
A number of suppliers have green energy tariffs. What makes the energy green? Some or all of it comes from renewable sources such as wind farms, hydro electric dams and so on. With green energy you're doing your bit to save the planet.
Prices
There are many sites where you can compare process for electricity, gas, water and other utilities, such as U Switch. To use them properly, you'll need your last four bills to have a yearly total of your payments, as well as knowing the tariff you're on.
You can also save on your bills by choosing to pay by direct debit. Many suppliers give a discount for paying this way.
Customer Satisfaction
Customer satisfaction should be another important factor in choosing a
utility supplier
- if you have a problem, you want to deal with someone who'll take care of it. You can find the results of utility customer satisfaction surveys at yougov.co.uk/opi/.
Winter Fuel Bills
Of course, the time we're all hardest hit is during the winter, when the central heating is on longer and higher. If you're over the age of 60, you are eligible to receive a winter fuel payment. In most cases this is made per household rather than per person at £200, rising to £300 if someone in the house is over 80. There's no means-testing involved and most people receive them automatically.
British Gas and some other suppliers offer free insulation to eligible households. It's worth taking, as insulation can sharply reduce your bills and keep your house warmer.
If you're eligible under the Warm Front scheme and living in a privately owned or rented home, you can receive grants of up to £2700 (or £4000 if you use oil central heating) for insulation and heating improvements.
Landline
As with energy, these days there are many landline phone suppliers; you don't have to stick to BT any more (although in many cases, you'll still need to pay your landline rental to BT - only the actual service is from someone else).
Many broadband companies offer bundled phone services, with free or fixed-rate evening and weekend calls (although in some cases you need to disconnect and redial after an hour, otherwise you're charged). Others have plans offering 24-hour landline calls for a fixed amount. In some cases, such as with Carphone Warehouse, to take full advantage of their bundled services, including broadband, you need to transfer your line rental to them.
BT itself offers different packages. The best thing to do is monitor when you use your landline most (in the case of a working family, this will probably be evenings and weekends) and then use a comparison site to evaluate which offers the best deal for you. It's worth keeping track of the type of numbers you usually dial - landline or mobile - as the deals generally only involve landline numbers, but can offer reduced per minute rates for calls to mobiles.
You might also like...
georgina - Your Question:
I am moving into an empty property and do not know who has been providing the gas / electric how do I find out
---
Our Response:
Ask the person who your purchased the property from or the landlord first. How long has the property been empty? You might find that bills will continue to arrive at the property - which will tell you. Alternatively you could just choose a new provider and start afresh. Make sure you keep meter readings from when you move in.
ConsumerRightsExpert
- 8-Oct-15 @ 9:58 AM
i am moving into an empty property and do not know who has been providing the gas / electric how do i find out
georgina
- 7-Oct-15 @ 4:27 PM