How to Avoid Getting Into 'Energy Debt'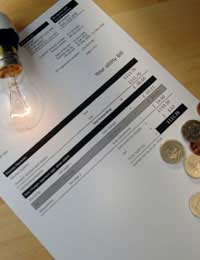 You might have heard the term 'energy debt' before, but think that it can't possibly apply to you, because you always pay your bills by direct debit, or by the due date on your quarterly bill.
But don't be so sure – the menace of energy debt can creep up on you and before you know it you really are wondering how on earth you'll be able to pay your next fuel bill.
How do you get Into Energy Debt?
The main culprit for the problem is, as you can imagine, the energy suppliers. By law, energy suppliers (gas or electricity) only have to come to your property and actually read the meter every two years. For all the bills they send you in-between, it's quite normal and acceptable for them to estimate your readings to decide what you owe them.
Because they don't have to actually read your meter very often, most suppliers will choose not to. As a result, around a third of all the meter readings used by energy suppliers are estimated. This also means that there's the potential for one in three gas or electricity bills to be incorrect.
What Does This Mean for Me?
Even if you pay by direct debit or on time, if the bill you're paying is wrong, it means that you either end up in a position where you are left in credit with or in debt to the energy company. Prices are going soaring at the moment, and the most likely scenario is that you'll find you've actually been under charged and the amount you've been paying hasn't covered the cost of the energy you've used.
If you're one of the unlucky ones, you could find that after months of not paying attention to your gas and electricity, thinking they are all being taken care of, you could be hit with a 'catch up bill' – and find out that far from being in control, you now owe your energy supplier rather a lot of money. In some cases, people have been shocked to receive bills for hundreds of pounds relating to gas and electricity they didn't even know they had used.
If you pay by monthly direct debit and find yourself unexpectedly in arrears on your fuel bill, you'll probably also be hit with a letter saying that your direct debits are about to escalate – with very little notice. According to Ofgem, around two million households in the UK are in energy debt.
How to Avoid Energy Debt
The only way to avoid getting into the situation is to be vigilant about your energy usage so that the estimated bills are corrected. Your energy supplier does have the ability to keep an eye on your account to make sure you aren't getting into arrears, but the trouble is they don't tend to carry out reassessments very often, sometimes only annually.
There are plans for energy companies to start using Smart Metering in the UK – digital devices that use a direct connection to your energy supplier to track the amount of fuel you are actually using. When the system is in place, energy debts like these should be wiped out. Smart Metering may not be available everywhere for some years though. If you're not lucky enough to be offered a smart meter, the number one piece of advice is that you must check your bills and statements.
The letter [E] on your bill means that the reading is an estimate, while [A] means the reading is accurate.
Get into the habit of not accepting estimated readings, and ensure that you supply your supplier with your actual meter reading. Check that this has been taken into account – you should see a [C] on your bill if this is the case. Some suppliers even let you do this online or by text and it's just two minutes that could save you a lot of worry in the future.
Choosing Your Supplier
With so many
utility supplier
s and tariffs choosing a new supplier can be a minefield.
Our Guide
helps you find your way through.
You might also like...