Utilities: How to Complain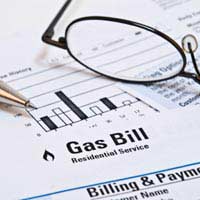 Sometimes it seems that it's the utility companies like gas, electricity and water which cause you the most hassle. For example, most people have a tale to relate about a misdemeanour that's happened with their gas bill, whether it's excessive charges, lack of customer service or even cancelling accounts without telling you.
Suzanne, from Ilford, had a problem with her gas and electricity account and it took several telephone calls to clear it up.
"I had a combined gas and electricity account with a supplier, while living in a complex of four new flats. They insisted on calling my Flat B 'Flat 3, adjacent to number xx" which they refused to amend despite several telephone requests. The final straw came when I received a letter, still addressed to the wrong address, threatening to disconnect me for non-payment of the bill which I'd thought I'd been paying. I called them, eventually getting through to a real person, and it transpired that they had cancelled my direct debit payments when the people in the flat beneath me had moved out, and been sending me letters ever since that had been going to the wrong flat.
"After a few choice words I managed to convince them that if they addressed their letters to the correct flat, they would find that the accounts were paid up to date and not cancelled every time the flat downstairs was vacated."
How to Complain about a Utility
The first port of call, unfortunately, with any
utility supplier
who you're having a dispute with, is their customer services department. If you've been messed around, over charged, cancelled or ignored,it can be hard to keep a cool head, but it's essential that you don't lose your temper, no matter how badly you feel you've been treated. If it helps, write down exactly what you want to say, and make a list of the points that you need to make in advance so that you make sure you get your points across.
If Utility Customer Services don't Help
The next step is to try and take the problem up with the supervisor. This can be harder to do than it sounds as most customer service representatives are quite protective of their managers. Even so, you can insist that as you're not getting anywhere with the person you're talking to, you want to speak to their superior. Sometimes this can be the step you need to take to get your problem resolved, as the supervisors tend to have more 'power' to override decisions, amend payments and files. They are usually more experienced than their charges too, and will often know ways around problems that the less experienced members of staff haven't had to deal with.
Again, keep your calm. It really doesn't pay to lose your temper.
If You Still Get Nowhere
This is when you may feel that it's time to put your complaint in writing. Check the utility company websites for the organisations you're dealing with, to find out what their official complaints procedures are. For example, for British Gas, the channels for complaints are:
Initial complaint by phone, email or letter.
Telephone, write to or email the 'Head of Complaints'
If the complaint is still not resolved after eight weeks, contact the Energy Ombudsman.
All utilities have a 'system' for complaint handling so make sure you do your research and have done everything by the book - even if they haven't!
Final Steps
Your next step, if you get nowhere with the utility company and have followed all the correct procedures, is to contact one of the regulatory bodies that deals with complaints about utility services.
Gas - The Energy Ombudsman. Contact them if your complaint has not been resolved after eight weeks.
Electricity - contact the Energy Ombudsman, again after eight weeks if the complaint has not been properly resolved.
Water - you should contact the Consumer Council for Water - an independent organisation that investigates complaints about water companies. If they can't resolve the problem themselves they can refer it to OFWAT (Office of Water Services.)
You might also like...
Hi, The following is the email I have sent to eon energy for which I am waiting a response. I just would like to express my dissatisfaction with regards to your customer service and your billing department. First I have been given incorrect information from both your online response team and as well the call centre despite waiting for at least 20 minutes to get connected. Also, I have been billed on estimates and though I informed of the correct readings nothing was done and was forced to pay for units which I did not use. My meter reading as of today 08/11/2014 @ 14:00 hrs for GAS: 6204-89 and ELECTRICITY: 40052-7. The reading I was sent as of 29/09/2014 was Electric:40165 and Gas:6216. I have cleared by balance but the amount I have paid eon is not what I have used in units. Please log this as a complaint and this is merely treating customers unfairly. I may raise this concern to the Office of Fair Trading.
Tariq
- 8-Nov-14 @ 2:25 PM