What is the Local Authority Assured Trader Scheme?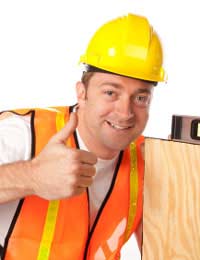 It's always a worry, knowing whether a trader in your area is one of the good guys or if they are likely to rip you off, over charge you or leave you with shoddy workmanship to sort out.
Although there are no guarantees with any work you have carried out, and things can go awry with even the most diligent and experienced trader, there are ways of safeguarding your cash by finding out about a trader before you entrust your particular job to them.
It's a myth that you can simply call your local Trading Standards service and ask for details of any complaints about local traders. In fact, the advisers at Consumer Direct (the Office of Fair Trading consumer advice line) and members of your local trading standards team would actually be breaching the terms of the Data Protection Act if they were to divulge details of any complaints against specific companies to the general public.
Local Authority Assured Trader Schemes
To help consumers find an approved trader, and avoid being parted with their cash by unscrupulous traders, several local authority trading standards departments have developed schemes which local companies can join if they meet certain criteria, which usually also involves having their businesses audited by a trading standards officer.
The Local Authority Assured Trader Scheme Network (LAATSN) run several approved schemes across the country, and these schemes are only open to companies which can show that they comply with all the related Trading Standards legislation and their other legal obligations.
Companies admitted to the schemes also have to prove that they don't use any high pressure sales techniques, and that they have procedures in place to deal with any complaints.
Businesses that sign up to the schemes benefit because they get support and promotion, in return for agreeing to treat their customers fairly. Schemes vary from one authority to another but they all have a common aim, and that's to offer consumers a way of finding trustworthy traders; giving advice if things go wrong; giving local businesses an opportunity to show that they meet relevant national standards.
Buying With Confidence
One large, combined scheme works throughout the south of England. Buy With Confidence has been in operation for over eight years, and now covers much of the South of England. The scheme has more than 2000 businesses on its records, since it merged with the similar Customer First scheme in 2008, and it's aims are to 'support and promote reputable local businesses, while fulfilling a valuable consumer information and protection role'.
Businesses can benefit from being a member of the scheme, with more business coming their way, and consumers have the extra confidence of knowing that the trader they are using has been 'vetted' by the appropriate authorities, and that they can expect any complaints to be dealt with properly.To find out more or to search for a member of the Buy With Confidence scheme, you can visit their website.
Is my Local Authority a Member of an Assured Trader Scheme?The Buy with Confidence scheme is available in the following local authorities:
Bath and North East Somerset Council
Bracknell Forest District Council
Brighton & Hove Council Trading Standards Department
Buckinghamshire County Council
Devon County Council
Dorset County Council
East Sussex County Council
Hampshire County Council
Isle of Wight Council
Kent County Council
Milton Keynes Council Trading Standards Division
Nottinghamshire County & Nottingham City Council Trading Standards Services (in partnership)
Oxfordshire County Council
Portsmouth City Council Public Protection Service
Reading Borough Council
Southampton City Council
South Gloucestershire Council
Surrey County Council
West Sussex County Council
The following schemes are members of the Local Authority Assured Trader Scheme Network
Bedford Borough Council - Trading Standards Approved Scheme
Carmarthenshire County Council Registered Traders Scheme
Cheshire West and Chester Council - Garage approval scheme
Cheshire East Council - Garage approval scheme
Central Bedfordshire Council - Trading Standards Approved Scheme
City of York Council Trading Standards Approved Motor Traders Fair Trading Scheme
County Durham Registered Trader Scheme
Dudley Trading Standards Fix-A-Home listed trader scheme
Dundee City Council - Trusted Trader Scheme
Medway Fair Trader Scheme
Perth & Kinross Council – Better Business Partnership scheme
Rhondda Cynon Taff building and motor trade charters scheme
Sandwell's 'Tradewell in Sandwell' scheme
Solihull Metropolitan Borough Council's Shipshape scheme
South Yorkshire Trading Standards Services Motor Trade Partnership scheme
The Staffordshire and Stoke on Trent Home Improvement Trader Register scheme
West Yorkshire Trading Standards Motor Trade Partnership
Wirral Trader Scheme
More authorities are likely to join the schemes over time, so if yours isn't on the list, keep an eye on the Office of Fair trading website where they keep a list of the schemes operating across the UK.
You might also like...
I bought a vauxhall combo van from citroen freeborn, southampton on 19th January, 2016. The van went 4 miles and the engine management system light came on, I telephoned citroen freeborn who told me to carry on home and return it the next day. I did this and was told that it would be inspected. After 3 weeks my van came back with a new turbo fitted. At no time was I informed that after 100 miles a new oil filter and new oil should have been checked and possibly changed. I have since discovered this recently after research. I now need a new engine after doing approximately 4000 miles in my van. I paid £5000 for my van and because it broke down on 16th November I owe£1100 to a local garage for renewing the timing chain and citroen freeborn have informed me they are not prepared to do anything. Citroen freeborn sell under the buy with confidence scheme which I completely refute. Please don't go to this rogue trader, shun them completely . I am taking my case to court and to trading standards.
Karenbb
- 14-Dec-16 @ 8:44 PM
None of the London Boroughs seem to be members of these schemes. I need to find a reliable plumber but can't rely on word of mouth as none of my neighbours have had work done and none of my friends live locally. Having read comments about the various websites I am loath to place any trust in these. Can anyone offer any advice on finding reliable tradespeople?
nosher
- 9-Feb-16 @ 5:19 PM