Common Consumer Misconceptions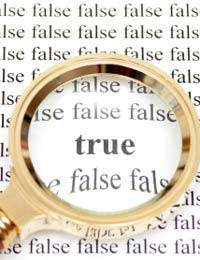 Although most people think that they know their legal rights when it comes to consumer law, it's actually surprising how many misconceptions there are about what you are – and are not – entitled to.
Most people know the basics of consumer law and the Sale and Supply of Goods Act. If goods are faulty (the legal term being 'not of satisfactory quality') you are entitled to compensation. What you might not realise is that the law incorporates a time scale into the Sale and Supply of Goods Act that assumes anything which develops a fault within the first six months after purchase must have had that fault at the time you bought it – and you are entitled to redress from the seller.
It's The Manufacturer's Fault
No, it isn't. Not according to consumer law, anyway. If you buy something, you form a legal contract with the seller of those goods. If a fault develops and you are legally entitled to redress, your first port of call is always with the seller, and the manufacturer doesn't have to do anything at all. You may have a manufacturer's guarantee, but unless you've actually paid money for the guarantee (in the form of an extended warranty for example on electrical goods) there is no legal contract between you and the manufacturer, and therefore they don't have to honour the terms of any guarantee.
If the shop that you bought the goods from goes out of business, you still don't have a legal contract with the seller, and you still can't insist on them refunding, replacing or repairing the item. They may do it under the terms of their own guarantee, so there's no harm in asking. But if they refuse, your only hope is to make a claim under Section 75 of the Consumer Credit Act– if you bought the goods on a credit card, or with a finance agreement.
The Shop Has to Sell at the Displayed Price
This is another common consumer misconception. If you see an item priced at what you think is an absolute bargain – beware. If a shop misprices an item, and for example misses a zero from the displayed price, you might think that you can walk up to the till and insist that you're allowed to take the goods away at the displayed price. This is actually wrong. It comes down to basic contract law, and a price label on goods is what's called, 'an invitation to treat' – that is, an invitation for you as a consumer to make the seller an offer to buy those goods.
You make the offer of the price stated on the goods – at this point if the seller realises that there has been an error, they can refuse to sell you the goods and tell you that they will sell them to you at the correct price. You cannot insist that they sell the item to you for the stated price – in fact, you can't actually insist that they sell the goods to you at all.
There may be an exception to this rule but it's covered by criminal legislation – The Control of Misleading Advertisements Regulations. This means that although you can't insist on a shop selling you something at an advertised price, if they have specifically advertised an item at one price but charge another price for it, and if they continue to do so after you have pointed out their error, they are committing an offence. If you suspect that a shop is deliberately trying to mislead customers, you should notify your local Trading Standards team.
You might also like...
My mother who is 89 recently answered an advert for gardening services It was advertised as 2 hours for £49 inc vat. she called them and they sent a surveyor who said we had to pay £12 for a visit /quote on the state of the garden (not on the advert and although they said we would get the money back we did not, as it was for landscaping and not the garden tidy) he tried to charge us £625 for a garden clearance and when I said we did not ask for this service he was not pleased and said we had to pay him the £12 anyway could not have this fee deducted from the garden tidy, the visit wa a waste of his time. We paid him (very stupidly) and booked the garden tidy, on the invoice, again it stated a 2 hour garden tidy (no waste - they tried to charge for it as I pointed out to the surveyor, the council take household garden waste away free of charge so why should we pay him) When the gardener arrived to do the job, he said we could only have 1 hour as he bought a colleague with him and that would cut the time down. When I complained that this was not what was advertised or what we were sold or indeed paid for, the gardener said it was up to the company.I have written a complaint about and asked for a refund for the surveyors quote and the hour they did not work. They refused, using small print on the back of the invoice as an excuse and also said my mother asked for the surveyor to come (not true) and said she did not ask for the garden tidy intially and that we had 7 days to cancel. My grievance and responding to an advert and getting something different in respcect of cutting the time. Are we within our rights to get back any of the money - i.e the hour the gardener did not work. we felt ripped off by the surveyor and did not feel that he should have charged for his visit as was clearly a mistake by them but would have overlooked this, however the fact that they also cut our time short annoyed us, it seems they only care about getting money and not delivering what they advertise. This company does not put the names of the owner on its literature, invoices or website either, it just uses a trade name - it is called Gardenline in Potters Bar but the emails are sent via buildline, you have to ask them to identify themselves. They are apparently a small family business lacking customer service skills.
Athena
- 13-Sep-12 @ 12:40 AM
although i knew that the sale of goods act (1979)covers a wide range of consumer rights , what i didnt know was the store could refuse to sell you goods , surely if they want to trade then they should at least make a decent offer so you as a customer will purchase ?i'm referring to miss priced item .
stvn-power
- 25-Jan-12 @ 7:14 PM