Delay on Sofa Ordered for Delivery Before Christmas: What Can I Do?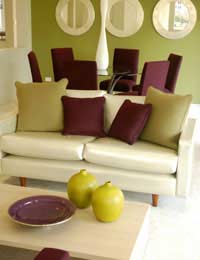 Scenario - You've ordered a new sofa from a store that was offering a promotion that promised to deliver anything ordered before a certain date by Christmas.
The credit agreement has been set up although you don't have to pay anything for a year. You've been into the shop several times about the delivery date, and they've changed it a few times. Now they are saying that there are delays on this particular type of sofa and that due to high demand there's a possibility that the sofa won't be delivered until after Christmas now.
You need the sofa for Christmas as you've got relatives coming to stay over and nowhere for them to sit when they get here! What can you do to make the shop deliver the sofa on time?"
Answer
Legally, the 'we will deliver your sofa before Christmas' is part of your contract under the Sale and Supply of Goods Act.
Normally, the delivery time for any item that you buy isn't a part of the contract for sale unless you make it so. For example if you went into the same retailer and bought a sofa, asked when it would be delivered and the sales person told you that it would be "six to eight weeks" that's a guide and not a specific date. If there are delays on the delivery time, you can make the date for delivery a part of the contract by 'making time of the essence.'
How do I Make Time of the Essence?
You do this by writing to the retailer and stating that you are doing just that, 'making time of the essence' and that you wish to have your goods delivered to you by a particular date. This must be reasonable, otherwise if there is a dispute you could find that the court would find in their favour if you didn't give them sufficient time to deal with your request. This is bearing in mind that no delivery date was set.
State that if your goods aren't with you by this date, that you will be cancelling your contract (as is your legal right) and will be asking for any associated credit agreement to be cancelled, and any deposit refunded.
Keep a copy of the letter and send the original by recorded delivery.
In your case you have an even stronger case to be able to cancel the contract if you don't receive your sofa. The only problem is that all you can insist on is a cancellation and a refund if necessary. You can't make them deliver a sofa that doesn't exist yet.
What a letter making time of the essence might do is concentrate their minds on getting your goods out to you, thus avoiding a cancellation of the contract. In view of the fact that Christmas is almost with us, you might want to hand deliver the letter to the manager of the shop, backing it up with a mailed copy if you like.
What if The Shop Still Can't Deliver?
If they are unhelpful and say that there is no way that they can deliver your sofa before Christmas and the impending relatives visit, the only other thing you can threaten them with is damages for their breach of contract on top of the cancellation. By this, I mean reasonable costs of perhaps hiring a sofa from a furniture hire company for the Christmas period.
You might also like...
goods are purchaced a deposit left against a bill of salesay 3 months in advance andsupposed to be at sales prices .Subsequently on the delivery date you find out that the latest price in another sale by the same firm is lower can you claim thegoods at the pprice to which they are now being offered
tel
- 24-Dec-11 @ 11:13 PM