The Rights Of First Time Buyers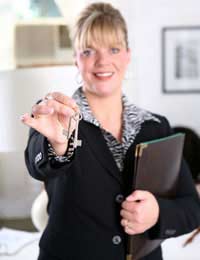 As someone looking to buy a property, you're in a market where prices are continually rising. For a first-time buyer, it can be a nightmare. You have to try and scrape together the deposit and then find not only a house you like, but also one you can afford. Some people are helped out by their parents, others buy with friends - there are many possible routes that require imagination and creativity beyond the obvious. But as a buyer, you have certain rights.
Estate Agents
The vast majority of property sales are handled by estate agents and they usually work for the person selling the property. However, that doesn't mean they won't treat you fairly. They have to disclose in writing if they, anyone involved with the business, or even a relative, owns the property you're considering.
The first thing he'll give you is the "property particulars." You'll undoubtedly have seen them, written descriptions of the house or flat. By law, these have to be truthful, with no misleading statements. They'll also say whether the property is leasehold or freehold. With a freehold property, the purchaser owns the property and has the right to sell it. A leasehold property is actually owned by a freeholder, but the leaseholder has a lease for a set period of time and can sell that. Practically speaking, most houses are freehold and most flats are leasehold.
The next thing to do, if a particular property interests you, is to arrange a viewing. If it's one that's in the process of being built however, and you're interested in buying, the agent might ask you for a non-refundable deposit or to sign papers showing your interest. The best course it to talk to a solicitor first if you're not sure.
Making An Offer
You've seen a house you love and you want to put in an offer. What price should you offer? Well, it's largely up to you. Most people start below the asking price, but you can make an offer over the advertised price if you want. Give your offer to the estate agent, who'll tell the seller. The only time he won't pass on your offer is if it's below a figure the seller has indicated he'll consider.
The estate agent doesn't have to tell you about other offers on the house. But in all respects he should treat all potential buyers fairly and evenly.
It's worth remembering too, that a seller might not always take the highest bid. In the event of a chain, he might go for the person who can complete the sale most quickly.
When you make a bid, the estate agent may ask for a deposit, usually just a few hundred pounds, to show you're in earnest. Find out if it's refundable when you exchange contracts and get a receipt.
If your offer's accepted, it's a time for celebration, but you might want to wait until there's a legal contract. Until contracts are exchanged, others can still make offers and the buyer is still free to accept them. Unless instructed otherwise by the seller, the estate agent has to inform you of any further offers. You're not safe until you exchange contracts- you can still be gazumped by someone with a late, high bid. There is one way around this and you should talk to your solicitor about it. You can have your offer open for a set time, but only on the condition the seller doesn't accept any other bids.
At the exchange of contracts you'll pay another deposit, which is usually 5-10% of the purchase price, to be held in escrow by the seller's solicitor.
Surveys
You're going to need a mortgage, but before giving you one, the lender will need to value the property. You too need to know more about the house, through a home buyer's survey. You can ask the lender's valuer to do it, or hire someone independently. In some cases the lender will want a full structural survey, which should be carried out by a qualified professional.
Although you can actually handle the legal side of buying a house yourself, it's probably best to leave it to a solicitor or conveyancer. They know what to do, how to do it quickly and do it right. Shop around though - fees can vary greatly.Finally, never use the same solicitor as the seller.
Problems
If you have a problem with an estate agent, try to resolve it amicably. Write to the head office if it's part of a chain.If this doesn't solve the problem, contact Trading Standards (www.tradingstandards.gov.uk). If your estate agent belongs a professional agency, they might be able to help.
You might also like...
Can my husband buy my council house in this sole name because I am bankrupt if so will the discount be in his name only someone said I can exercise the right to buy the mortgage broker said my name is not tobe no where near it
Shel
- 12-Oct-16 @ 10:21 PM
I have been in my council house for 3 years I have had to do a debt relief order but my partner is thinking of moving in if so how long before he would have the rights to buy? Would I ever be able to buy with having a dro? Whawould be the best souloution please.
Bigfish
- 13-Apr-15 @ 8:04 AM