Using the Small Claims Court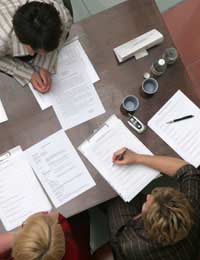 Most people have heard of small claims court, but relatively few have used it. Yet it's something anyone can use as a way of solving problems. It's often used as a last resort, when you've exhausted all the other avenues of resolving a dispute. What makes small claims so useful is the fact that you don't need any legal knowledge, or even a solicitor, to bring a small claim as small claims come under the County Court.
What Is Small Claims?
You can actually begin a legal action in any court. "Small Claims" is just where it's assigned if the monetary value is £5000 or less. It's worth noting that, even if you lose your case, you won't have to pay the other side's costs.
You can claim for faulty goods or services and even for wages owed in a small claims court and also bring a personal injury claim, as long as the value is under £1000. You can also use small claims court if you're a renter claiming against your landlord for repairs that total less than £1000.
Starting A Claim
Always try and settle a dispute out of court first. If that course doesn't work, write the other party a "letter before action"; this sets out the terms you will take as a settlement. Only if those things fail to work should you apply to court.
First you need to fill in a claim form - get it from the County Court, legal stationers or download it from Court Service. In it you'll give your personal details, who you're claiming against and the details of your claim. You can even request interest on your claim, but you must give details. If you're making a personal injury claim, you'll need to list your expenses and losses - both to date and anticipated.
Keep one copy of the form and give the other two to the court when you pay your filing fee (for those on benefits, the fee may be waived). From there the court will serve the claim on the other party - who is now the defendant.
The Next Step
If the defendant doesn't contest the claim, he can either pay you what's owed, or make arrangements to pay. If you accept, have the court fill out a "judgement by admission" form. Under this, if the defendant reneges on the agreement, you can have it enforced. You can refuse the defendant's offer, but you'll need a good reason and then a court official will decide on a settlement. If you're not happy, you can ask the judge to make a final decision.
The defendant has 14 days to reply to your claim. When he responds, you'll both be given "allocation questionnaires," which must be sent back with the allocation fee (this can be waived, as above). If it falls within the parameters, the case is put on the small claims track and you'll be sent a notice telling you the date and time of your hearing. If you're unable to attend, you can request an adjournment. If you need an interpreter, tell the court as soon as you receive your hearing date.
Preparing A Case
As with any legal case, prepare in full! Have all the facts and documentation to hand. If your case involves damaged or faulty goods, bring them along with you (if feasible; if not, bring photographs). You'll need the court's permission to use expert witnesses.
The Hearing
Small claims hearings tend to be informal, without the usual rules of evidence. At the end of the hearing, the judge passes judgement. If you win, your court fees are reimbursed. The only way you can appeal against the judge's decision is if there was a legal mistake or there was some kind of serious irregularity. You'll have 14 days in which to file your appeal.
You might also like...
I purchased a leather sofa 6 years ago from furniture village. The seat has worn so badly with the leather peeling. I contacted them and was told I'm outside the warranty period. My husband and I are retired. No children and no animals. I really feel that a leather sofa should have a longer life than 6 years. The rest of the furniture is like new. What can I do?
Ruth
- 18-Jul-18 @ 8:14 PM