The Lowdown on Diet Pills and Slimming Aids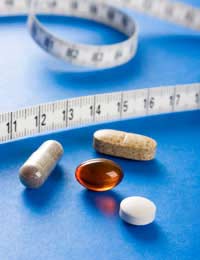 It's that time of year again, when we're all thinking about our expanding waistlines and cutting down on the pork pies. Some people take the diet message a step further by signing up to slimming clubs, while others try pills, potions and plans that promise fast weight loss with minimal effort.
Milk shakes, chewy bars and pills all feature in the weight loss aid list these days. The trouble is, with so many companies and individuals trying to cash in on weight loss mania, how do you know if the slimming aids you are thinking of parting with your cash for actually work?
Doctor supplied slimming pills
There were two slimming pills previously available from your GP if you wanted to go along the prescription route. One, Reductil, contains sibutramine which was banned in 2010 since the risk of heart attack was considered to be worse than the risks of staying obese! The remaining option is Xenical, containing a drug called Orlistat. Xenical works by blocking the absorption of around 30 per cent of the fat from the food you eat and causing it to be excreted.
Xenical has been clinically proven to help people lose weight and has even been made available in a lower dose from pharmacies over the counter. To get the drug from your GP, you will need to have a body mass index (BMI) of at least 30.
The side effects of Orlistat based slimming pills have been well documented. Does the phrase 'anal leakage' sound tempting? It refers to the fact that if you eat a fatty meal, the fat has to go somewhere if it's not digested. People taking the pills have found some very sudden, and unpleasant side effects. However, if that happens to you once, it's likely to put you off eating anything fatty for the duration of the weight loss pill course, so naturally it would help you to lose weight...
Over-the-Counter Diet Pills and Slimming Aids
As mentioned, Orlistat is now available over the counter from pharmacies.
Used in conjunction with healthy eating and exercise, the Alli pills are said to help weight loss in the same way as full strength Xenical pills...with the same side effects of course. Alli can be obtained from a chemist if you have a BMI of 28 or more.
Health Food Store Diet Pills
Other than drug-based pills, none of the weight loss pills that are on offer are clinically proven, and any effects may well be partly psychological. All slimming pills come with a proviso that they should be used 'in conjunction with healthy eating and exercise' which begs the question, why not just eat healthily and exercise and save your money!
Some of the pills contain dubious ingredients – some claim to bulk you up (Adios for example) and others say that they work by increasing your metabolism, whether by using kelp, guarana, caffeine or other natural ingredients.
Others use ingredients like chitosan to 'block the absorption of fat' but although there may be some basis in fact for these claims, if they really worked as effectively as GP prescribed fat blocking diet pills, they would have to be on sale at pharmacies only.
Some over the counter diet pills might even be harmful to more than your bank balance. If you have high blood pressure or diabetes, some types of harmless sounding slimming aid are actually not recommended, but you might not always be able to tell this from the packaging. A slimming pill that contains ingredients designed to stimulate the thyroid might interfere with prescribed medication too.
Online Slimming Aids
It shouldn't need saying, but you should never buy slimming pills from unfamiliar sources online. It's fine to buy something like Alli from the official site, or somewhere like Boots online, but never ever buy a slimming drug from someone you've never heard of.
You can still get hold of weight loss pills containing sibutramine online, in fact it's not banned in every country. Avoid the temptation to try it, it's been discontinued for a reason!
As with anything else – if it sounds too good to be true...it is.
You might also like...
I had the imprudence to buy a voucher for the passage of service in the DERMA CARE LONDON with fat reduction by laser lipo treatments. The whole course from 12 sessions cost £ 1000, but they asked me only £ 149. In a completely empty room is a couch, a desk and a device - no certificates or diplomas on the walls do not have licenses, the team smokes. I promised to turn from my fat candy shape, however, in the middle of the course, I noticed that my clothes become my small, although the nurse each time marked decrease my figure by 3 cm. I began to demand my money back, but the company's host simply ignores my comments . I am obliged to confirm a simple truth: the avaricious pays twice, and three times a fool. Do not buy cheap services. If services have received a discount of 88% of the value - so this has a meaning.
Lady from London
- 20-Sep-16 @ 2:27 PM