About Service Charges and Tips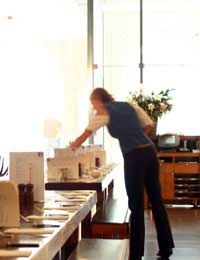 Everyone likes going out for a meal. A good evening of food and conversation can make a week into something special. But in the UK there's a great deal of confusion about service charges and tips. Service charges we often understand, but what about tips? How much should you tip? When should you tip? Should you even tip?
Service Charge
It's not uncommon to receive the bill for your meal and find a service charge, generally in the region of 10%, (although often more) has been added. It's something you can complain about if the meal or the services has been bad. The menu will generally alert you to the size of the service charge.
Unless you have a problem, however, the service charge is mandatory. But does it replace a tip? There's no definite answer - both yes and no are right. If the service has been excellent, then leaving a tip is an acknowledgement of that. If not, then pay the service charge and leave.
Tipping
Waiters and waitresses aren't paid much in the way of salary. What they hope is that they'll make money in tips. It's more than a gratuity, it's a way of paying them for a job done well.
The best rule of thumb for a waiter who does a good job is simply give 10% of your total bill as a tip, rounding to the nearest pound.
You should not penalize your waiter if your steak isn't cooked properly, if the restaurant doesn't have the dish you order, if the bathrooms aren't clean, if you had a problem parking, if you've had a bad day, if a family has loud children in the restaurant, or for any reason outside their control.
Remember, waiters rely on your tips to make a living. They should never be punished monetarily for something they can't control. However, if the service is not up to standard, then you can either neglect to leave a tip or leave a lesser amount.
Other Tipping Situations
If you use a taxi, it's commonly accepted practice to add 10% to the fare as a tip. That's the minimum. If the driver has been especially helpful, give more; he's earned it.
When a member of hotel staff gives you particularly good serive, you mught like to give them a small tip of £1-2. For example, a tip is appropriate if a hotel porter takes your luggage up to your room when you arrive, if the concierge helps you (for example, by helping you to buy tickets, book a restaurant or plan your shopping or sightseeing, or by keeping your bags safe even if it is before check-in or after check-out) or if the doorman gets a taxi for you. Don't show the money when you're giving it - put it in your hand, say thank you, shake the person's hand and press the money into the person's hand.
When you use a hairdresser, it's common courtesy to leave a tip of £1-2 for service. If you use an expensive salon, this should be higher.
It is not usual to leave a tip for drinks in a pub or bar, although telling the barperson to "keep the change" or offering to buy them a drink is common practice and they may then take the money for the value of a drink. Where a pub is also a restaurant the serving staff may be tipped. It's less usual to tip in cafes and coffee shops than in restaurants, but it is by no means unheard of.
You might also like...
Service charge is a horrible thing! Waiters do not get it and it's completely up to you if you think the service is up to scratch! It needs to be illegal!
dorothy
- 1-Jun-12 @ 2:25 AM
@Stell. Ask them whether the service charge is mandatory or discretionary and whether you can choose to tip staff directly for services you actually use. (You wouldn't expect to pay a service charge for food for example, if you stayed on a room only basis).
ConsumerRightsExpert
- 20-Apr-12 @ 9:56 AM
I have just booked a hotel which includes vat but will charge 12.5% service charge on the total hotel bill (incl food /beverage etc) on check out.I remember when vat & service charge was included in price or not but not split like this.Is one obliged to pay service charge like this? Thank you Stella
Stell
- 19-Apr-12 @ 6:23 PM
Over one year ago came change in law to protect hospitality sector employees which supposed to stop employers from usingservice charge and tips to top up employees' wages to statutory minimum. But was that legislation effective? In some cases probablyyes but I do believe in many law actually has failed. Can it be still change? I hope so and I would like to share my experience believing it can be a motivation for someone (maybe customers/solicitors/government) to act on behalf of hospitality sector employees to make an effective change. Well, for those who wants to know something more about 'behind the scenes' practice in restaurants I can tell you something about that on my example. In the restaurant where I work on customers' bills appears 12.5% of obligatory service charge. On each bill it is written as well than restaurant have got no profit from the service charge and it is fairly divided between the staff involved in serving you. How it looks in practice? We are getting minimum wage plus 20% of service. Well, it mean than if a customer spend let say ?30 on his dinner and we add a service charge (?30x 12.5% = ?3.75) equals ?33.37 than a waitress gets... How much? Well from that ?3.75 a 20% is for a supervisor/manager (it's fair because when it's busy they do help us)- ?3.75 - 20% = ?3, from that there is a VAT taken by dividing it by 1.3 (well it's seems to be 23% not 20% VAT, we don't know why is that way) so ?3/1.3 = ?2.30. And now we get a 20% from that ?2.30 which is ?0.46 before tax and NIC. If a service you pay is ?10 waitress get ?1.23. Well, without taking out VAT there is 60% of service going to the restaurant owner. So I think every should decided his/her self is it fair? Don't forget what is written on the bill - restaurant got no profit from a service charge! As well last week our employer took away about ?100 form one of my colleague wage (she has been working over 50 hours very busy shifts) because he decided she has earn to much that week and he will keep those money for next two month when restaurant will be quite after a Christmas time so his got money for her wage, he is not going to pay from his pocket. When she said than she doesn't agree to that because she has been working hard all week and has to pay bills as well, he said than he is going to bring her a newspaper where is written than service according to the current legislations belongs to the restaurant means he can do with it whatever he wants. I would like to ask customers just for a one thing. Please don't pay service charge, don't go to restaurant where is service charge or refuse to pay service charge it's the way you can help those things to end. Keep your money in your pocket unless you want to pay something extra to the owner of a restaurant. I do believe there are restaurant where it works fair, like the ones which accepted British Hospitality Association's code of practice urging restaurant to disclose to customers how they deal w
aliciaNO
- 27-Nov-11 @ 11:49 PM