Buying by Telephone or E-mail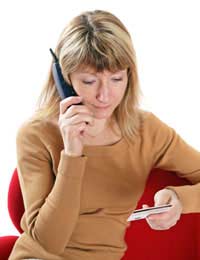 There are so many ways to buy goods these days. You don't need to go into a shop any more - you can order on the phone or by e-mail, for example. Distance selling, as it's called, has become incredibly popular - and you'll find that your rights when buying this way are well protected, as long as you're buying items from a country within the European Union.
Basic Rights
Buying by e-mail or phone (which includes mobile phone or SMS messaging) grants you exactly the same rights as if you'd bought an item in a shop. Whatever you buy has to fit any description you're given of it, has to be of satisfactory quality (in good condition, safe to use, strong enough to last a length of time and have no faults), be fit for its purpose, match any sample shown, and have adequate installation or assembly instructions.
If there's a fault with the item (which doesn't mean you just don't like the colour, for example), then the retailer must replace or repair the goods or offer you a refund (you don't have to settle for the first two; you can simply reject the goods and ask for a refund). If you let the retailer repair the item, you might still be able to claim a refund if the repair doesn't work.
You have a reasonable time to complain about the goods. If the fault appears in the first six months, you have the right to a repair or replacement (unless the fault is just fair wear and tear or accidental damage or misuse). After six months you might still be entitled to those things, but it's up to you to prove the item was faulty when you bought it, if the retailer disputes your claim.
Additional Rights
Perhaps the most important right you have when buying by e-mail or phone is the cooling-off period. This gives you the right to cancel your order within seven working days, without having to pay anything. The trader must tell you about this right when you place your order. Other additional rights you have when you make a distance sale include the right:
to be given the name and address of the seller.
to be given the price of the goods, including taxes and delivery charges.
to receive the goods within 30 days.
to keep or dispose of any goods you receive by mistake, which you have not ordered. You do not have to pay for or return any such goods so a seller cannot demand that you do so.
Mobile Phone And E-Mail
Goods bought by mobile phone and e-mail receive additional rights over just phone sales. You still have the same rights as when you buy in a shop and by distance sale, but the seller must also give you some additional information. This applies if you buy goods in the UK, or anywhere else in the European Union. The seller must:
give you the instructions for completing an order in detail.
advise how you should go about correcting mistakes you may make when placing the order.
provide any terms and conditions of the sale in a format that can be easily saved or printed out.
tell you whether they will keep a file of the sale for you to access.
tell you about any codes of conduct which apply to the sale and how you can look them up electronically.
send an acknowledgement that the order has been received.
In the event of any problems buying by phone or e-mail, you can contact Consumer Direct.
Paying By Credit Card
If the goods or services you're buying cost over £100 and you pay by credit card, it is possible that you will be protected by the Consumer Credit Act. Under this law, the credit card company is just as liable as you for any defects. Therefore, if you have a problem, you can claim from the seller or the credit card company.
Note that for this protection to apply, the contract price must be over £100. For example, if you buy a suit, the jacket of which costs £75 and the trousers cost £40, you would have protection. However, if you bought the items separately instead of as one suit, you would not be afforded the same protection as neither of the items amount to £100.
Problems can arise when the company you are buying from is based outside the EU. Although UK law may cover your contract, in practice it might be very difficult to get any money out of a company based abroad.
You might also like...
Lady lush - Your Question:
Hi there I have recently placed a order online purchasing some hair products. This was done on the 24th February 2018.I then sent a email to the company on the 27th February on the estimated time of delivery, I then received a email that they despatched the order and it's on it's way.I have not received my order and it's now the 16th March 2018 , after sending repeateded emails about my order the company has completely ignored them and have not any form of acknowledgement. I have all the information that I need to persue what I need to how should I go about it
---
Our Response:
Under consumer rights legislation, your item should arrive within 30 days of purchase or on a date you agreed with the seller if that was different. If it doesn't arrive you can ask for your money back. If the seller refuses to give you your money back, you should put your complaint in writing (use post if email illicited no response). If this doesn't resolve things you could try a mediation/alternative dispute resolution scheme- Citizens' Advice will be able to point you in the direction of a scheme.It's also worth contacting your bank or credit card company to see if they can help under the chargeback scheme. If that fails, report to trading standards and consider pursuing it via the small claims court.
ConsumerRightsExpert
- 19-Mar-18 @ 11:17 AM
Hi there I have recently placed a order online purchasing some hair products. This was done on the 24th February 2018 . I then sent a email to the company on the 27th February on the estimated time of delivery, I then received a email that they despatched the order and it's on it's way. I have not received my order and it's now the 16th March 2018 , after sending repeateded emails about my order the company has completely ignored them and have not any form of acknowledgement. I have all the information that I need to persue what I need to how should I go about it
Lady lush
- 16-Mar-18 @ 10:48 AM