Problems When Terminating Gym Contracts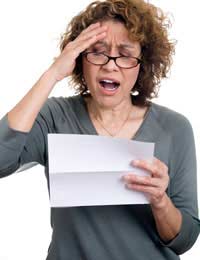 So you've decided to get fit. That's great, and there are many ways to do it. One of the most obvious these days is to join a gym. After all, it has all the equipment you need, and having to pay good money to go somewhere to exercise with others will give you the motivation you need.
In theory it's a wonderful idea. All too often, though, those ideas will translate into action for a few weeks, and then slowly the attendance at the gym will tail off. But you've taken out a membership. If you're not using the gym, do you still have to pay for it?
Your Contract
You might not realise it, but when you take out a gym membership, you're really signing a credit agreement. That means they're for a set period (usually a year), and you agree to pay a certain amount each month. Cancelling your membership doesn't end the credit agreement - outrageously, even if the gym cancelled your membership you might still be liable to pay!
The problem could come if your circumstances change. For a woman that might mean pregnancy, or you may have a new job, or even be moving to a different part of the country. You might believe, reasonably enough, that these changes mean you can cancel your membership without penalty. The chances are that you're wrong. It depends on your contract, of course, but the odds are that you'll still be liable to pay for the length of the contract.
Nor can you change simply because you've changed your mind about wanting to be a member (if that were the case, many gyms would have a small membership).
Be very wary of gyms offering free membership. All too often they're simply a way to get you in, and you'll still end up signing a binding contract in order to use the facilities.
What To Do
The best protection is to read the contract thoroughly before you sign it. If you're not sure, take it home with you to study at your leisure. Under no circumstances should you sign at the gym if you're not absolutely certain it's the right thing to do. Make sure you understand everything before signing.
If you ask, the gym has to provide you with a copy of its terms and conditions. If you've joined online or by phone - and people do - then you have the right to a seven day cooling-offer period during which you can cancel your membership without any penalty.
Ending Your Membership
If you want to end your membership, look at your contract. If you don't have a copy, ask the gym to give you one - it's something they're legally bound to do. If the service and facilities at the gym have not been satisfactory, you might be able to cancel without penalty.
Under most circumstances, however, you might be tied in. Even worse, there might be an automatic renewal clause in the contract, under which your contract is renewed unless you tell the gym otherwise. Pay very close attention to the amount of notice you need to give; it may be one month, it might be longer. Give written notice, send it by recorded mail, and keep a copy.
Frustratingly, you really need to keep making the payments, even if you're in the middle of a dispute with the gym. Pay until the contract has ended. That can seem self-defeating, but if you stop your direct debit you could end up responsible for the outstanding balance and other fees. It's worth telling both the gym and your bank that you're paying under protest.
You might also like...
Please could you advise me - I paid for an annual membership upfront in January. During the pandemic, the gym has been closed although once the government allowed gyms to re-open, my gym never opened and said that instead they would open in the new year. Since they are closed during my annual membership term, should I be entitled to a refund? Thanks
Star
- 11-Nov-20 @ 10:54 AM
el - Your Question:
If you could advise me please. I joined my gym because it offered the first month free. I joined on the 7th March so March was free & my first payment came off on 1st April. At no point when I agreed dos I know I was tied in for 1year!!? On the 28th March I phoned to say I had changed my mind (wanted to join another gym) & I wanted to cancel my membership. It was then I was told I was tied in for a year!? My question is this. Does my 14day right as a consumer to cancel start from the 7th March or??? Also surely the fact I was not told when I signed means they have broken their side of agreement?? Please advise me. Very gratefulElliot
---
Our Response:
As it's more than 14 days you cannot claim any kind of cooling off period. You should be allowed to cancel but may have to agree to the 30 day notice (or other notice period stated in the contract). Check the details of the contract you signed before proceeding. In general you can say the following: "The term in the contract that is preventing me from cancelling is an "unfair term" under the Consumer Rights Act 2015. It should be removed from the contract, allowing me to cancel my membership."
The WHICH website has a good example of a letter here
. If you are experiencing problems you might have to consider taking further action (Small claims court etc) but you can try the
Consumer Advice Helpline
for more specific help before that.
ConsumerRightsExpert
- 6-Apr-16 @ 11:33 AM
If you could advise me please... I joined my gym because it offered the first month free. I joined on the 7th March so March was free & my first payment came off on 1st April. At no point when I agreed dos I know I was tied in for 1year!!? On the 28th March I phoned to say I had changed my mind (wanted to join another gym) & I wanted to cancel my membership. It was then I was told I was tied in for a year!? My question is this.. Does my 14day right as a consumer to cancel start from the 7th March or??? Also surely the fact I was not told when I signed means they have broken their side of agreement?? Please advise me. Very grateful Elliot