What You Get When Joining a Gym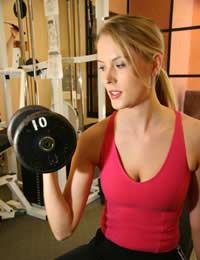 Many of us promise ourselves we'll become fit, and the best way to achieve that goal can be a gym membership. It's an attractive idea, going to exercise two or three times a week, losing weight, building muscle and feeling better. But when you sign on the dotted line, what are you really letting yourself in for?
Before Signing
Signing up for a gym membership, which usually lasts for a year, is a big commitment. Before you put your name on the dotted line, you need to think ahead - what will you be doing in 12 months? Is there likely to be a job change in your future? Have you been considering moving to another part of the country? For women, is there a possibility you might become pregnant? What about illness? All of these are factors that might lead you to want to end your membership, or at least need to suspend it. But under the contract, would you be able to do that if your circumstances change? You need to check the terms very carefully. If things do change, and you're unable to negotiate some kind of settlement, you could be stuck with paying fees to a gym you can't use.
Of course, you should always research before signing any contract. With a gym, talk to the people who use it and find out how they feel about it. Are they impressed with the facilities? Will it meet your needs? Never let yourself be pressured into signing a contract - insist on taking it home where you can think clearly.
Some people join gyms over the phone or online, and they have a greater layer of protection under the Distance Selling Regulations - namely a cooling-off period that lasts for seven working days. Be warned, though - that doesn't mean you can freely use the gym in that time. If you start to do that (and if the gym points out that it means your membership will begin), then you lose the rights of the cooling-off period.
How do you end your membership? You should always do it in writing, of course. But what else is necessary? Look at the contract. It might specify a month's paid notice, for instance.
Gym Responsibility
Who's responsible for what in the gym? What about injury or even death? What if your property's stolen whilst you're working out? It doesn't matter if the gym has notices limiting its responsibility. If an accident, or even death, happens because of the gym's negligence, they're liable. It's the same with your property; if it's the gym's fault that you suffer a loss, the responsibility is theirs.
As with any good or service, you're entitled to what's stipulated in your contract. If that changes - say they remove a service or decide to close earlier - that could be classed as an unfair change, or "non-performance," and you'd have the right to end your membership. But until you've notified them in writing of your intention, you have to keep paying your dues.
Financial
Quite simply, you have to keep paying your dues until your membership ends. Even if you're in dispute with the gym, keep paying. Tell your bank it's "under protest." If you don't pay, you could end up owing arrears, which could even be passed to a collection agency.
Another thing to watch out for is automatic renewal, and this is something to be aware of in the contract. Under this, if you don't give written notification of leaving at the end of the membership term, you could find yourself stuck with another year's membership and dues that you didn't want.
Complaints
If you have a problem with the gym, try to resolve it initially with them. If that doesn't work, contract Trading Standards. You have the ultimate option of taking them to small claims court if no other resolution is found.
You might also like...