Holiday Lets: Is the Contract With Owner or Agent?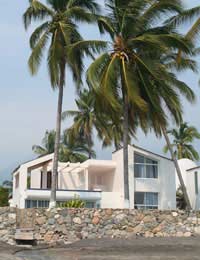 If you are thinking of making a complaint about holiday accommodation, it can be difficult to know who you legally have the complaint against. You might have booked a holiday cottage/villa or self catering accommodation through an agent, but it's owned by an individual who you have had absolutely no contact with so far. So how do you know who to complain to, and who is legally responsible for the upkeep of, and any problems with, holiday accommodation?
Contract Law - Agents.
Under contract law, you usually have a contract whoever it is that you pay your money to. So if you were to find a hotel online, book a room and pay for it directly, it's easy to see that you have a contract with the owners of the hotel. They are bound by the Sale and Supply of Goods Act and the related Supply of Goods and Services Act to provide you with a holiday that fits the description made of it in the brochure, to supply all services with reasonable skill and care, and provide a holiday that is of 'satisfactory quality'.
The waters become muddier when you book a holiday cottage or other holiday accommodation through an agent. You might see a holiday let advertised, and have to book it through a third party. In this case, the third party is acting as the property owner's agent, and although you are paying them the money, the contract for the holiday let is formed between you and the property owner. If you check the booking conditions of any of the big holiday cottage booking agencies, you will usually find right at the start of their booking conditions, an explanation of this along the lines of:
"We, Acme Holiday Company Limited , act as agent in booking your holiday accommodation and any other related services. Your contract will be with your accommodation owner or other service provider."
What if the Holiday Accommodation is Not as Described?
This is a tricky situation in that morally you could say that both parties are liable. For example, if you spot holiday accommodation in a brochure that clearly states there is a cot available for a baby - but on arrival the cot is sadly absent, you have every right to complain as you booked the accommodation on the basis of information provided by the agent. You should notify the agent of the error, and they will have to prove that any such information was passed onto them in good faith. Legally, although the contract is still with the property owner, if the owner can prove that they passed on the correct information about their holiday accommodation to the agent, but the agent misinformed you, they can take action themselves against the agency. The correct way to deal with this sort of issue is to notify the booking agent but address any complaints to the owner. The agent should give you the owner's details when you make your booking.
It will always be the owner of the accommodation that is liable for any compensation - in this scenario for example, perhaps you would have had to buy a travel cot because you needed somewhere for your child to sleep. If the mistake was made as a result of an error by the booking agent, the owner then has the option of recovering the cost from the booking agent, as the owner will have his or her own contract with the agent.
You might also like...
Booked Bobby Jo's cottage for a week long break in the cotswolds via Sykes cottages. Arrived at 7.30pm and called them, packed up and left by 9.30am the next day. This cottage was filthy, hadn't been cleaned in months and some areas looked to have never been cleaned. Dog poo all over the back garden, with wooden steps that were so slippery, looking at a previous review someone had fallen on, sprained a wrist and bruised their spine. The front was access by either a very slippery dangerous slope or steep steps where at least 5 slabs were not fully attached and dangerous. Were offered minimal in compensation, not even a third of what we payed!!!! Sykes don't want to know and the owner knows there are issues but still takes people's money. Beds uncomfortable, sofas old and worn down to nothing, meaning nothing was comfortable and relaxing. Good luck finding anything to drink out of, the cottage was aimed at 4 staying but kitchen accessories were aimed at 1 to 2 people at best. It's been more stress trying to get this resolved, no one wants to help, but they'll happily take your hard earned money and not provide the service stated. They fully breached the terms and conditions of the contract, but the contracts are set up just to protect the owners not the people booking. DO NOT TOUCH SYKES OR BOBBY JO'S, YOU WILL LOOSE OUT
Annoyed
- 7-Oct-23 @ 1:07 PM
NEVER BOOK SYKES COTTAGES, AVOID AT ALL COSTS!! We drove for 6 hours to North Yorkshire for a weeks holiday after a very stressful few years which ended with me losing my mum and were 20 mins away when we got a phone call from Sykes to say the owners had contacted them as they had tried to get in to clean the cottage and there was a problem with the lock meaning they had to cancel our booking!! 1. why had they gone in to clean the cottage 30 mins before arrival time! 2. why could they not get a locksmith out, Sykes couldn't answer this as they hadn't asked the owner.... and the cottage is still on their website!Sykes found some other cottages 'in the same area' that were available, they were all 20-25 miles further on and were a lot smaller, we had chosen this one as it had separate kitchen/living area, the ones they had sent were kitchen and living area squeezed in together and the fact that they were that much further on meant we would be too far from a couple of the places we had planned to visit. In the end we found a B&B that could take us for 3 nights and then went home.Sykes refunded us plus 10%, a measly £38.We had to throw away £25 worth of perishable food that we had taken with us, pay £25 more per night for the B&B than the cottage was costing, go through the stress of trying to find somewhere else to stay, pay for petrol for two very long journeys just to spend 2 days in North Yorkshire.I made a complaint to Sykes on 20/05/23 and as of today 2406/23, have not heard anything.I think it's disgusting that they think it's ok for an owner to cancel at the last minute when all that was needed was a locksmith and still keep this cottage on their website.I couldn't even leave them bad feedback, Sykes send a link but as we hadn't stayed there we didn't get sent a link for feedback!!I wonder why!Avoid this company at all costs!
Ali
- 24-Jun-23 @ 9:27 AM
Booked a cottage with Sykes cottages they say it has Parking it doesn't . Been trying to cancel and book something else with a parking space , getting no where with it neither party able to sort it out. Not asking for our money back just want to book somewhere with parking at the property
Eric
- 21-May-23 @ 12:23 PM
Booked a cottage in the Isle of Wight which had very old furnishings covered in rugs and patch repaired. It was dirty in every room with a wet carpet in the master bedroom. The wooden conservatory's windows were blown and cracked with internal and external damage to the wood. The ground floor bedroom had no wardrobe, being replaced with a rail hanging from the ceiling, out of reach. A double height step from this room down to a hole in the floor covered with a piece of wood. Bedroom window wouldn't close leading to conservatory and cafe to rear of property. Stated Private parking but shared with cafe and customers. Cafe staff constantly walking through cars to gain access to supply shed. Owner walked into property unannounced and was rude, informing us she would be bringing cleaners in and why hadn't we left at 10am???? We had no idea this clean would take place. People were still in bed. She walked straight in. She was rude and told some of our guests they should have gone already. We asked her to leave in the end. Where do we stand on getting a refund and from whom please
Ddanks
- 9-Jul-22 @ 11:10 AM
We booked a Hen Party Cottage for one night, The agents will not return our £500 security deposit. Sent us pictures saying carpet was damaged with what looks like hair straighter or similar product.The bedroom carpet was already damaged on our arrival and we have issued pictures showing this from previous people staying there 2 days before us.The agents reply was they can now see there was some damage to the carpet when we arrived butthat additional burns were caused by our party.Although burns are all in the same area and obviously caused by the same implement what ever it was .We also have statement from another person who stayed at property 14 days before us, confirming damage was there and they even mentioned it to cleaner at the time.Agents having none of it at one stage even threatened we may have to pay over £2000to replace carpet. £500 still not returned to our booking lead.
Mollie
- 12-May-22 @ 8:55 AM
Booked a lodge in Brighouse through Sykes. Upon arrival lodge was not the same as the photos on the website. Various issues throughout the week, mainly health and safety related including fire risks found to 6 of the 8 lodges. Left the holiday early due to noisy neighbours and no one on site to help. Sykes asked for a review to which we left a fair one advising others of issues before being mislead into booking and Sykes refused to post our review as it related to health and safety ??????
Disgusted
- 27-Sep-21 @ 1:57 PM
We rented a cottage through BlueRiver Cottages for a week in Shaldon. Arrived on the Saturday, all ok on Sunday. 06.45 on Monday morning the work started next door, and was the same everyday of our holiday. Drills, disc cutters, concrete deliveries. We complained to cottage company and owner denied knowledge of work, which had been going on for the previous 8 months and she would have received a planning letter because of nature of work. I have asked for a full refund. No mention of work on website and no offer of alternative accommodation when I complained on the Tuesday. Where do I stand?
Kaken
- 7-Jul-21 @ 8:49 AM
Having booked a holiday cottage for two weeks with myfavouritecottages in barnstaple devon, cottage named Crooked Lake Cottage bideford it didnot come up to our expectations. We have spent msny holidays in Devon and New forest in period cottages and have never encountered such a dangerous cottage. The cottage is ver wuaint and very well equiped with all the owners items, but this should never be let to holiday makers over the height of 5ft 10inches. The front door is extremely low, and the cottage seems to have been gutted and built with with stud walls throughout. All heights of doors are of different height and this caused my husband banging his head which caused much blood, not just once but three times. The stream that runs outside the cottage building had no barriers and a child could easily fall in and hurt themselves on the slipoery rocks and sides. I would definately not recommend this cottage to people over 5ft 10inches or people wuth children. The cottage is very isolated, no paths,and is on a long winding road that has very fast traffic passing by and is 7miles to bideford the nearest shops and restaurants.
unlucky
- 3-Jun-21 @ 5:47 AM
Booked through Sykes.The cottage tv did not work (Kerbenety Harbour Cottage).Reported this on first day and given instructions, it still did not work.Despite sending copies of entries in the House Keepers book stating that the tv had not worked on other occassions and reviews on their site saying the same Sykes say they can't do anything as the owner says it worked when they visited the cottage. I asked if they are keeping the cottage on their site despite the fact that the tv did not work and they said yes!!!
Pip
- 26-Nov-20 @ 6:16 PM
Booked through Sykes. Cottage had wet walls, water coming through ceiling and a blocked shower. Final straw was the rats. Sykes don't want to pursue this with the owner. Asked for money back to no avail. Advertised off road parking. According to Sykes this means don't expect any.!! There wasn't any.!!!
Janey
- 16-Sep-20 @ 5:52 PM
We booked a holiday cottage and arrived to find it covered in scaffolding. We were not informed of this prior to our trip. The scaffolders spent the rest of our break arriving early in the mornings to dismantle the scaffolding. It was so noisy that we had to stay out each day, thus not allowing us to enjoy the cottage. The access to the property was also blocked with workman's cars and vans and made it difficult to load our car at the end of the stay.
Theatremanager
- 14-Sep-20 @ 6:59 AM
A holiday booked in the lake District Cumbria for the 2nd and 3rd weeks this september has had to be cancelled because of one member of the Family's ongoing serious medical condition and the added risk factor which may still be a threat Accepting we lose the deposit already paid we cannot understand why we are being asked for the balance when we are not taking the holiday and there is time to re-let the cottage
aged
- 4-Jul-20 @ 5:11 PM
I live in the UK and have booked a large self catering family holiday in the UK. The holiday cannot now be taken because of the movement restrictions imposed by the Government as a response to the coronavirus. Is the owner of the holiday let obliged to return the cost of the hire?
John
- 24-Mar-20 @ 9:12 AM
I booked a U.K. holiday rental and paid the deposit for a weeks stay - Saturday- Saturday. They are now saying they made a mistake as the rental is Friday - Friday. Friday is no good as we can't get the time off work and kids are still at school. Where do we stand?