The Salesman Won't Leave: A Case Scenario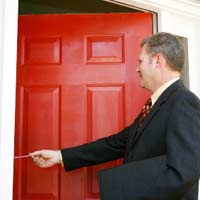 "I asked for some quotes on home improvements, and three companies sent their people round to sell me their product. I have very definite requirements and was not prepared to agree to anything on the night either. Unfortunately, one of the salesmen refused to leave my house, in fact he stayed for over four hours, making call after call to his manager to try and get me a deal.
"The salesman said that the deal he was offering would only be open to me if I signed the contract while he was there as he couldn't let me have it after that day. I know this was just a ruse to get me to sign but after four hours of him wearing me down, I eventually signed.
I'm aware that I can cancel the contract if the salesman had called unannounced but I invited him round, so am I now stuck with this contract?"
Firstly – you should have been given notice of cancellation rights by the salesman on the day. I'm assuming from your scenario that you weren't given anything in writing, so the salesman has made the contract worthless – failure to give a customer cancellation details means that you can cancel the contact at no penalty.
If he has given you cancellation details, you still have the right to cancel that contract within seven days, or more if the individual contract allows you to.
The Consumer Credit Act
I assume that you also signed a separate credit agreement with the salesman if the contract was for home improvements? This agreement will usually be with a separate finance company, so I would advise you to also contact the finance company separately to ensure that the agreement is cancelled with them, too. Make sure that you do this in writing and quote the Cancellation of Contracts made in a Consumer's home or place of work etc. Regulations (2008.)
The home improvement company should automatically cancel any related credit agreement without interest, as long as any credit that has been paid to you is repaid within a month of taking out the credit agreement, or before the date the first instalment is due.
Getting Rid of Unwanted Sales People
It's a common scenario having a salesman (or woman) that just won't leave. Although the Cancellation of Contracts regulations have made things easier if you are pressurised into signing a contract just to get rid of an annoying salesman, it doesn't make getting them out of the door any easier!
It may be difficult but don't fall for their face value friendly patter. Salesmen are trained in psychological techniques that are designed to make you warm to them and trust them – then wear you down with constant 'offers' and 'one day only' deals.
If a salesman starts to pester you and you are feeling uncomfortable, ask them to leave, politely. Tell them that you know the score and that you're well aware of their techniques, but that all you want from them is a quote because you are not under any circumstances going to be signing a contract that day. Explain that you have other companies to see.
Finally, if the salesman really gets too much, threaten to call the police on the grounds that they are harassing you and trespassing on your property. Hopefully you'll never have to deal with anyone quite that pushy, but the threat works in an emergency...
You might also like...
@molsy. It depends on the reason you want it back. Personalised & made to measure items do not normally benefit from retailers' refund policies in the same way as other goods. If you have waited for an unreasonable length of time, there's a possibility you could do so, but you'd need to check the retailer's terms and conditions. If you are not satisified with the workmanship, or the blinds are not fit for purpose then of your rights under the Sale of Goods Act apply. If you've just changed your mind, then no of course you will not get your deposit back.
ConsumerRightsExpert
- 11-Feb-15 @ 10:13 AM
can I get my deposit back on made to measure blinds?
molsy
- 7-Feb-15 @ 5:04 PM