What to do if Your Information is Incorrect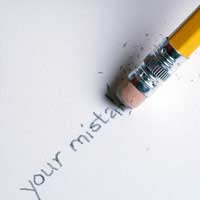 With so much information available about you on so many databases, it's perfectly possible that some of it is either inaccurate or incorrect. That can create problems. Decisions regarding your creditworthiness and your future can end up being made on this information, so you need it to be precise. But if you find that it's not, what can you do?
Your Rights
The Data Protection Act is on your side. If you discover that an organisation has data about you that's wrong (you can obtain the information from them under the "right of subject access"), you can write to them stating the problem and how you want it fixed.
You can contact them by letter or e-mail; make sure you give proof of your identity and explain what data you're contesting. If you're sending a letter, use recorded delivery and keep copies of any correspondence. If you don't know who to send it to, just address it to the Company Secretary.
If there's no reply, write again making sure you enclose a copy of your original request. If this still produces no results, or the organisation refuses to make the changes you desire, you can ask the Information Commissioner to make an assessment of "whether it's likely or not that the processing of your data has been carried out in a way that complies with the Act" - a far from exact science. However, be aware that the Commissioner's decision carries no legal weight.
You can also take the organisation to court to force it to make the changes to your data. If you satisfy the court that the data is incorrect, they might order it altered or even destroyed. They can also order the organisation to add a statement of the proper facts. Within limits, they can also order the organisation to supply this new information to people who've already received the data. You might even be eligible for compensation.
The rules don't just apply to data on computer; they also cover what are called "accessible records," which is manual data from a health, education or social work record before 1988.
Credit File
Credit reference agencies have huge databases on the credit histories of consumers. When consulted, agencies can give the following information on you: your open credit accounts (with limits, current balances, the number of late payments and any collection actions), whether you're a homeowner, if any tax liens exist against you, CCJ's, bankruptcies and repossession orders.
You can order a copy of your credit file for £2 from one of the credit reference agencies:
Experian Consumer Help Service
PO Box 8000
Nottingham
NG1 5GX
Tel: 0115 941 0888
www.uk.experian.com
Equifax Plc
Credit Advice Centre
PO Box 1140
Bradford
BD1 5US
Tel: 08705 143700
www.equifax.co.uk
You have the right to challenge the accuracy of your credit file. If you challenge a particular item, legally the agency must investigate and if it's incorrect they must remove it immediately. Challenge every error separately and always do it in writing.
When you write, include documentation to support your challenge. If the credit bureau doesn't verify your challenge within a reasonable time (generally about a month), talk to a solicitor.
You might also like...
hi there, i wonder if you could advise me, please. i am a nurse, and took out a grievance on my manager for failing to make adjustment's in the workplace following an accident i had. she lied all the way through, and was believed by the panel. they said she had done nothing wrong. complexly by chance, i was sent copies of all letters related to sickness caused by my accident. amongst the letters was one i had never seen before. it was dated the same as one i had received, but had been altered. i realized then where all the lies came from. this manager had swapped the original letter for a doctored one and put it in my personal file, referring to its contents during the grievance procedure. ( she had my file in front of her) she also swapped the same letter for the false one in my HR file) i complained to the data protection manager at the hospital, but he doesn't answer my emails, clearly not wishing to dish the dirt on a fellow manager. i have been so upset by all this. clearly this woman was so desperate not to be found lacking she made me out to be a liar in front of a panel full of people. what i want to know is have i a case for legal action? yours sincerely, annecrum.
annecrum
- 26-Oct-15 @ 12:25 PM
I have had the same problem what is worst I have just attempted to secure a credit card with poor rating and have been refused.I am also a homeowner (two homes), both now mortgage free and I am still having trouble.How do I rectify this?
Bones
- 5-Mar-14 @ 10:54 AM
I PAMELA McARDLE HAVE BEEN A VICTIM OF IDENTITY FRAUD. This happened a number of years ago and since that time I have been trying without success to have my credit rating restored.I now wish to make a complaint as I have been informed by the Halifax Building Society Hull that I have been refused a credit card due to my adverse credit rating. Ms Elizabeth R Richards Consumer Fraud Officer has dealt with this problem as long ago as 8 July 2008 her reference ERR/13312132/A1 and in her letter to me she assured me that she would tell credit reference agencies that I have been a victim of identity fraud. I also enrolled with CIFAS on 14 July 2008 in an attempt to put an end to this credit rating problem.So far it appear that nothing has changed and it now appears I will blighted by this recurring problem forever.My husband and I are home owners at 6 Thornfields Thorngumbald Hull HU12 9UJ and are mortgage free we also have money invested in various bonds and have a property which we rent and a holiday home in Florida.I obviously am not a credit risk and object to companies having the wrong opinion of me due to Experian not clearing my name once and for all.The property the theft occurred at was Thorn Garth Main Road Thorngumbald Hull HU12 9NA which is where the theft occurred, the Crime Reference Number is 134.CP-1308627-20 I await your reply and a solution to this matter.P McArdle
pamac
- 14-Aug-12 @ 3:15 PM