Dealing With Cowboy Builders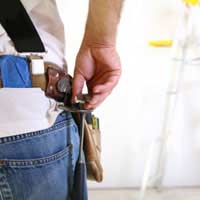 Cowboy builders are the bane of the construction industry. There are, on average, at least 100,000 complaints every year about them. They ruin things for perfectly reputable builders, and for all the talk about them, they're in the minority – it just happens to be a minority that gets a lot of publicity.
Cowboy builders are simply rogue traders, of course, often with little or no knowledge of building, so you end up with a botched job – that's if it's finished at all.
Protecting Yourself From Cowboy Builders
The best thing is to learn to spot the cowboy builders early, so you can turn them away – it saves a lot of trouble later. The first tip-off is if they asked to be paid in cash, or cash-in-hand all with a promise on no VAT to be paid. No legitimate business will work off the books like that.
If they say a contract isn't necessary, watch out – it's vital in a business transaction like this, and without it, your legal position is nowhere near as strong. Most rogue builders don't carry insurance, either, which again could work to your detriment if an accident occurred.
Are they willing to provide a written estimate and costings for the job, as well as a time frame for each stage of the work? A proper tradesman would, quite gladly. Where they do offer a quote, it could be unusually low, and they might offer to begin work immediately.
Do they have references? Do they have premises and a landline number, or simply a van and a mobile?
All of the above should raise red flags. You can protect yourself by having everything in writing and ask for a guarantee. Check references, talk to the people who've had the work done, and look at the work if possible. Ask your family and your friends for recommendations. Get several estimates and remember, cheapest isn't always a savings.
It's a help, too, if the builders and members of some trade group – although check that as well, since cowboy building firms have been known to fake membership. Finally, never pay in cash, and certainly never upfront – you should only pay for work that's been completed.
What To Do If You're A Victim Of A Cowboy Builder
Sometimes, though, the cowboys do win, and the building work is a shambles. What should have been wonderful construction work is a mess, and the builders have moved on. What can you do?
What they've done constitutes fraud, so you should complain to the police, giving them as much information on the builder as possible. Also complain to Trading Standards, which takes a very harsh view of rogue traders.
If you can track down the cowboy builder and he refuses to refund your money, take him to court. In the event of a small job, small claims court will likely suffice, and won't cost you much. In the event of a big job, though, you will be looking at some hefty legal bills.Either way, it's a lot of problems, and you still need to employ a proper builder to do the work correctly. The best solution, always, is to take the time and find someone who'll do it right the first time.
You might also like...
Stefan from Gumtree. A so called plasterer. He skimmed my living room ceiling without prepping it and after a week it cracked and parts of it came off. He came had look but offered plasterboard instead at more costs. Never hire anyone from gumtree for home improvement or building work.
Junaki
- 13-Jan-21 @ 2:13 AM
Any recommended solicitors to launche a case against rogue builder that did not complete the job? The bit he did was unsatisfactory.
Alif
- 8-Jan-21 @ 6:14 PM
Anyone out there with a park home...do not use smart park homes .skelmersdale...as they are cowboys...they are ripping elderly people off and getting away with it....
Nistor Stefan Beniamin or Ben Nistor of 53 Southend Road is a cowboy builder who has left my property in a very bad state with unfinished works, faulty leaky pitched roofs among various other shoddy work, he promises but does not turn up to fix the issues after having taken majority of the agreed monies. Very poor workmanship, unprofessional, unreliable. I hear from his friends who work for him that this is not the first time that he has left a customer in such distress. He is a Fraud, I decided to use his services after being highly recommended by a local contact.
Shiva
- 26-Dec-20 @ 11:49 PM
Joiner Jefffrom Nottingham cash for kitchen fitting. He done a cowboy job does not seem to know what size screws should be used orif a wall plug should be used, looking at his dodgy work. It seems this joiner thinks cabinets support each other no need to attach to a wall.Anything for cash, no receipt, no address, no business telephone number, probably not paying VATeither
Noa
- 20-Dec-20 @ 6:16 PM
Never use Kevin dorky of All trades Rotherham refused to complete the works as he ask for more money due to COVID-19 saying he's had to pay for for labour and materials as prices went up
Marg
- 18-Dec-20 @ 1:22 PM
Never use coldstart windows Dudley total con man I paid him money up front for materials brought the wrong materials blame me was very rude and aggressive iv learnt a harsh lesson
Jeanie
- 18-Dec-20 @ 1:18 PM
Please don't go near Marshall building services castle donnington started to do me a garage conversion told me 4-6 weeks to complete A year later he's still not completed and asking for more money to complete it !!
Macca
- 18-Dec-20 @ 1:15 PM
Never use impact Builders Bradford took my money and made a right mess Jonny Birstill is his name stay away from him !!!
Jane
- 18-Dec-20 @ 1:10 PM
Never use concept builders Nottingham took deposit of £9000 started my roof conversion and left without any contact John Mellon his name is rogue
Micky
- 18-Dec-20 @ 1:07 PM
Don't use Gary jones joinery beeston made a right mess of my property and wouldn't rectify his mess had someone else in to finish ask for a refund just got verbose abuse
Nana
- 18-Dec-20 @ 1:04 PM
Never use Martin Taylor of Taylor builders and sons paid £5000 up front and never seen him again false phone numbers
Jono
- 18-Dec-20 @ 1:01 PM
Who ever runs this site you need the otherside of the story it's wrong that any tradesman get slandering on this website without any evidence from the other party and it's not right that there's no contact number or emai to get in touch to find out who and why these remarks have been made do not listen or take note of this website and remarks can be made by anyone!!!!
Braders
- 15-Dec-20 @ 10:00 PM
The messages on this site iOS misleading and one sided you can't go on here as a tradesman that's in a stalemate with a customer find out who and why comments are made nobody listen to this site
Smithy
- 15-Dec-20 @ 6:36 PM
Iv used affordable building in Tollerton ,Nottingham and Darren and his team did a brilliant job. Never had a problem . Great service.
Shelia
- 15-Dec-20 @ 4:28 PM
Never use Darren Hallcro from Tollerton. He trades under Affordable Building Services Tollerton. He is taking money upfront and never finishes his jobs. He was reported to Trading Standards.
Trust
- 10-Dec-20 @ 8:55 PM
No not hire Ivory Property Services from Kent. They charged me £1300 to fix a roof leak and did more damage which cost me £2200 to put right. After the first repair I called them back for the same leak. They quoted £7000 to seal the roof and when told it was too high reduced to £3000. We still said no so they said for another £600 they could stop the leak which I had paid to be done. They have refused any compensation.
Sparky
- 3-Dec-20 @ 4:45 PM
Never ever let your insurance company use REEVE PROPERTY RESTORATION - NORWICH they are supposed to restore your property as to how it was, before a water leak.I have photographs they have put cement board in and raised a part of the floor, and lowered laminate floor. I have photos and they then tell me the floating floor will not make it level. It was level before they started work. They are liars. They don't care about a family member not be stable on feet. Reeves are bullies and insurance company stick with them. Let's see what an independent person does.
Sal
- 28-Nov-20 @ 7:50 AM
Never use Will Begg carpentry Evesham very poor after-care basically non-existent rushes jobs because taken on to much work doing stuff which is not there area of craft promises to come back to rectify mistakes but never turns up very quick to get the cash
John Doe
- 27-Nov-20 @ 6:31 PM
Dominic Rowley - Clough Hall Stoke on Trent. Bodge Artist - Lead Fitter Do not trust unless you want to pay TWICE to rectify any work Dominic has carried out. Use another company that has a proven track record.
Kath Hayes
- 20-Nov-20 @ 2:40 PM
NEVER EVER hire "M.Ducannon builders" on "mybuilder". It is a one man business run by "Michal". This guy is a crook trader and highly deceptive. He will trick you to paying cash and ended up not completing your job. He changes his words everytime! He never pays tax, he is a tax dodger and a completely disreputable tradesman. He has no company van, no company address, and he is not registered with tax office.
Avoid Sean Stanway Stoke on trent Conman and fraudster https://sean-stanway-rogue-trader.uk
Sandra
- 16-Nov-20 @ 6:59 PM
Never use Oakwey Construction - for a start they have no presence on the internet which is a huge red flag. I am in a housing association and they were supposed to start a job of general maintenance in August and be finished by end of September. They are still here - it's mid-November.....when they can be bothered to show up, they leave at 1pm. The standard of work is shocking. All they needed to do was paint a front door, the brickwork, lay a tiled step and other odds and sods. Their staff leave rubbish strewn everywhere, the paintwork looks like they've used indoor wall paint and not outdoor paint. They didn't sand down the front door - all in all they are the most terrible firm I've ever come across.
HM
- 11-Nov-20 @ 11:11 AM
Don't use STM Builders Ltd West Bromwich Located They will rip you off if you don't know much about the trade and also turn up one day and disappear for weeks of nagging them to come back
Jane
- 10-Nov-20 @ 7:34 PM
Please do not hire this builder named Lakha Dhillon. He lives near Heathrow Airport and goes around making people believe he is a builder. He is only a crook. I had general building works done in my house in 2019. Everything is folling in pieces. The worse thing is tha he was recommended by a "friend". Don't trust him. He get ather people to do the work for him. His builders don't even speak english and don't know anything at all about buildings.
Suni
- 6-Nov-20 @ 2:32 AM
Ridgeline Roofing, Sidcup. Charge too much for their rubbish work and racially abused a neighbour who asked them to move their van from the driveway. It was blocking the way. Physically attacked the neighbour whilst verbally abusive and police did nothing when called due to no evidence. Their behaviour and unjustifiable work is simply despicable.
world-OF-unfairness
- 4-Nov-20 @ 4:04 PM
AVOID AVOID AVOID AVOID please MAINTENANCE FREE ROOFING ltd . These are not real roofers . Please do your homework. We have been ripped off for £££££££ . You have been warned !!!!!
Paul
- 30-Oct-20 @ 4:56 PM
Please do not give your money to maintenance free roofing ltd in Liverpool. Rogue traders .......Work is absolutely a joke . This is fraud and these people have to be stopped . Please be warned
John
- 30-Oct-20 @ 4:46 PM
Please please avoid andrew oates liverpool of landscape industries he took £3000 from us left our garden a right mess and fled with our money, he's a conman a liar, DO NOT GIVE HIM MONEY UPFRONT PLEASE, IF YOU KNOW WE'RE THIS SCUMBAG LIVES LEAVE ME A MESSAGE THANKYOU
Norman kaid
- 25-Oct-20 @ 7:16 PM
Cris Webber, from Aberdare/Mountain Ash, trades as 'CSW Construction' is a liar, thief and fakes certificates and work done. He is totally inept, a horrible human and even worse plasterer. He cannot be trusted.
RealInvestor
- 19-Oct-20 @ 10:46 PM