Dealing With Cowboy Builders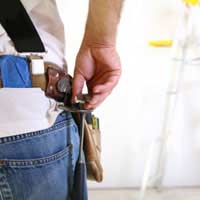 Cowboy builders are the bane of the construction industry. There are, on average, at least 100,000 complaints every year about them. They ruin things for perfectly reputable builders, and for all the talk about them, they're in the minority – it just happens to be a minority that gets a lot of publicity.
Cowboy builders are simply rogue traders, of course, often with little or no knowledge of building, so you end up with a botched job – that's if it's finished at all.
Protecting Yourself From Cowboy Builders
The best thing is to learn to spot the cowboy builders early, so you can turn them away – it saves a lot of trouble later. The first tip-off is if they asked to be paid in cash, or cash-in-hand all with a promise on no VAT to be paid. No legitimate business will work off the books like that.
If they say a contract isn't necessary, watch out – it's vital in a business transaction like this, and without it, your legal position is nowhere near as strong. Most rogue builders don't carry insurance, either, which again could work to your detriment if an accident occurred.
Are they willing to provide a written estimate and costings for the job, as well as a time frame for each stage of the work? A proper tradesman would, quite gladly. Where they do offer a quote, it could be unusually low, and they might offer to begin work immediately.
Do they have references? Do they have premises and a landline number, or simply a van and a mobile?
All of the above should raise red flags. You can protect yourself by having everything in writing and ask for a guarantee. Check references, talk to the people who've had the work done, and look at the work if possible. Ask your family and your friends for recommendations. Get several estimates and remember, cheapest isn't always a savings.
It's a help, too, if the builders and members of some trade group – although check that as well, since cowboy building firms have been known to fake membership. Finally, never pay in cash, and certainly never upfront – you should only pay for work that's been completed.
What To Do If You're A Victim Of A Cowboy Builder
Sometimes, though, the cowboys do win, and the building work is a shambles. What should have been wonderful construction work is a mess, and the builders have moved on. What can you do?
What they've done constitutes fraud, so you should complain to the police, giving them as much information on the builder as possible. Also complain to Trading Standards, which takes a very harsh view of rogue traders.
If you can track down the cowboy builder and he refuses to refund your money, take him to court. In the event of a small job, small claims court will likely suffice, and won't cost you much. In the event of a big job, though, you will be looking at some hefty legal bills.Either way, it's a lot of problems, and you still need to employ a proper builder to do the work correctly. The best solution, always, is to take the time and find someone who'll do it right the first time.
You might also like...
Never use Darren Edward's of Swe Builders from Rushden. He trades under lots of different businesses to. His business is registered to 28 Crofts Way in Rushden. He will ask you to visit his address and take a look at his work and the extension he has finished. He will introduce you to his family who are probably in on his rogue trading and Fraud.
Never use Sean and Kyle Stanway from Tunstall Stoke on Trent. Took money for materials during lock down never delivered materials and couldn't do the extension , any work carried out will have to be re done and they left my house uninhabitable my children and I are left living in a caravan. They has been reported for fraud.Also be wary of Association of Master Tradesmen as they do not have a scooby doo of their tradesman and are off no help.
Don't be fooled by CRAIG JONES in Nottingham. He says he is a landscape gardener and builder. He gave us a price for agreed work, and has almost doubled the cost since, because of needing more materials than he thought,and the job taking longer. We had a patio repaired and made bigger - it's not level at all. We had posts and gravel boards put in for fence panels, which we now find are not level,and the panels don't fit in them. A job which was supposed to be 2 days has been over a month now,and it's still not done. Constant asking him to come and fix his work (only the posts mind) and he promises... but never delivers anything.
Jeff
- 3-Aug-20 @ 7:07 PM
NEVER USE SMART ROOFING AND HOME IMPROVEMENT BASED IN WALTON ON THAMES. They claim to be a roofer but they are not as they taken my money now they have caused significant damage to the roof.
Alfie
- 31-Jul-20 @ 7:45 PM
Never use Prime Renovation and Maintenance and Room and Roof. Their 'Director' Ashly Burguess has taken £ 41,000 from a house refurbishment project never finished which includes demolition of a structural wall and a chimney breast. The criminal run away with the money living the house no safe and in an appalling state. He and his companies have been reported to the police, the house of companies, banks, etc. Since then, his companies have been struck off. The police are chasing but you know how things are; slow. I still have hope to recover something but if I can put him behind bars I will be happy! He was selected from a website called Rated People who have also expelled the thug to their list!
Johann
- 26-Jul-20 @ 4:33 PM
Please dont use Tonny Dutton from Orpington. He took our money more than £10000 after 50% of the job done , disappeard for a while and even his workers didnt receive wages. Suddenly answered the phone one day and promised this and that, then heard nothing from him since apart from once verbally threatened us and we had to report to police.. He even ignored the court letter and I believe he filed his company bankruptcy then opened another one. Nothing really we could do. Luckily we found a very good one afterwards and still using them.
Rob
- 26-Jul-20 @ 2:17 PM
Please do not use NewLook building services Ltd based in Chesterfield. They are cowboy builders.They took our deposit worth £5000 and disappeared. We managed to track them down and found they own another registered company called NewLook plastics Limited. The owner is Sean Garlands.
Mjay
- 11-Jul-20 @ 7:23 PM
BQH Builders leicester AVOID take your money and disappear then use wifes bank account to transfer funds. Trading Standards and Council dealing with them as few more cases have like this have come to surface, thats why after leaving leaving bad review on facebook page their page was taken off.. shows guilt and from comment below they claim this is slander so when we meet in court as the authorities are compiling a case lets see if it is slander. !!
pram
- 11-Jul-20 @ 1:15 PM
Never use COLL MACDONALD from Isle Ornsay on the Isle of Skye. I paid him 2k for rewire and to install shower. He has wrecked every room in the house, put holes in water pipes, pulled kitchen ceiling down, made holes in every wall. Wrecked new flooring, cut and broke floorboards and left the house a death trap with the wiring. One room has no power at all. He's also messed with CH system. Refusing to give me a refund. I have to now get electrician, plumber and plasterer. The building has been stood for 120 years with no problems until now.
Suki
- 7-Jul-20 @ 5:35 PM
Never use Paul Darbyshire Construction in the North West. Absolute cowboy. Just take a look at companies house to see how many companies have been struck off or gone bankrupt and then set up under a different name. Compulsive liar, increasing costs and never on the job. Legal action has been taken.
Joey b
- 4-Jul-20 @ 2:38 AM
Do not use David Kimmitt of Leeds. Describes himself as a builder - DK Building Solutions/ Construction/ Ltd or not (has used a number of names). Essentially, he asks for money up front (for building materials), doesn't turn up, lots of excuses why work not done (usually blames other people), increasingly threatening behaviour when approached, end of day- quality substandard- needed to spend a lot of money to put things right. This man is a rogue trader. Initially charming, offers a low quote but has no conscience at all. I don't expect he ever expects to finish a job. His work has been inspected by several independent builders and they state that he cannot possibly be a builder such is the low quality of his work. Do NOT trust him with your house or money.
JS
- 30-Jun-20 @ 11:38 AM
We booked WBA building and construction based in Cheltenham via Facebook search, to supply and fit a garden bar at cost of £550. We paid deposit of £275 as requested on 4th Jun. He was due complete the work on Sat 13th Jun. The Thursday beforehand he contacted to say as the weather was poor he would not be able to carry out the work. However, on the Saturday we contacted him and said as the weather looked good would he be coming to complete the work. This he said he would and would call 30 minutes beforehand so we didn't have to wait in. As the day progressed we heard nothing and I started to attempt to contact. Eventually he answered and restated his intention to do the work. When he failed to do so or even let us know as it was getting later wouldn't turn up we realised something was wrong. The next day after numerous attempts via text and calls, (22 calls of which none were answered), he eventually agreed to refund the money after 1430. This did not happen and at 1920 on 13th Jun he stated he refunded the money but would take 48 hours to clear, something my bank informed me would only take about two hours max as was a bank transfer. Clearly he has not done this. Having sent messages today giving more opportunity to refund I left negative feedback on Facebook. He has subsequently taken the page down, not the actions of someone who is genuine. I understand he used to trade as WBA Cleaning and Maintenance according to his invoice he sent. I am still out of pocket to the tune of £275.
SeanM
- 15-Jun-20 @ 1:57 PM
RUMOUR Home Improvements, Farnborough / Camberley area. AVOID. Fitted me new composite front door, all sorts of adjustments issues. Failed to respond to repeated requests to return to amend or repair. Asked Fensa to help, powerless. Have had builder and then door fitter to assist, product 5/10, installation rated 1/10. Dont waste your money.
mickey1
- 2-Jun-20 @ 7:28 AM
I recentlyhire a man Jamie Cox in stoke on trent to do some garden job after he getting the deposit no response after several calls and messages he turned up do some work ,grass removed ,fence removed left mud and limestone unattended,after several lies make new story's to get more money, told him I can't leave the garden as this state got a 4 year old boy keep running to the main road, no sign of him to complete the job ,keep asking money, previously he was not responding my messages and calls now i am doing the same block him on phone Plan to do myself the rest of the work
Kathrin
- 1-Jun-20 @ 5:54 PM
ABSOLUTE RUBBISH AND SLANDEROUS REMARKS REGARDING BQH ? £18.000 PAID ???? FALSE STATEMENT AND LIES.
CUSTOMER
- 27-May-20 @ 6:09 PM
Stay clear of Tibor Antel, Grantham. Has anyone had this builder doing work in their home. Starts really well and then asks for money to break into other building work, wainting to be started. Ipaid him for upstairs, downstairs and garden. upstairs was not finished, downstairs is just a building site, garden not touched. He insisted building regs were not needed to remove walls in my. home and put in two steel beams which nearly cost me my home.I stopped work as cracks were appearing, when I contacted a structural engineer, he went mad saying it was not necessary.The structural engineer said I needed building control and said the beams were not supporting my living room celiling I stopped the work whilea reputable installation company rectified the damage, to which I had to pay the. When I stopped the work the builder starting complaining saying he had to do other work as he had no money.I informed he had been paid for the job and it needed to be fininshed. I have requested several time for £8,000 to be returned to me, but he keeps saying he does not have it. He capped a gas pipe after telling him several times not to and then concealed it under tiles. I bought all my materials and have found out that he has been using my materials for other jobs.
Col
- 24-May-20 @ 5:58 PM
BQH BUILDERS LEICESTER RIP off con men , please avoid Quoted me to have a double storey extention on my house and after doing the foundations they could not do the work, paid them £18k to do works and the concreating was not finished now not answereing the phones, we had a payment plan and whrn you pay each week what they say is to be done, its something else and they keep changing the goalpost each step of the way. BRENDAN CONNOLY & JAMES COX PAYMENTS go into James account so they can avoid tax man !!!
Pram A
- 20-May-20 @ 12:56 PM
I used Mark Newsome from Leeds 9 and he never finished the job but took the money, he did finish the bulk of the work which was excellent,stay away If you want the job finished.
Juice
- 18-May-20 @ 6:11 PM
Never use Elstead developments Elstead Nr GuildfordHarry Moore They have ripped off several people Quoting low and want to start immediately They knock down the area that needs renovating, so you are vulnerable straight away. They use a verydodgy architect called Richard Smith Godalming who is so unprofessional. He just wants the money. His qualifications need questioning. My two year old could advise better.
Melissa
- 16-May-20 @ 6:25 PM
Never ever use SRB builders and groundworks in Kings Lynn. Have done a terrible job and have had numerous complaints from other customers this year. They get very very confrontational when mistakes/problems are pointed out. A terrible company
Wren 80
- 6-May-20 @ 8:08 PM
Someone else has mentioned Shaun Caspall/Lomax. Steer well clear! He screwed us over we took him to court and got a CCJ against him but he didnt pay!
Purplepenguin
- 10-Mar-20 @ 2:26 PM
I have agreed with Stamela Christal Ltd to do some work. The guys kept asking for the money to be paid more often that they have done the job. They have never paid to their workers and they didnt do good job; they were lying about the building control that they have checked, they had no clue how to do the tiles, electricity and etc and they ran away. Dont trust if you see the names Vaidas Bauzys and Karolis Tunaitis they will tell you loads of lies, take money and ran away.
Lady
- 26-Feb-20 @ 8:29 AM
I had a one storey extension fitted two years ago by S&D Home Improvements Bearsden (formally based in Clarkston). Issue after issue with drainage, blockages, heating faults,extensive water damage via the roof they fitted and have yet to fix properly leading to constant reoccurring issues with water getting in and damaging my decor. Also the windows fitted are not to a good standard and let in water.S&D will not carry out the repairs to a sufficient standard even although I have a 10 year warranty in place. The level of workmanship and customer service is beyond terrible. Such a bad experience with this builder even although their website shows positive reviews.
Never use shaun caspall aka shaun lomax of indi construction aka whitecross construction based in Warrington. He took me for 19k and only built a shell which was condemned by building control. He never came back after contacting him many times. He blamed building control, us and the designer for everything. Tried to get some money back through bailiffs etc. But on paper he didn't own anything so we ended up spending over 20k.
Djbarts
- 16-Feb-20 @ 1:59 PM
I have used Stoneage builders from Solihull. They area very unprofessional and have poor work standard. They employ a group of workers who can't speak English and don't communicate while doing works. The director of the firm does not do site visits to check on works and is only interested in money. They have carried out works that were not in plan and demanded extra money. They have delayed my project by 3 months and have not completed it. I had to ask them to stop work as they were doing the works wrong and were wasting expensive units by not installing them as recommended.
Gav
- 11-Feb-20 @ 8:06 PM
FLOORING: Having been ripped off by a Builder in Southwood, Farnborough, I needed a Flooring Fitter to remove the Builder's appalling work. I was recommended a called guy Rado ( BERTHA FLOORING READING ). He replaced 51 sp m of rubbish flooring with Quickstep wood flooring. If you need flooring use this guy. Nothing is too much trouble, he is a perfectionist, takes his time, very reasonable prices. I have recommended him to others, and they have been impressed with him. This is one tradesman you wont ne disappointed with !!
Patch
- 10-Feb-20 @ 9:03 AM
Never deal with On-Call Building Maintenance Company based in Woolwich, Bexley area. The guys name is Robert Howett. He has been conning several people by taking money off gradually and using all excuses in terms of delays and finally when he has for enough out you he goes missing. Also towards the end he threatens people to pay up or says he will come around and smash up the work or smash you up. Already found out 4 young families being cheated since December for large sums of upto £47,000, £22,000. Including £13,700 from a church.
Lisa
- 25-Jan-20 @ 6:36 AM
We employed Neil Parry, plastering and property maintenance from Rhyl to carry out a full house refurbishment.His son, James Neil Parry, c/o JNP plastering and JNP building and Plastering carried out the plastering and tiling.The work by both was and still is shocking.We have well and truly been taken advantage of and £20,000 has been wasted.It will cost another £10,000 to put right all the poor work these two have carried out and should be avoided at all costs.Their work is not compliant with building regs and fed up of hearing excise after excise.Thankfully the matter has been passed to Trading Standards for recording and investigating.
Nezer
- 20-Jan-20 @ 7:17 PM
I employed john houghton of rightway construction Bridgnorth to do an extension on my house in August 2019, everything he did was wrong. He even drilled through my brand new bathroom floor and underfloor heating which I I had had done separately and then filled the hole with grout denying all knowledge , the windows weren't fitted right and fill with water. The roof leaks. I have drainage problems . He fitted a broken back door and also broke my conservatory doors. The new room floor has crumbled and my garage isn't fire proof at all with gaping holes and open cavity to room above . He even managed to get it signed off!! Which I must add has now been revoked . He calls all this snagging and wants to come back and spend a day "finishing off" AVOID at all costs . I can't believe I was fooled like this
Dolly mixture
- 7-Jan-20 @ 1:02 AM
We asked Craig Best of Heat Save, Bishop Auckland to fit a gas fire/surround. His quote asked for 50% up front and the rest on completion once we were happy with the job. From day one it was a disaster, he could not get the fire in time then after 6 weeks he turned up with the fire and work crew. They cut a hole in the chimney breast that was so big that the surround could fit through it, no dust sheets, they broke part of the surround and tried to fix with Araldite, the fitting was undertaken by an unqualified worker, the list goes on and on, this was in October we did not get to use the fire until the following Spring after the manufacturers had sent one of their technicians from the other side of the country to fix the damage and service the fire. I asked Craig Best to return to our house and repair the damage that his workers had caused to the surround. He refused and set debt collectors on to me, I have had a quote of £2,200 to repair the damage and told each debt collection agency that he has sent of the trouble that I have had with this guy and his refusal to repair the damage, thankfully these agencies have seen that I am in my rights to withhold the 50% remaining until he has repaired the damage. This all started in September 2017, he finally stopped harassing me early 2019 and I thought that was that! Last night I received a threatening phone call from someone who withheld their number and told me that he had taken on the debt and that he was coming to get his money. He stated a lot of facts about me which he could have got off Facebook but it's concerning that somebody who I asked in all good faith to do a job in my home has left me with a fire that looks 20 odd years and I'm receiving threats, the police are aware of the situation and I am seeking legal advice. Please have nothing to do with this company
NowWiser
- 3-Jan-20 @ 7:14 PM