Dealing With Cowboy Builders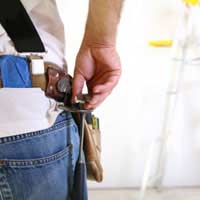 Cowboy builders are the bane of the construction industry. There are, on average, at least 100,000 complaints every year about them. They ruin things for perfectly reputable builders, and for all the talk about them, they're in the minority – it just happens to be a minority that gets a lot of publicity.
Cowboy builders are simply rogue traders, of course, often with little or no knowledge of building, so you end up with a botched job – that's if it's finished at all.
Protecting Yourself From Cowboy Builders
The best thing is to learn to spot the cowboy builders early, so you can turn them away – it saves a lot of trouble later. The first tip-off is if they asked to be paid in cash, or cash-in-hand all with a promise on no VAT to be paid. No legitimate business will work off the books like that.
If they say a contract isn't necessary, watch out – it's vital in a business transaction like this, and without it, your legal position is nowhere near as strong. Most rogue builders don't carry insurance, either, which again could work to your detriment if an accident occurred.
Are they willing to provide a written estimate and costings for the job, as well as a time frame for each stage of the work? A proper tradesman would, quite gladly. Where they do offer a quote, it could be unusually low, and they might offer to begin work immediately.
Do they have references? Do they have premises and a landline number, or simply a van and a mobile?
All of the above should raise red flags. You can protect yourself by having everything in writing and ask for a guarantee. Check references, talk to the people who've had the work done, and look at the work if possible. Ask your family and your friends for recommendations. Get several estimates and remember, cheapest isn't always a savings.
It's a help, too, if the builders and members of some trade group – although check that as well, since cowboy building firms have been known to fake membership. Finally, never pay in cash, and certainly never upfront – you should only pay for work that's been completed.
What To Do If You're A Victim Of A Cowboy Builder
Sometimes, though, the cowboys do win, and the building work is a shambles. What should have been wonderful construction work is a mess, and the builders have moved on. What can you do?
What they've done constitutes fraud, so you should complain to the police, giving them as much information on the builder as possible. Also complain to Trading Standards, which takes a very harsh view of rogue traders.
If you can track down the cowboy builder and he refuses to refund your money, take him to court. In the event of a small job, small claims court will likely suffice, and won't cost you much. In the event of a big job, though, you will be looking at some hefty legal bills.Either way, it's a lot of problems, and you still need to employ a proper builder to do the work correctly. The best solution, always, is to take the time and find someone who'll do it right the first time.
You might also like...
Never use Will Begg carpentry Evesham very poor after-care basically non-existent rushes jobs because taken on to much work doing stuff which is not there area of craft promises to come back to rectify mistakes but never turns up very quick to get the cash
John Doe
- 27-Nov-20 @ 6:31 PM
Dominic Rowley - Clough Hall Stoke on Trent. Bodge Artist - Lead Fitter Do not trust unless you want to pay TWICE to rectify any work Dominic has carried out. Use another company that has a proven track record.
Kath Hayes
- 20-Nov-20 @ 2:40 PM
NEVER EVER hire "M.Ducannon builders" on "mybuilder". It is a one man business run by "Michal". This guy is a crook trader and highly deceptive. He will trick you to paying cash and ended up not completing your job. He changes his words everytime! He never pays tax, he is a tax dodger and a completely disreputable tradesman. He has no company van, no company address, and he is not registered with tax office.
Avoid Sean Stanway Stoke on trent Conman and fraudster https://sean-stanway-rogue-trader.uk
Sandra
- 16-Nov-20 @ 6:59 PM
Never use Oakwey Construction - for a start they have no presence on the internet which is a huge red flag. I am in a housing association and they were supposed to start a job of general maintenance in August and be finished by end of September. They are still here - it's mid-November.....when they can be bothered to show up, they leave at 1pm. The standard of work is shocking. All they needed to do was paint a front door, the brickwork, lay a tiled step and other odds and sods. Their staff leave rubbish strewn everywhere, the paintwork looks like they've used indoor wall paint and not outdoor paint. They didn't sand down the front door - all in all they are the most terrible firm I've ever come across.
HM
- 11-Nov-20 @ 11:11 AM
Don't use STM Builders Ltd West Bromwich Located They will rip you off if you don't know much about the trade and also turn up one day and disappear for weeks of nagging them to come back
Jane
- 10-Nov-20 @ 7:34 PM
Please do not hire this builder named Lakha Dhillon. He lives near Heathrow Airport and goes around making people believe he is a builder. He is only a crook. I had general building works done in my house in 2019. Everything is folling in pieces. The worse thing is tha he was recommended by a "friend". Don't trust him. He get ather people to do the work for him. His builders don't even speak english and don't know anything at all about buildings.
Suni
- 6-Nov-20 @ 2:32 AM
Ridgeline Roofing, Sidcup. Charge too much for their rubbish work and racially abused a neighbour who asked them to move their van from the driveway. It was blocking the way. Physically attacked the neighbour whilst verbally abusive and police did nothing when called due to no evidence. Their behaviour and unjustifiable work is simply despicable.
world-OF-unfairness
- 4-Nov-20 @ 4:04 PM
AVOID AVOID AVOID AVOID please MAINTENANCE FREE ROOFING ltd . These are not real roofers . Please do your homework. We have been ripped off for £££££££ . You have been warned !!!!!
Paul
- 30-Oct-20 @ 4:56 PM
Please do not give your money to maintenance free roofing ltd in Liverpool. Rogue traders .......Work is absolutely a joke . This is fraud and these people have to be stopped . Please be warned
John
- 30-Oct-20 @ 4:46 PM
Please please avoid andrew oates liverpool of landscape industries he took £3000 from us left our garden a right mess and fled with our money, he's a conman a liar, DO NOT GIVE HIM MONEY UPFRONT PLEASE, IF YOU KNOW WE'RE THIS SCUMBAG LIVES LEAVE ME A MESSAGE THANKYOU
Norman kaid
- 25-Oct-20 @ 7:16 PM
Cris Webber, from Aberdare/Mountain Ash, trades as 'CSW Construction' is a liar, thief and fakes certificates and work done. He is totally inept, a horrible human and even worse plasterer. He cannot be trusted.
RealInvestor
- 19-Oct-20 @ 10:46 PM
The unfortunate victims of James mcginity please take himto court he's done this over and over again I worked for him and his scumbag dad before they ripped me and the client off They must be brought to justice otherwise they will continue they are both dirty rotten , spineless cretins You should always check people out on google, Facebook ect
Paul b
- 13-Oct-20 @ 9:39 PM
Avoid Ademola Atobaru from J.Mays Construction Ltd. He did not treat walls before painting, the paint started to peel of immeditely. I spent over 2k on wooden floors, the floors were not fitted properly, they were scratched and damaged. He did not put any protection over the floors after fitting them as well. I had to purchase new floors and get a new builder to redo the work he did. In addition to this he did not put any protection over the kitchen worktop, as a result of this it was scratched and damaged. I paid him over him over 75% of the total quote (5k) even though had only completed less than 10 percent of the work. When I asked for a refund and made him aware of the damages, he sent me abusive texts.
chi
- 12-Oct-20 @ 3:59 PM
AVOID AVOID AVOID Mr KAMAL AL WADI WHO CALLS HIS COMPANY S&A Renovation his contact is Mr Mohamed Kamal Alwadi 180 Grove Road Romford RM6 4XB, 07759 038641 He is a big fraud and Thief He ain't a Builder he run away with our Money and disappeared and the address His using he don't leave there beware Gumtree and shpock.
Shah
- 11-Oct-20 @ 1:29 AM
Avoid JAMES PAUL McGinnity at all costs! He is trading under the name of JPM Construction as a sole trader. He has conned us of a lot of money and has left the house in shambles! He is an fraud. He also stole our money for the deposit for our tiles. There is a whole forum dating back to 2013 where he has conned people out of money. Has dissolved his company over 6 times. Please avoid!!!
We have been wanting an orangery for ages and looked around. We avoided our local conservatory companies as we heard mixed reviews. Thought I was being pragmatic! After much research we contacted Tyneside home improvement from 2 Hanlon court, Jarrow to build a conservatory. The sales pitch, demo etc was impressive price finalised we paid a deposit same day. Work started on 14 th June and nearly 4 months on, has still not been completed. Right from the start we had to chase the company for everything. Nothing was clear or forthcoming from the company. The catalog of problems we have had to face the distress & anxiety cannot be put in words. Firstly, The conservatory floor height was above normal due to the garden level so they had to lay bricks steping into the garden. Laid flags on top of the bricks- One side of the step was at least 9 inches out and looked awful so had to be cut. That put into motion the string of emails to THI. Emailed pictures and they sent the same bricklayer to cut it short next day and lay concrete flooring(still not equal both sides) Once the shell was ready we had wait for 5 weeks for the glass roof as it was on order! Blame Covid! The glass arrived after 7 but no patio doors. For 3 weeks we had thick cloth and plastic nailed to the back of the house facing our garden. Once the roof was installed we checked the work next morning only torealise that 3 of the panes were a different shade. The concrete flooring laid by THI builder cracked badly and was not levelled. Two tilers refused to work when they saw the floor level. We contacted THI and they sent another builder to complete the job, twice using self leveller and as a resultthe conservatory floor ended up higher than the existing level. Still bumps and ridges everywhere. Emails and numerous phone calls later the manager came to level the floor himself as they could not get builders. A full days work of concrete grinding noise is not all we had to endure, the dust and mess it made was more than what we bargained for. Patio doors fitted, electrical jobs, plastering completed ; bear in mind we had to chase every bit of work and the workers dates. Nothing was forthcoming from them. Not once did the mangers or staff offer any apology for the delay or for not showing up at all. Numerous times we were waiting for workers to arrive but it was no show! 2 weeks ago I emailed THI giving them an ultimatum to complete the pending jobs orelse we would seek legal advice and claim compensation, they replied it will be done and finalised in 2 weeks. The 3 panes of wrong shade was to be replaced yesterday 7/10/20 after waiting for another 4 weeks. The manger came with the glass roof and fitted one of the three. He comes down promptly and says it's another shade so now we have 3 different shades of blue roof glass. Today again 8/10 after waiting all day for the joiner to fit skirting board, he finally shows up at 3:05 pm to say he finishes at 4:00
Flexyrob
- 8-Oct-20 @ 11:20 PM
NEVER EVER go with Darren Justice from DJG construction and Roofing or Richard (Ricky) Davidson who provides the cowboy builders. They are from Windsor and Maidenhead. Totally destroyed our home promising so much but then ran off. When I contacted them they became so threatening and abusive. There is so much I have to get redone and finish off. They are dodgy as hell.... avoid avoid avoid!! I have reported them to the police!
Karma
- 4-Oct-20 @ 8:54 AM
Never use Project 1 Design and Build in Ealing, London.Steve Ward is a fraudster.He left our house half finished having taken as much money as he could - The work is a disgrace and we have spent thousands putting it right.I know of three other clients locally who have been conned by him - one woman had water pouring through her skylights and when I visited her she was in tears.Steve Ward's wife manages the company finances and is also a ciminal.
Holly
- 4-Oct-20 @ 6:35 AM
Avoid Loftexdesign based in London (Daniel&Marius) at all costs. They are scammers and will take off without competing the job and with as much money as they can swindle!
Never use Affordable building services Tollerton Darren Halcro, started a work in our house in November 2019 and now end of September 2020 still not completed the work and left half of our house without the roof.He is starting new jobs without finishing the previous and taking money upfront without delivering promised goods / services.
Fiamma
- 29-Sep-20 @ 6:29 PM
Avoid Danny the plasterer from Ashton under Lyne. And his girlfriend Saffron Cassel - SC plastering. Claims to be an experienced plasterer he left my house in a shocking state with falling walls that were not bonded right . Cracks everywhere and collapsing plaster . I will be complaining to trading standards and citizens advice
Nick
- 26-Sep-20 @ 6:27 PM
CalCait construction & Maintenance Gavin and Callum Just had these people do my kitchen fitting and some small remedial building works. I got his card from Magnets in Merthyr Tydfil asked them if he was OK they said they had supplied kitchens to him he was an ex police officer. What can I say except I have been conned I paid in full have been asking for electrical sign off no replyThey do not have any electrical, plumbing, or building certificates they have left my kitchen in a terrible state holes in ceiling shoddy kitchen fitting all edges are frayed holes in walls, bodged up cheap flooring, and you need to see to believe the coving I was quoted for plastering the mess that left was horrendous it took me 3 hours to clean up itbc was so bad I had to take up the old flooring it was like a muddy swimming pool no sheets used whatsoever The off cut of oak worktop I had to really keep an eye out I found chunks hidden behind plasterboard that was not going to be used what more can I say. I will be taking these cowboys to small claims court once I have pricing for the work that needs to be done to rectify the awful mess they left me in I am also informing trading standards. Rouge traders need to be stopped it's not fair to decent people who work hard for what they have. Do not employ under any circumstance they are the builders from hell Never ever use these cowboys
Ian Bray known as brummy works in Lancaster morecambe carnforth Blackpool area avoid cowboy wrecked my home I have learnt the hard and expensive way please do not employ this cowboy
Anne
- 30-Aug-20 @ 10:51 AM
My 95-year-old great aunt was charged £500 for an approx 6 ft run picket fence. In less than 6 weeks the "carpenter" has already had to replace the latch and hinge and add 2 blocks to the back of the gate so the latch lines up with the fence. The gate has since dropped further so that it catches on the ground and the posts have split. The hinge is also coming away from the post again. I asked him either to replace the whole lot or refund my aunt, less materials. He initially offered to replace the split timber and adjust the latch but got nasty when I repeated my requests. I think he has ripped off my elderly and vulnerable aunt. I have emailed Trading Standards and local MP. Any other advice/thoughts please?
Gaby
- 10-Aug-20 @ 6:51 PM
Anyone having issues with Sean Stanway and Kyle Stanway email the address below with info. letmeknowtstoke at aol dot com
Cowboys
- 10-Aug-20 @ 5:37 PM
Never use Darren Edward's of Swe Builders from Rushden. He trades under lots of different businesses to. His business is registered to 28 Crofts Way in Rushden. He will ask you to visit his address and take a look at his work and the extension he has finished. He will introduce you to his family who are probably in on his rogue trading and Fraud.
Never use Sean and Kyle Stanway from Tunstall Stoke on Trent. Took money for materials during lock down never delivered materials and couldn't do the extension , any work carried out will have to be re done and they left my house uninhabitable my children and I are left living in a caravan. They has been reported for fraud.Also be wary of Association of Master Tradesmen as they do not have a scooby doo of their tradesman and are off no help.
Don't be fooled by CRAIG JONES in Nottingham. He says he is a landscape gardener and builder. He gave us a price for agreed work, and has almost doubled the cost since, because of needing more materials than he thought,and the job taking longer. We had a patio repaired and made bigger - it's not level at all. We had posts and gravel boards put in for fence panels, which we now find are not level,and the panels don't fit in them. A job which was supposed to be 2 days has been over a month now,and it's still not done. Constant asking him to come and fix his work (only the posts mind) and he promises... but never delivers anything.
Jeff
- 3-Aug-20 @ 7:07 PM
NEVER USE SMART ROOFING AND HOME IMPROVEMENT BASED IN WALTON ON THAMES. They claim to be a roofer but they are not as they taken my money now they have caused significant damage to the roof.
Alfie
- 31-Jul-20 @ 7:45 PM