Can I Return Something Because I've Changed My Mind?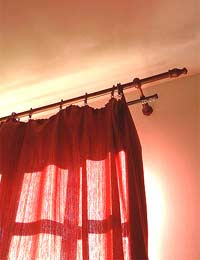 "I bought a set of curtains from a department store last week, and when I got them back home, they didn't match my bedroom as I thought they would.
I took them back to the shop, with my receipt, and asked if I could have my money back, but the girl in the shop said that all she would give me is a credit note.
When I asked to see the manager, he told me that they didn't have to give me a refund, even though I still had the receipt and the curtains were still in their packaging.
I'm left with a useless pair of curtains which don't match my room. What can I do?"
Advice
Unfortunately, there's not much that you can do.
The Sale and Supply of Goods Act states that a retailer has a duty to provide you with goods that are of a satisfactory quality. They must also fit any description that's made of them. So, if for example, you had taken the curtains out of their packaging and found that they had a great big hole in them, you would have every right to return to the shop and ask for a refund as they clearly weren't of satisfactory quality.
Your Rights When Goods Don't Last as Long as They Should
If you'd hung the curtains but noticed a week later that they were fraying badly around the edges, or the lining was coming away, you could also have returned them because goods that you buy must be durable. Obviously if you buy perishable goods, like food, you wouldn't expect them to last. But something like a pair of curtains should be reasonably durable, and the law accepts that if a fault develops within the first six months after you have bought an item (depending on the length of time you would usually expect an item of that type to last) you can assume that the fault was there when you bought the goods and you're entitled to redress. This could be a new pair of curtains, your money back (depending on how long you've had them) or a free repair.
Your Rights When Goods Don't Match Their Description
If the curtains were described as being 100cm wide but when you get them home they are only 85cm, and don't quite cover your window, they don't match their description and again, you can claim a refund.
Your Rights When You've Bought Something That Just Doesn't Look Right
Your situation is different – you just realised that the curtains don't suit your bedroom. There's nothing wrong with them, and they are exactly as the packaging described them. Legally, the retailer doesn't have to do anything at all. Most reasonable shops will have some kind of returns policy that goes over and above their legal obligations, however, so in this case, the shop has offered you a credit note.
The shop is perfectly entitled to offer you a credit note or an exchange, because they are actually doing more than they legally have to. It's up to you whether you accept this or not, but unfortunately for you, you have no legal right to anything more.
You might also like...